Home Depot Or Lowe's: Which Has Better Deals On Replacement Windows?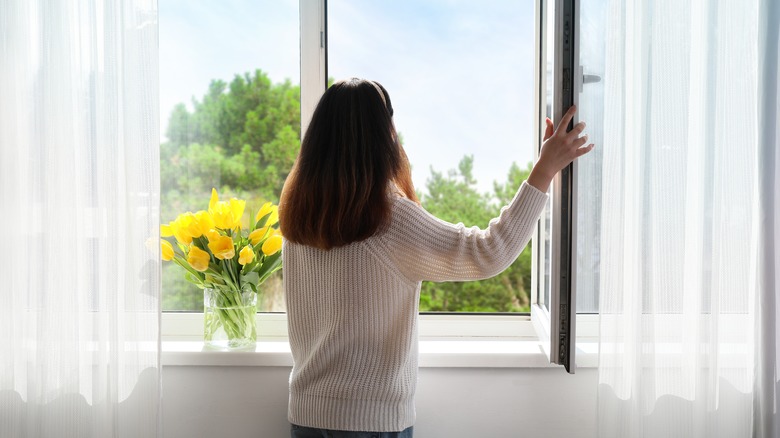 Pixel-Shot/Shutterstock
So, you need your window replaced? This task can be one of the most nerve-wracking and costly projects you'll have to endure. If this is something you're faced with, there are a few things to look for when making this replacement. According to Zeeland Lumber and Supply, the very first thing you should think about is the style of the window. It's important to note that you do not have to replace the window with the exact same style that was previously installed. You can switch it up to give your home a more modernized look or tone it down for a more rustic feel.
In addition, it's equally important to decide on which type of frame material to invest in. Most commonly, you'll be able to find these frames in vinyl, wood, and aluminum. However, Great Lakes Window recommends not choosing a replacement window based on price. Usually, you'll only have to replace windows once or twice throughout your life. Therefore, it's important to make sure that the models you buy are something worth investing in. It's okay to set and stay within your budget; however, it's important to do research on pricing to ensure you get the better deal for your money.
Like always, once you've made all of these decisions, you'll need a retailer to purchase these windows from. Lowe's and Home Depot are two of the most popular stores that carry these necessities, so let's see which one has the better deal.
Lowe's ReliaBilt replacement window
One of the most popular replacement windows that Lowe's has to offer is an exclusive model made by ReliaBilt. Costing less than $170, this single-hung model sits 31.5 inches wide, 53.75 inches tall, and 2.6 inches in depth. It houses a vinyl frame and a removable sash that is said to protect against air infiltration. Built to fit a variety of spaces, this window is equipped with many different accessory channels. The glass is an energy-efficient Low-E model that reflects the sun away from the home, which can keep your home cooler during the summer months. In addition, this can also help to keep the heat indoors during the colder seasons. It comes in a standard color of white; however, other options may be available upon request. It's backed by a standard manufacturer-limited lifetime warranty for the vinyl materials and normal use, as well as a 30-year prorated warranty against any seal failure that may occur.
With only 13 reviews, this replacement window contains a 4.2-star rating and a recommendation rate of 82%. These reviews are mixed between positive and negative. One consumer stated that they bought five windows total, two of which would open but not close all the way. They also said that the window seal did not stay in place. However, those who recommend the product say that it was easy to install and good quality for the price.
Home Depot's American Craftsman replacement window
Home Depot's most sought-after replacement window is made by the brand American Craftsman. Costing a little less than $225, this model is measured to be 31.75 inches wide and 52.25 inches tall. However, upon request, you can get these windows made in a customized size. It contains both a top and bottom sash and houses dual weather stripping to create a tighter seal. Built with Low-E glass, it is designed with a double pane and white pocket frame. A limited lifetime warranty is available when purchasing.
Based on over 30 reviews, this replacement window earned a 4.4-star rating and an 89% recommendation rate. Most of these reviews are positive, with one consumer stating that they met their needs and were easily installed. Another consumer stated they installed 18 of these windows within a three-day time period without issues. They also noted that the glass clarity is great, and they've noticed a significant amount of noise reduction that their previous windows did not offer.
Both of these options house many similar features making this decision difficult. However, even though Lowe's model is less costly than Home Depot's, we have to say that the better deal is the latter. Not only does their model contain a higher star rating and a better recommendation rate, but it also has more reviews and dual weather stripping. Yet, both of these replacement windows appear to be viable options.