Maine Cabin Masters Stars Talk Cabin Renovation And Their Hit TV Show - Exclusive Interview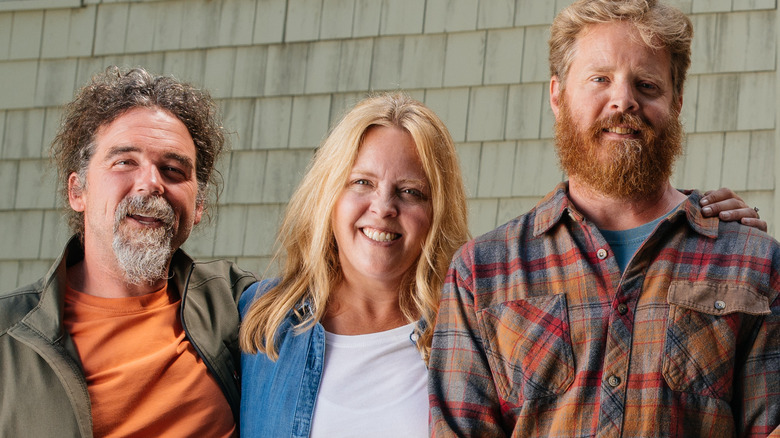 Magnolia Network
When some people think of vacation getaways, they envision endless margaritas, luxury resorts, and relaxing massages at the spa. While there's nothing inherently wrong with this sort of vacation or the people who go on them, builder Chase Morrill and the rest of the "Maine Cabin Masters" crew serve an entirely different breed of traveler.
The unlikely reality TV stars — consisting of Chase, his sister Ashley Morrill-Eldridge, her husband Ryan Eldridge, and some trusted friends — have the building and design know-how to save Maine cabins from the brink of death while preserving the human touches that make them so special to the families who cherish them. However, when shoestring budgets and cabin rot are a fact of life, sometimes the job isn't glamorous, and that's all part of the fun. 
In Season 8 of "Maine Cabin Masters," Chase and his rough and ready crew give much-needed facelifts to cabins in some of the most beautiful areas of Maine. Whether they're abolishing rot from historic cottages or transforming scenic Northeastern getaways, the team has won over viewers all around the world with their trademark banter and undeniable talent. In an exclusive interview, we sat down with Chase, Ashley, and Ryan to discuss the finer points of cabin renovation and to learn how their show came to resonate with so many people in Maine and beyond.
On their show's success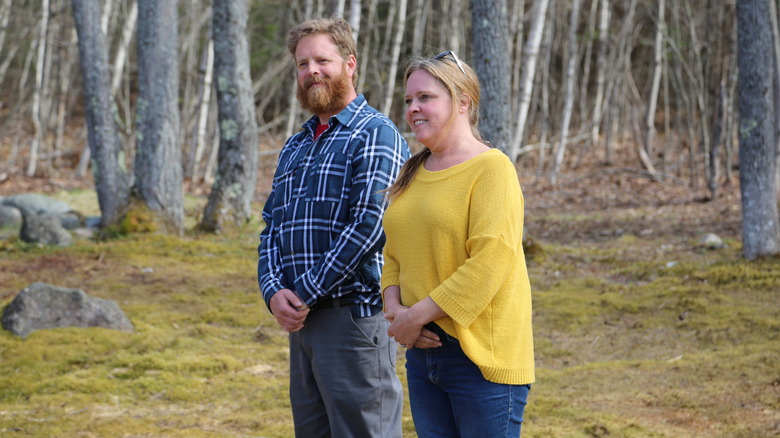 Magnolia Network
"Maine Cabin Masters" is known for scoring great audience reviews and has been among the most popular reality renovation shows for years. What's the key to the show's success?
Ryan Eldridge: It's a number of things, personally. A lot of it's because of our great state of Maine. They've tried this type of show at other places, and Maine has got so much going on these days. We have so many camps. We found a niche. The premise of the show and what our state offers is a great match, and we've built friendships and work relationships over the years, and that comes through. The production company gets us, gets our humor, gets the job site humor, and gets the core foundation of how we do things, and is really good at portraying it.
Chase Morrill: A lot of people tell us that people who watch the show appreciate how real it is. We'd be doing this with or without a film crew following us around. We were doing this before the show; we'll be renovating camps after the show. Being able to take something that we'd be doing naturally, it was very easy for us to have a film crew following us around and documenting it, what we're doing. We weren't trying to put on any sort of show or anything like that. It's just what we do. It's who we are.
Ashley Morrill-Eldridge: I also feel like the builds that we do are relatable. They're within people's price range, whereas a lot of these other reality shows, they're high-end flips, and they're not attainable for the majority. That's another reason why people can relate to the show.
What can our readers expect from the new season of "Maine Cabin Masters"?
Ryan: More rot? [laughs]
Chase: We're going into Season 8, so we're doing some new, different types of builds, some more community outreach programs, working with some non-profits. [It's] a lot of cabins, a lot of work in beautiful locations, but some new, fun, different types of projects.
Ashley: There's a couple builds that are outside the box, outside the norm.
Ryan: One is our biggest budget to date. [With] a lot of them, we still were trying to do different types of builds. We also want to retain our core and do those camps with the smaller budgets that necessarily shouldn't be saved — or a lot of people couldn't save them — but we're saving them for the family and the memories. There's a lot of new stuff, but we want to retain our core, too.
Cabin upkeep and renovation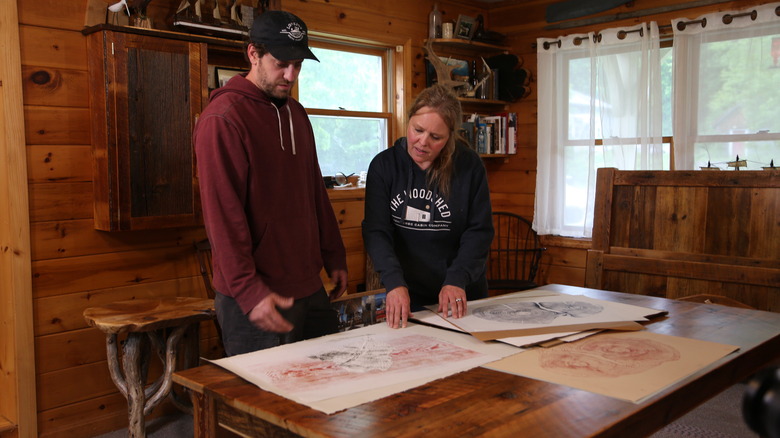 Magnolia Network
How does renovating cabins differ from working on residential properties? What inside information are TV viewers missing about the process?
Chase: We're not doing fine homebuilding. Everybody on the crew is skilled at carpentry and able to do fine homebuilding, but we don't have the budgets to worry about a lot of the finer details. We're taking camps that are run down and uninhabitable and getting them usable again. Whether it's working windows with screens, small improvements go a long way, and we don't really worry about the finer details because it's camp — it's a cabin. It's meant to be used. It's meant to be loved, so we don't want to worry about scratching up the floors or putting dings in the walls.
Ryan: The permitting process too — that's a process. There's a lot of background permitting stuff that goes into a lot of these, a lot of research going in, because of town rule versus state rule versus shoreland zoning, too.
What expert tips do you have for homeowners trying to save money or stay on budget during a cabin renovation?
Chase: The same thing — don't worry about the finer details. We get a lot of eastern white pine, and if it has a knot or it has a crack, it doesn't have to be perfect. That's it: It doesn't have to be perfect, as long as it's usable and functional for the intended use. It's the same thing with a lot of stuff too — if it still has life left in it, no need to replace it.
Ryan: Changing your mind costs money, too, which is one thing we don't have to deal with a lot because the homeowners give us the keys and they're gone. But in a typical build, if the homeowner's involved, every time they change their mind, it costs money by throwing things down and changing the plan. That's one thing we have going for us as well.
What key things can cabin owners do to keep their property from falling into disrepair over the years? Do well-maintained properties tend to have any commonalities?
Chase: Cabins across anywhere need constant maintenance — keeping the roof clean, keeping the leaves away from underneath. Airflow is important, a good roof, dealing with water [and] making sure it sheds away from the building, keeping the camp dry ... That goes a long way.
The art of renovating cabins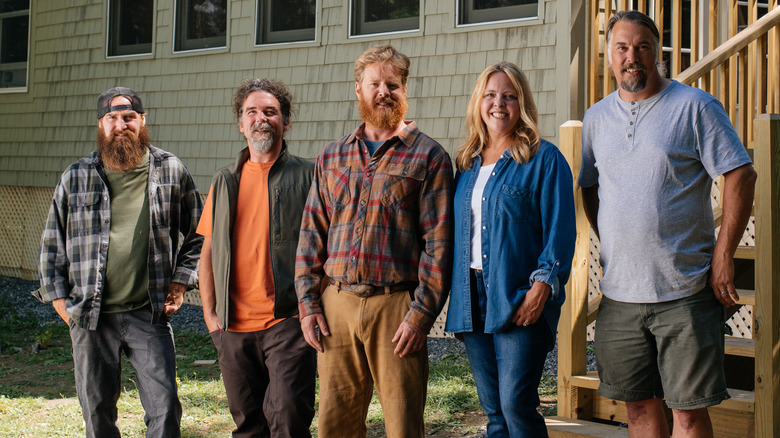 Magnolia Network
Ashley, what expert tips can you give homeowners on decorating a vacation property to be as inviting and relaxing as possible?
Ashley: I like to go and use local arts and craftsmen. Go out into the community and find some cool local art. Then, changing out throw blankets, throw pillows, or little carpets can totally change the look of a room.
Chase, it's obvious that your team takes great pains to preserve the history and feel of the cabins you renovate. How do you strike a balance between creating something new and functional while preserving a property's unique history?
Chase: When we go into each project, we meet with the camp owners, get an idea of what their needs are, and then we start the demo. We let the building tell us how to proceed with the renovations. If a camp owner says, "I want two bedrooms and a dormer," we look at the building and say, "Okay, how does it make the most sense to get a dormer in this space?" versus being very rigid with plans and something like that.
Each camp is unique and built differently. Some of them are thrown together over decades. Again, we let the building and the location, the environment, and the needs of the camp owners dictate how we proceed with the renovations.
Having fun on the job site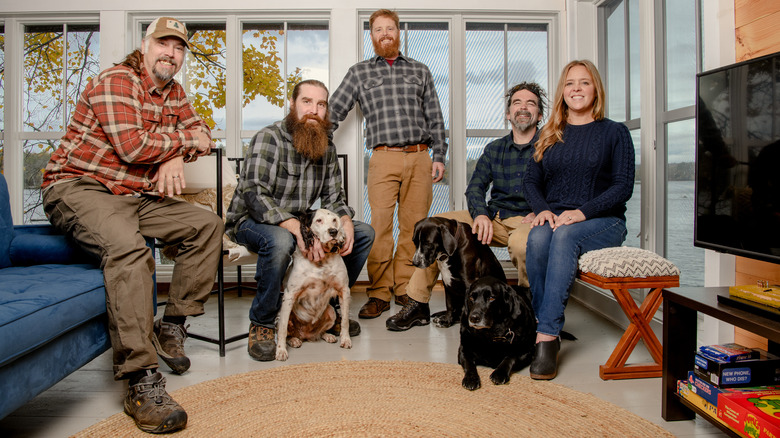 Magnolia Network
When watching "Maine Cabin Masters," one gets the feeling that certain members of the team really enjoy the demo aspect of the job. Do you have any tips for homeowners who plan to run their own demolition while renovating a property?
Ashley: Don't do it like Ryan.
Ryan: Don't do what you see on TV. [laughs] With demo, it's usually not the most fun. I try to have fun with it. We usually have a good crew around. I try to make the best of it. As I am getting older, I may wish that my demo skills weren't so heavily influenced by my body, and let the tools do the work.
Ashley: Let the tools do the work.
Ryan: As you get older, let the tools do the work. Not the tool — the tools.
Ashley, what's it like being the only female representation on the crew? Do you ever have to rein in the boys, or not so much?
Ashley: Oh, it's real. It's a lot of fun. I get to work with my brother and my husband every day. We get to bring the dogs to the job site, so we're pretty fortunate. Yes, I am surrounded by a lot of men, but I know when to walk away, and ...
Ryan: When to run. [laughs]
Ashley: Yeah, when to run.
Catch Chase, Ashley, Ryan, and the rest of the crew on new episodes of "Maine Cabin Masters," airing at 9:00 p.m. ET on the Magnolia Network.
This interview has been edited for clarity.