15 Must-Haves To Update Your Fireplace
Image Source/Getty Images
If you are lucky enough to have a fireplace in your home, you might be tempted to take it for granted or not know what to do with it. You might feel stuck with whatever condition it was in when you moved into the space. However, even without investing in renovations, there are tons of products out there that will help elevate the cozy feature, in addition to helping you customize it and set the tone for your living space, all while getting the most use out of it.
According to Architecture Art Designs, the fireplace is regaining popularity as a living room focal point after decades of relinquishing that honor to the television, and we're all for it. Whether or not you've given much thought to upgrading this coveted feature of your home, you're sure to be inspired by this compilation of our favorite products to give it an instant makeover — whether you own or rent your home.
1. A stylish set of fireplace tools
One of the most immediate things you'll need to use a functioning fireplace is a set of tools for tending to your fire. This set, currently priced at $199, comes in a dark bronze or a luxe copper version, with leather handles for hanging the tools on the compact industrial-style stand with them.
2. A fireplace screen with art deco flair
3. A practical but pretty antique-inspired screen
Another option is this curved trifold fireplace screen from Magnolia, priced at $180. The stylish curved design adds vintage style to the hearth while providing an unobstructed view of the crackling fire.
4. Andirons with modern style
Ringing up at $395, these polished nickel ripple andirons designed by Jonathan Adler are a bit of a splurge but will support your fire while doubling as a work of art.
5. Elevated animal andirons
These statement-making cheetah andirons ($299 but currently on sale for $224.25) are just the ticket for those with more of a wild style.
6. A cozy crescent rug
For a comfortable place to kneel while tending to the flames, try this wool hearth rug from L.L. Bean, starting at $74. Wool is naturally fire retardant and will protect your floor from stray sparks, all while making your living room a little cozier.
7. A hearth rug with festive winter greenery
After a more festive feel? This wool pinecone-printed hearth rug, priced at $115, is a great outdoors-inspired option with cozy winter cabin vibes.
8. An incredibly chic firewood holder
This stylish Goop-designed CB2 firewood tote, usually $499 but currently on sale for $399.20, is made of stainless steel, leather, and oak. The leather sling can be removed from its stand for easy firewood transport.
9. A firewood rack with natural rustic flair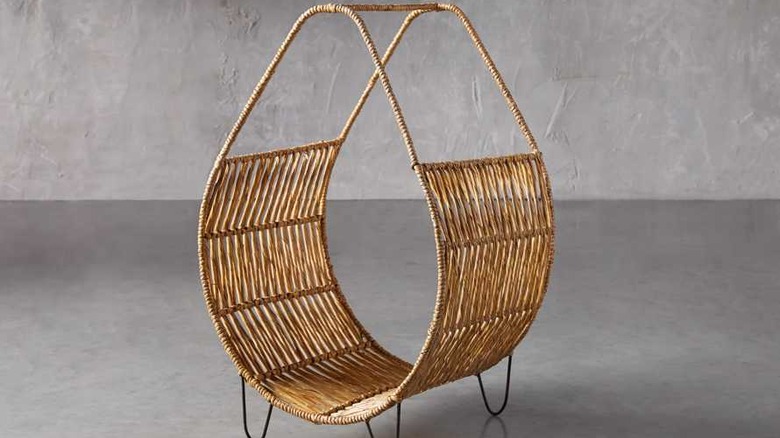 Arhaus
This handcrafted raindrop-shaped firewood rack ($149) is composed of iron and handwoven rush and is another excellent firewood storage option that will incorporate natural elements into your living space.
10. A log tower that's tall on style
Available in bronze, brass, or pewter, this industrial log holder tower from Pottery Barn is priced at $299. Measuring 4 feet high, its tall and trim profile makes efficient use of space without sacrificing style.
11. A cozy substitute for a roaring fire
If you don't have a functioning fireplace, you can still make it a cozy focal point in your living room with this iron fireplace candle holder. Priced at $129, it displays candles at varying heights for an aesthetically appealing display that mimics the organic movement of a real fire.
12. A decorative mantel with classic charm
This simple but elegant mantel is an excellent option if you want that classic millwork fireplace surround to look without spending thousands of dollars on renovations. For $699, you can recreate the look of historic wood moldings in either a white or dark brown finish.
13. A clean and modern mantel surround
Try this $309.99 white fireplace mantel for a sleek modern-style fireplace surround. Although it's made of MDF, its convincing design makes for a great budget-friendly alternative if you don't have a mantel.
14. A reclaimed wood mantel shelf
These reclaimed wood shelves, starting at $46.97, are another great option to spice up your fireplace surround, especially if you don't have a mantel. Made of antique barn wood, they lend a rustic flair to any space.
15. An attractive brass dust pan and brush
Currently on sale for $30.40 from $38, this shiny brass dustpan and brush are designed with an antique finish, making it a functional and fashionable addition to your fireplace setup.