Why White Kitchens Will Always Be In Style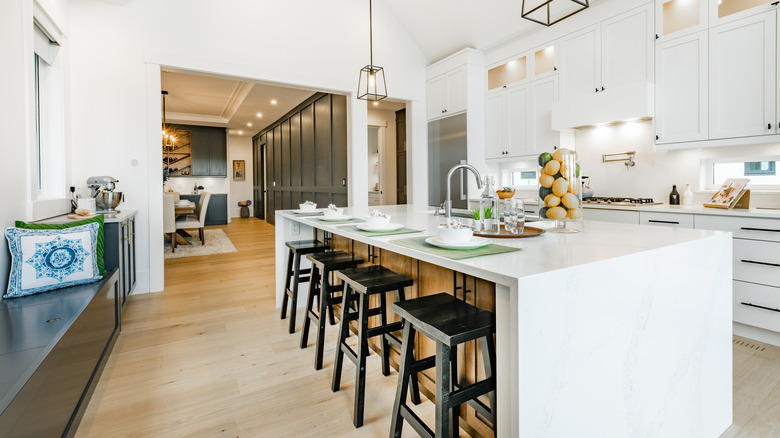 Sheila Say/Shutterstock
The white kitchen is a timeless design choice that has defied trends and aesthetic changes. While many today would associate the white kitchen with the soaring popularity of the modern farmhouse and the light and bright sensibilities of the last few years, white kitchens have been around since the early 20th century (as noted by House Logic). Following the Spanish Flu of the late 1910s, white was a color associated with cleanliness and the primary design choice for consumers at the time.
And thus, white became the go-to kitchen starting point, where variations and tweaks could take the space in exciting new directions with minimal overhaul. House Of Hipsters notes that intriguing details such as brass handles can offer a more luxurious finish and present a more high-end design. A white kitchen can have a classic sensibility, but a homeowner shouldn't worry about mixing a white kitchen with elements such as stainless steel or upscale appliances for a modern edge. These two sensibilities can work well together.
Sustained value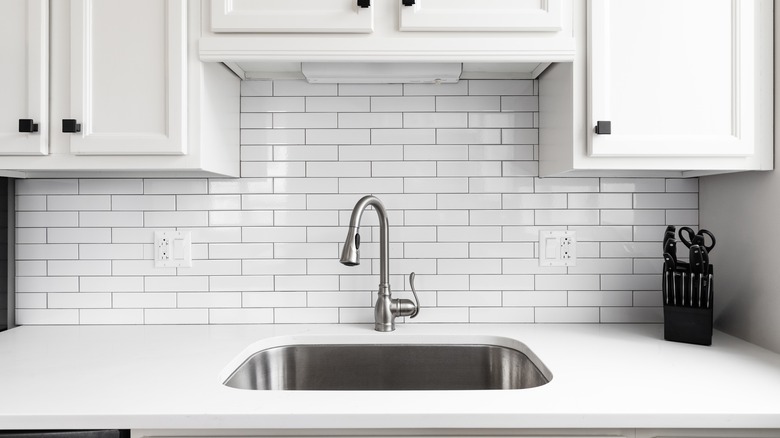 Hendrickson Photography/Shutterstock
A white kitchen communicates a tidy and bright space, which comes with multiple benefits pertaining to the home's market longevity and functionality. As noted by Twin Stripe, this palette creates a serene and calming atmosphere that many homeowners prefer to any other style. Aside from the psychological pros that come with this aesthetic, a white kitchen, when combined with natural light, can also reduce the need for artificial lighting and help save money on your electric bill. 
And lastly, there can be financial benefits to including this style in your home. This kind of space, when combined with natural light, can actually increase the value of the home, as the room will often look bigger than it is. Such a look is a stark contrast to the moody hues and darker colors of the Mediterranean kitchen that dominated the early 2000s. Since then, kitchens have only gotten lighter and brighter, demonstrating the prevailing strength of this design choice despite contrary trends that come and go.
A jumping off point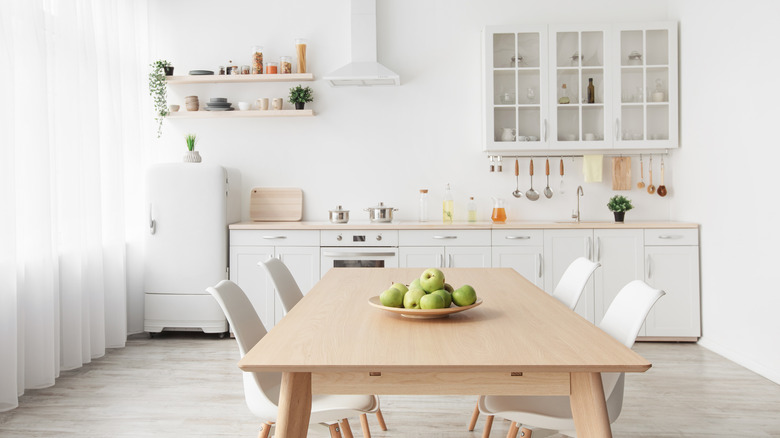 Prostock-studio/Shutterstock
Perhaps you wanted your first home to be somewhat of a blank canvas for you to explore design preferences and what your ideal home looks like. This is another reason why a white kitchen is such a great starting point. Forbes notes that special finishes, such as the trendy butcher block countertop, can fit wonderfully into a white kitchen because woods, in general, are great add-ons to any white space. 
However, a more extensive overhaul can be easily configured as well with this type of space. Whether you add a new backsplash, change out the appliances, or redo the floors, having a white kitchen gives you the flexibility to go in a number of directions. A kitchen with simple white quartz, rather than an overly specific stone, can keep your design options wide open. Mediterranean, modern farmhouse, mid-century modern — there is no limit to what you can do.