12 Tips To Help Keep Your Bathroom Clutter-Free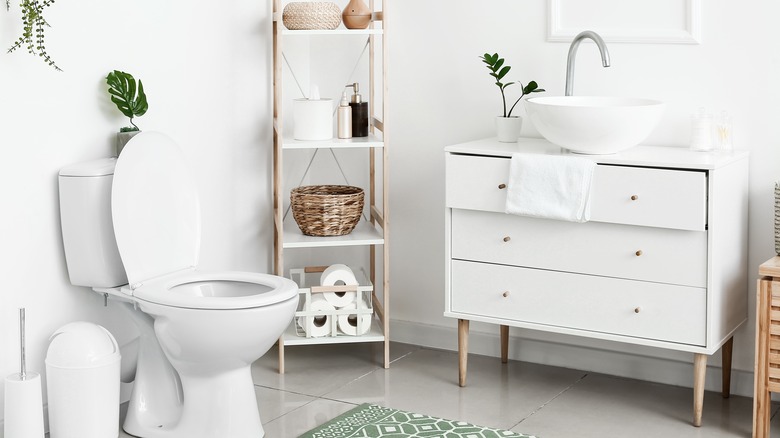 Pixel-Shot/Shutterstock
Bathrooms come in different sizes, but somehow they all seem consistent in one thing — they attract clutter like a magnet. No matter how often you seem to do a tidying up, the floor, countertop, and drawers all seem to be covered in, well, everything. This can be beyond frustrating, especially as these spaces can feel pretty limited in terms of what you can change without picking up the sledgehammer.
Beyond the visual fatigue clutter causes, when nothing has a proper place in the bathroom, mornings can be a slog and get your day off to a bad start. Clean & Scentsible recommends keeping this space organized to make mornings a success. So, to help you bust the jumble in your bathroom cabinets, we've created a list of 12 great tips that will make this area your sanctuary. Best of all? All of our suggestions are no-demo and can be adapted to be renter-friendly, so anyone can use this guide.
1. Purge those drawers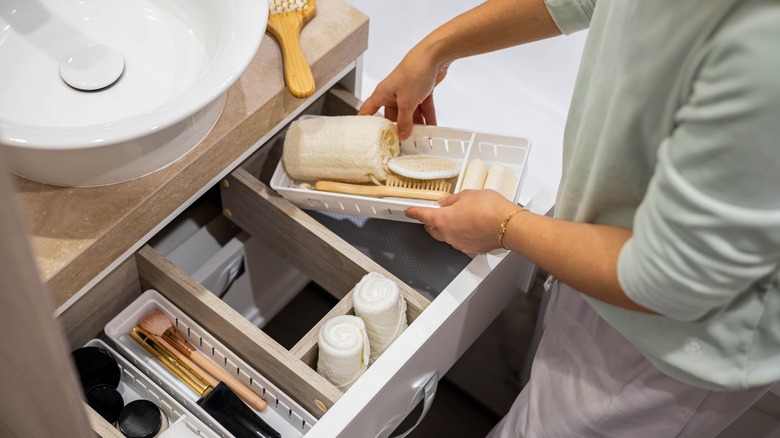 Kostikova Natalia/Shutterstock
First things first, ruthlessly declutter and downsize your bathroom inventory. Get rid of beauty and bath products you haven't used recently, collect those stray bobby pins, and discard, discard, discard.  
2. Go vertical with storage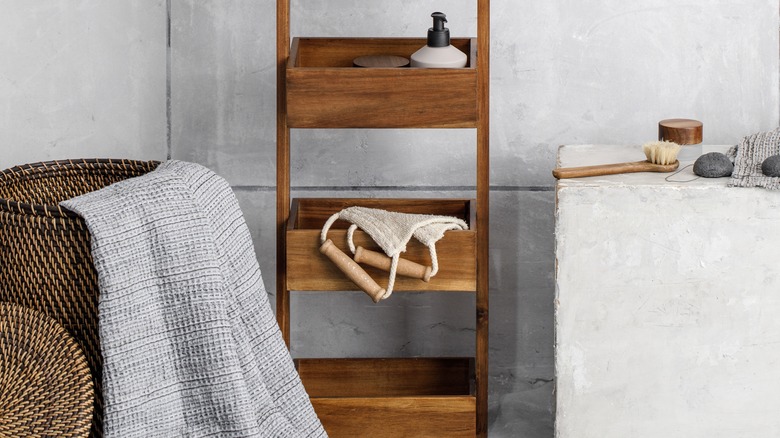 Jevgenija ZUK/Shutterstock
While your bathroom floor area may be limited, you can always build up. You can use freestanding or wall-mounted shelves and cabinets to give the room some extra hiding spots for all those face creams. 
3. Bring in the bins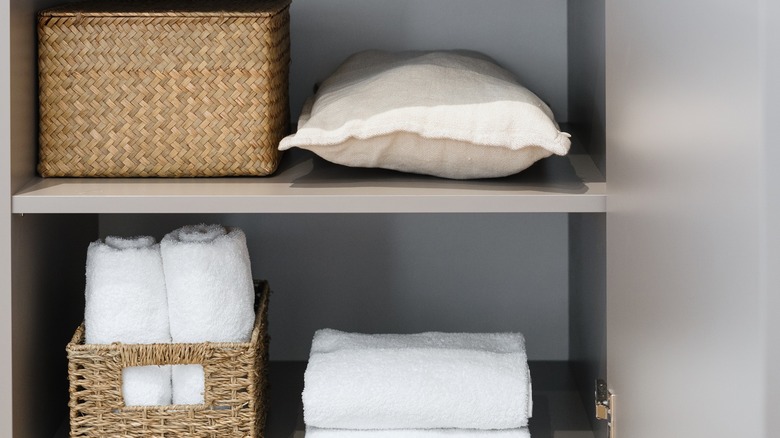 brizmaker/Shutterstock
Bins can go a long way in reducing visual clutter. Even if they aren't perfectly organized, they keep all your junk out of sight, which is great news, especially if you have open shelves. 
4. Downsize your linen collection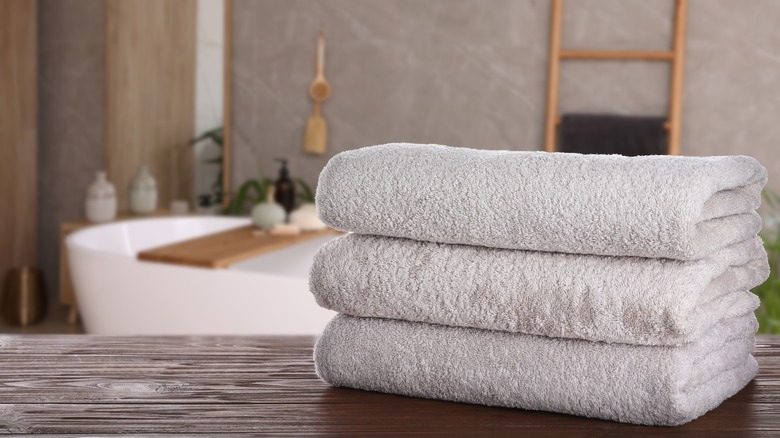 New Africa/Shutterstock
It can be hard to let go of towels that still seem to serve a purpose, even if they've been discarded due to bleach stains or just don't dry as well as they used to. Purge the bath towel cupboard to give yourself more free space. 
5. Rotate bathroom chores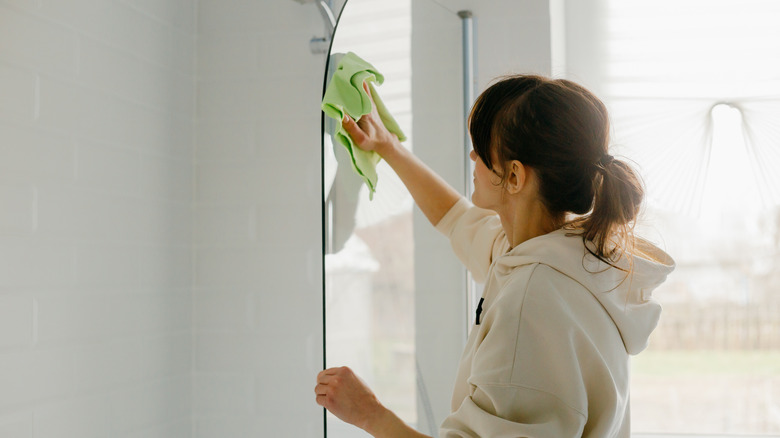 Elena Podrezenko/Shutterstock
While it can be overwhelming to do once-a-week all-over bathroom cleaning, try to rotate the big chores out. Clean the mirrors, scrub the toilet, and organize the right side of the cabinets one week, then rotate to wiping down counters, organizing the left side, and mopping the next week.
6. Only keep the essentials on the countertop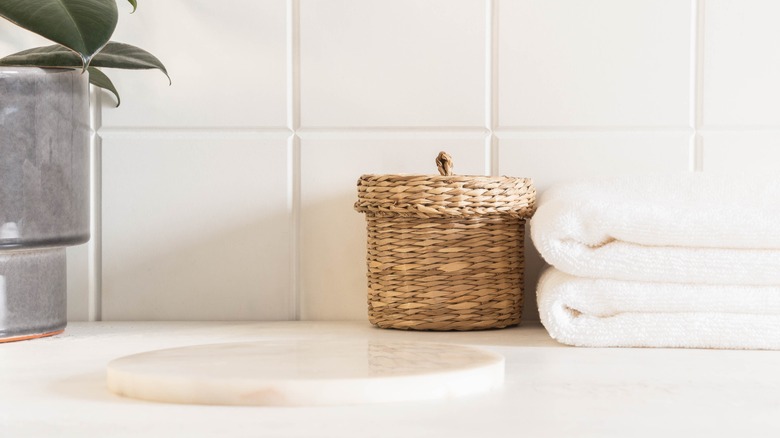 Sentelia/Shutterstock
Countertops in any room of the house can be magnets for clutter. So be sure to keep them reserved for only a very few objects like hand soap and lotion. Using a tray to contain these can help keep clutter to a minimum. 
7. Use drawer dividers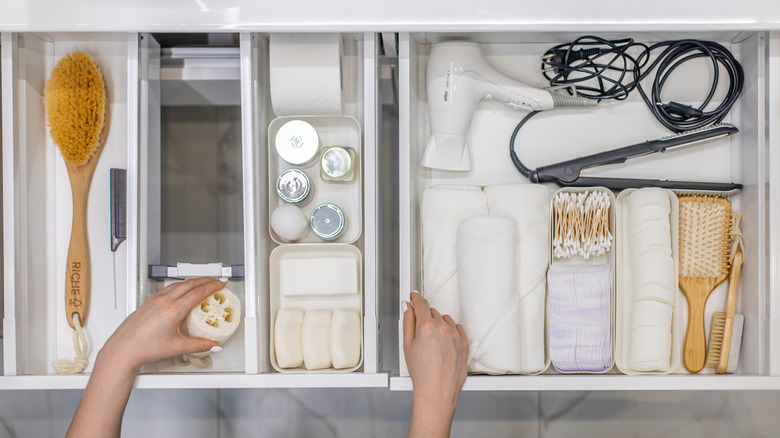 Kostikova Natalia/Shutterstock
If finding your hairbrush in your bathroom drawer requires a headlamp and gloves, invest in drawer dividers. They can help keep like objects together and make it easier to see where everything is.
8. Don't hoard disposables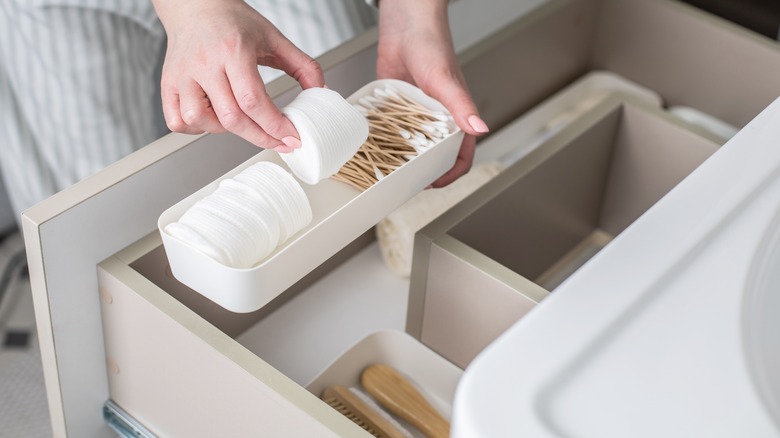 Kostikova Natalia/Shutterstock
Buying in bulk can help to keep costs down, but it also takes up a ton of room. So, shop in smaller quantities instead of buying disposable wipes and ear swabs in bulk. Or, better yet, try out reusable facial rounds to reduce your eco footprint.
9. Add storage containers under the sink
Liudmila Chernetska/Getty Images
Without drawers in your cabinets, you can end up with a ton of empty, unused space because you only disperse items on one level. An inexpensive plastic set of drawers is great for stashing makeup, hygiene products, and more. 
10. Designate a cubby for each family member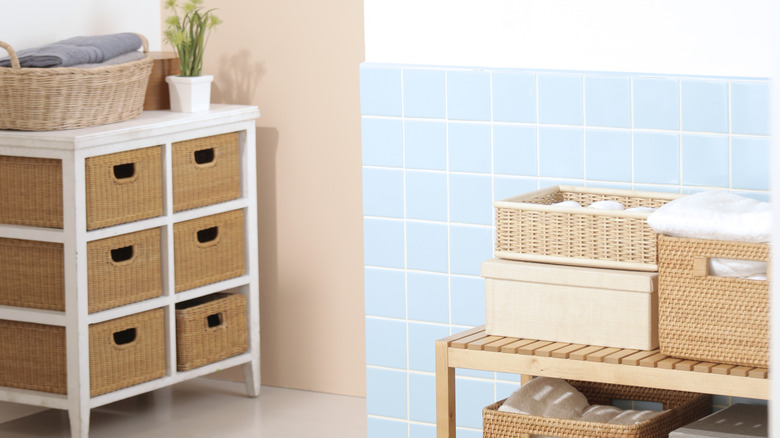 Praiwan Wasanruk/Shutterstock
Tidying up is much easier when there are bins for each person's belongings. If you're pressed for space in your bathroom, make it the household policy to carry the cubby out of the bathroom when they're finished up with their beauty and bath routine. 
11. Buy refillable bath products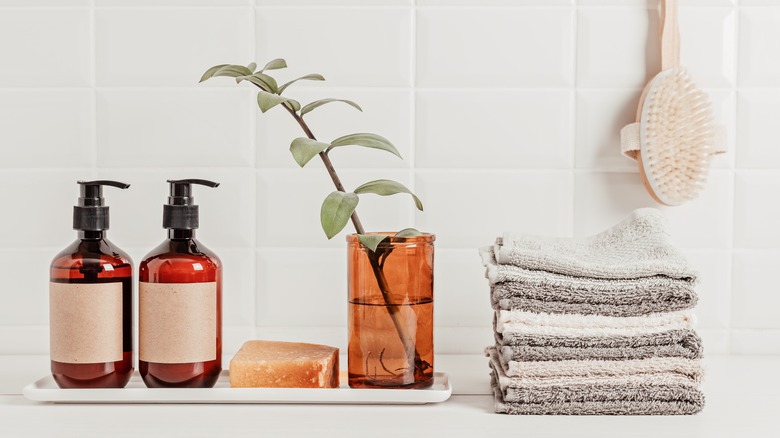 Netrun78/Shutterstock
If you have a dozen almost-empty body wash, shampoo, and conditioner bottles perched on the edge of your bathtub, consider buying a refillable bath product subscription. Then, you can just top off the same two or three bottles as needed. 
12. Add a laundry hamper
mariakray/Shutterstock
Can your significant other or little ones just not seem to keep their clothes off the bathroom floor? Give them a basket in the bathroom to toss dirty clothes into — it's easier to remember to do that than carrying them out of the bathroom, and it makes collecting clothes for laundry day easier.