The 15 Best Neighborhoods To Live In Toronto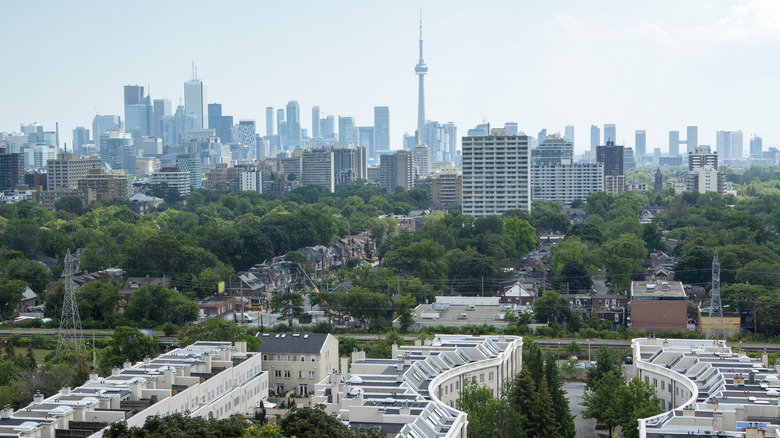 CE Photography/Shutterstock
Planning on relocating to Toronto? With a population of nearly 3 million people, Toronto, Canada, is a culturally diverse metropolitan city with over 150 neighborhoods to choose from. Like a mini-New York City, Toronto stands out on its own as the largest urban metropolis in Canada, which features vast ethnic diversity, including a multitude of various cuisines like Chinese, Korean, Greek, and Portuguese, among others, plus art, museums, and top universities like the University of Toronto, yet offers a hometown vibe amidst captivating harbor views of Lake Ontario and CN Tower.
So, where is the best place to live in Toronto? Depending on what you seek, Hogtown provides multiple ways of life. From safe, family-friendly communities to those well-suited for university students and/or the single life, each district represents its own character and amenities, per the City of Toronto. Toronto is broad place — designated as "The Six" by Forest Hill-native and rapper Drake, the metropolitan area consists of these six distinctive municipalities: East York, Etobicoke, North York, Scarborough, York, including (Old) Toronto, which consists of West End, East End, Downtown, Midtown, and Uptown regions.
Whether you're in search of an area that's safe and sound, or a bustling urban environment that's also affordable, Toronto has distinguished neighborhoods in all directions. Keep reading to discover some of the top locations to explore within The Six.
The Annex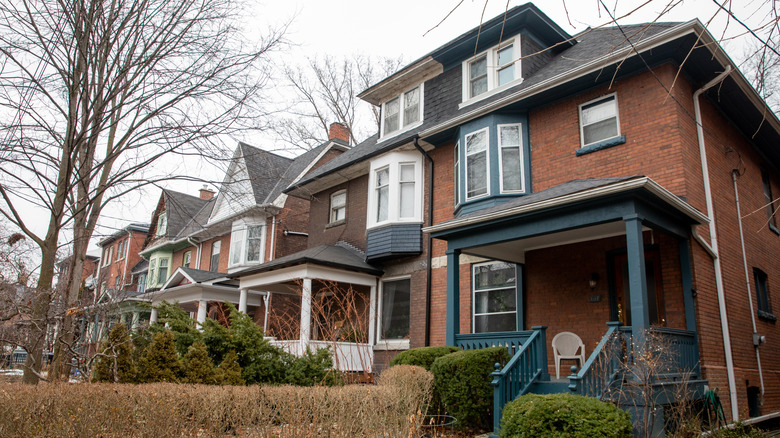 Shawn Goldberg/Shutterstock
A bustling yet laidback haven for university students and faculty, The Annex boasts several charming Victorian and Edwardian homes within proximity of the University of Toronto. Attractions like the Royal Ontario Museum, along with various cafes, bars, music venues, and eateries, are all within walking distance along Bloor Street West.
Bloordale Village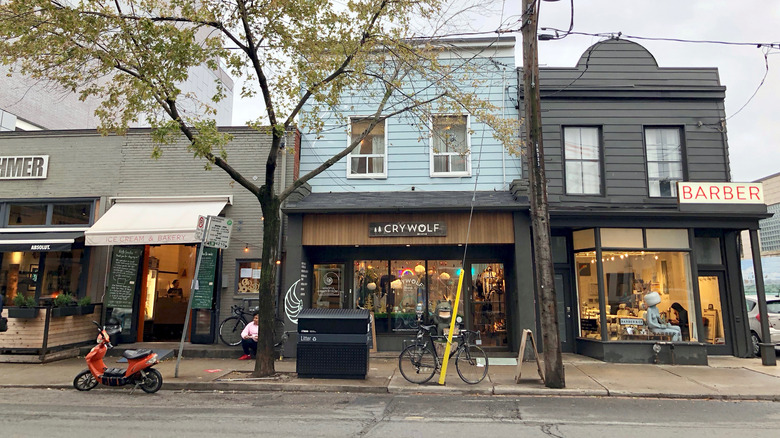 lynn friedman/Shutterstock
Centered on business development, Bloordale Village is an up and coming, family-friendly area that offers a variety of daily services. From Walmart to Dufferin Mall, the quaint neighborhood runs about 10 blocks from Dufferin Street to Landsdowne Avenue with numerous independent shops, bars, and restaurants, including rare antiques and an artist's den with Mercer Union.
Cabbagetown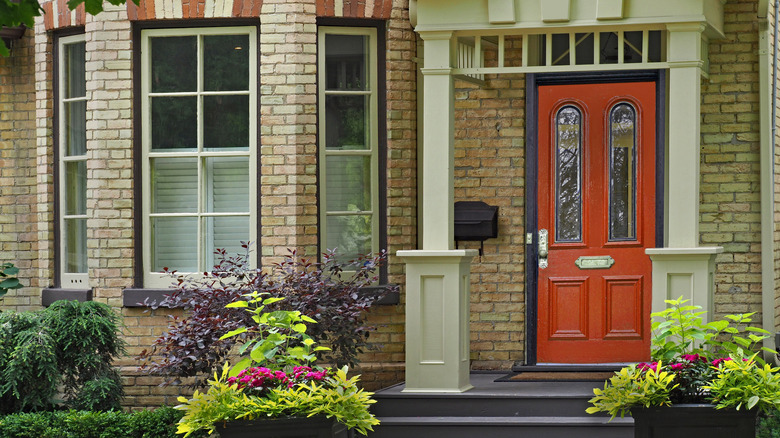 Spiroview Inc/Shutterstock
Full of 19th-century charm, Cabbagetown preserves its Irish roots within the numerous Victorian-style homes, as original immigrants once grew vegetable patches near their front gates. An enchanting area, Cabbagetown radiates a village-type community by way of its architecture and history and features a family-friendly atmosphere at Riverdale Farm within the breathtaking Riverdale Park West.
Davisville Village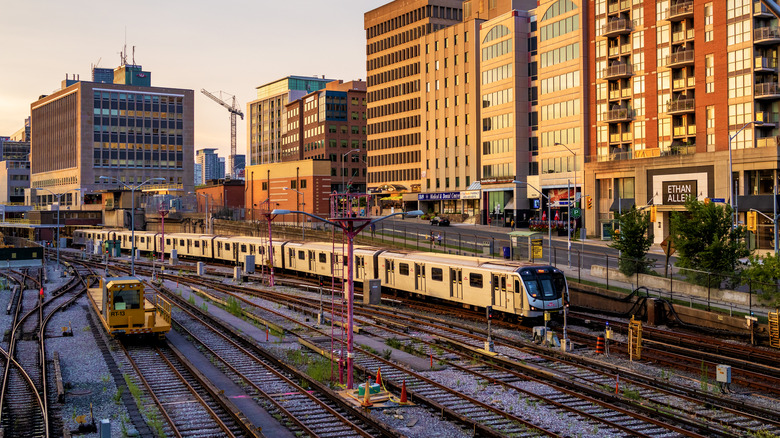 V. Ben/Shutterstock
Whether you're a midtown professional or growing family, Davisville Village is a low-key, affordable area fit snugly between St. Clair and Eglinton with plenty of outdoor activities like tennis, baseball, cycling, and hiking with June Rowlands Park and Beltline Trail just steps away. Mount Pleasant Cemetery also borders the area with its historic architecture and monuments.
East Danforth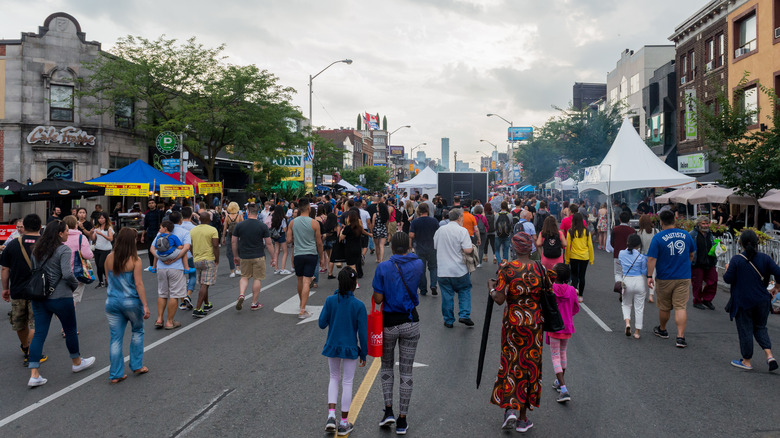 ACHPF/Shutterstock
Located on the east end of the Old Toronto, Danforth Village is known for its multicultural flare, shopping, and local scene. Home to Greektown and the Taste of Danforth Festival, the borough is also considered one of the top boroughs for family-friendliness and safe transportation, as the subway (Line 2) runs directly through the town for easy commuting.
High Park North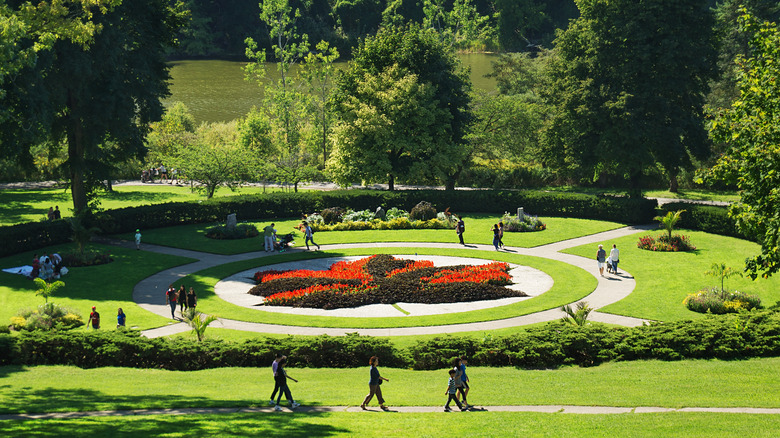 Vadim Rodnev/Shutterstock
Find serenity in the village of High Park North while staying close to urban activity. Situated west, the welcoming neighborhood features one of the largest parks within North America, known only as High Park, which includes High Park Zoo. Highly rated schools like Humberside Collegiate are here as well, attracting an array of families.
Kensington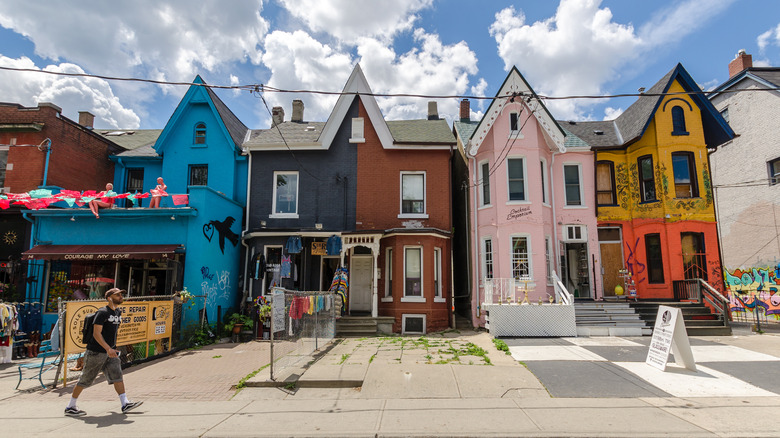 Marc Bruxelle/Shutterstock
Known for its abundant, open-air market, Kensington is an artsy, energetic quarter filled with trendy shops, vintage boutiques, bars, and cafés. With an independent panache, Kensington Market is open every day, excluding major holidays, and features baked goods, grocers, and various cheeses. The invigorating area also showcases colorful Victorian homes situated along tree-lined avenues.
Leslieville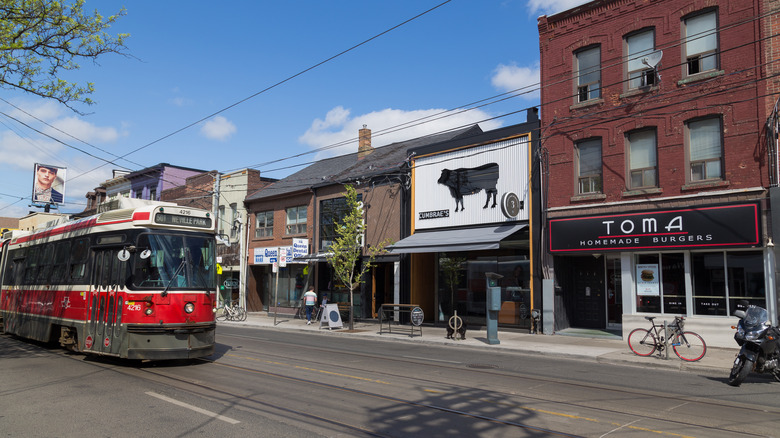 mikecphoto/Shutterstock
Young families may migrate to Leslieville for its hip, yet discreet vibe. Locals love weekend brunch, summer block parties, and beer fests amidst the artsy and colorful district located just east of the Don River. Targeted around Queen Street East, you might explore the thoroughfare's many shops, restaurants/cuisines, and bars.
Liberty Village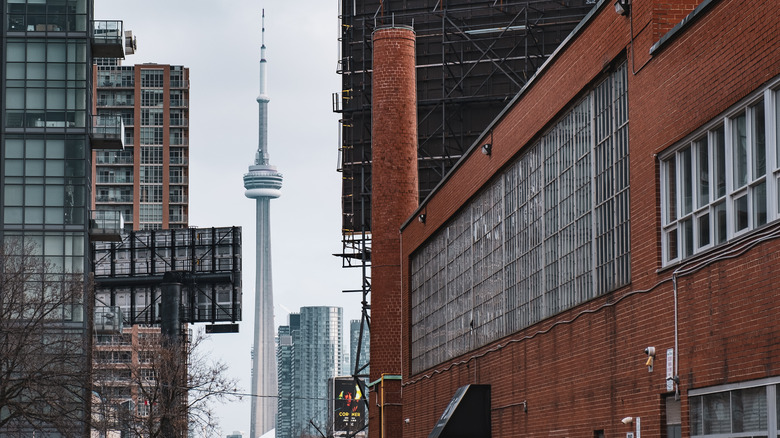 Everett Atlas/Shutterstock
If you're a working professional, you might find happiness in Liberty Village. Filled with posh condos, views of CN Tower, and various sporting events (at Lamport Stadium and the Coca-Cola Coliseum), most attractions are within walking distance for young hipsters. Classic and urban, the trendy area also has a popular local art scene, including mural building art.
Roncesvalles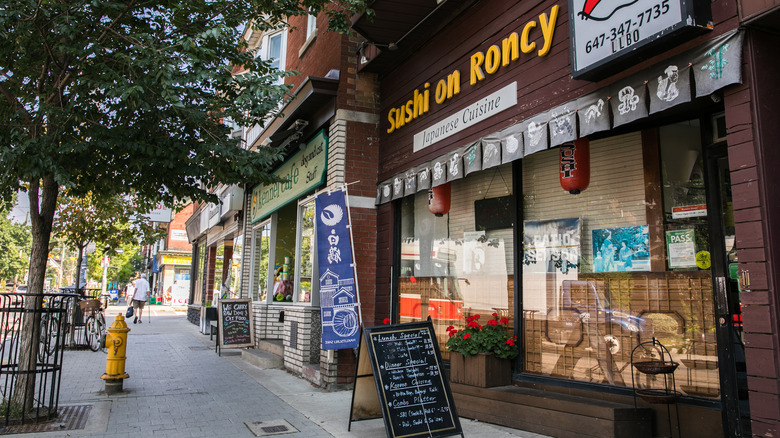 Shawn Goldberg/Shutterstock
Originally a Polish neighborhood, Roncesvalles, or Roncy, has grown as a popular residential area within the west side of Toronto. Close to High Park Zoo and the Museum of Contemporary Art, Roncy is an attractive zone with shops, markets, and coffee houses for young socialites, as well as families who want to be situated within the local downtown landscape.
Scarborough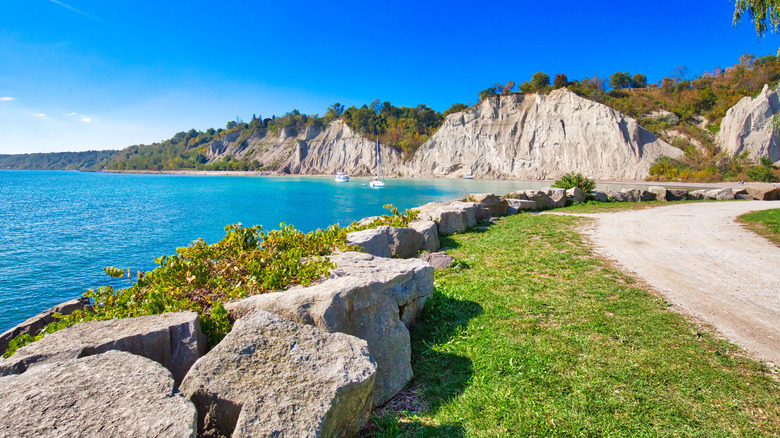 eskystudio/Shutterstock
Diverse, affordable, and family-friendly, Scarborough is a spacious residential area with room to breathe. Nature and wildlife lovers will love close access to the Toronto Zoo and the captivating Scarborough Bluffs, as there's plenty to do outside, including exploring various trails and gardens. If you commute, the Line 3 train extends to Kennedy Station to make further subway connections.
The Beaches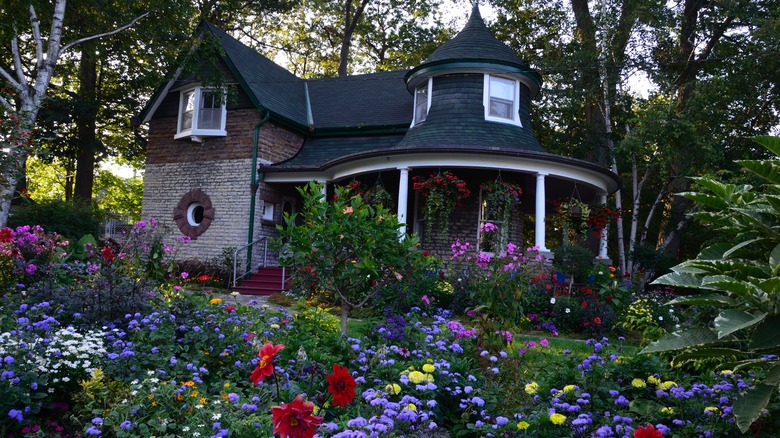 NelzTabcharani316/Shutterstock
With nearly two miles of shoreline, The Beaches is a laidback community only about 15 minutes from downtown. Reasonably priced, many families inhabit the area with a chilled summer vibe, as they love the sandy beaches, boardwalk, the boutiques of Queen Street East, and lovely Kew Gardens, the venue for the International Jazz Festival.
The Junction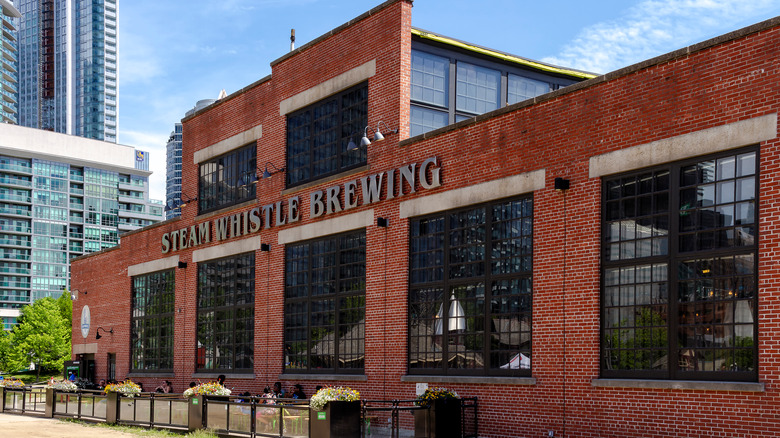 Gilberto Mesquita/Shutterstock
A place to meet, The Junction features the West Toronto Diamond, a four-way railway junction where it crosses at Dundas Street West and Keele Street. With a distinguished manufacturing/meat packing history (hence Toronto's alias Hogtwon), the historic northeast Stockyards region is now home to many neighborly shops and breweries, as the area continues to develop beyond its origins.
West Queen West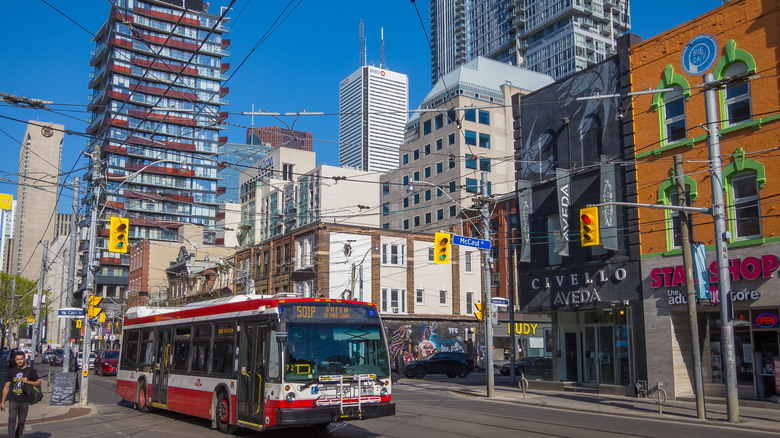 V. Ben/Shutterstock
Fashionable and lively, West Queen West may have it all. Known as one of the top spots for art galleries, fashion, music, and bistros, there's endless opportunities in WQW. With a thriving art scene, attend various art events in collaboration with The Drake Hotel or Gladstone House or chill out on the lawn in Trinity Bellwoods Park.
Yorkville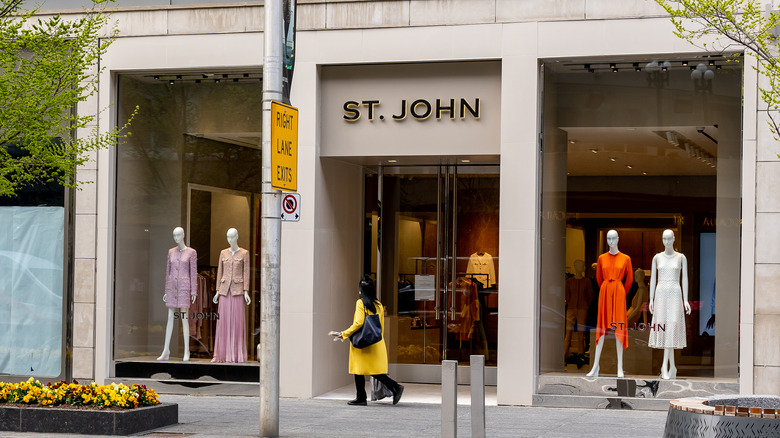 JHVEPhoto/Shutterstock
A high-end municipality, Yorkville is the place to shop labels, be seen, or celebrity watch during the renowned Toronto International Film Festival. Originally a boho haven for artists and musicians in the 1960s, Yorkville is now covered with chic boutiques, art galleries, exclusive hotels, and refined restaurants, along with picturesque Victorian houses and sensible condos to buy or rent.