This Living Room Staple May Be The Answer To Your Kitchen Storage Woes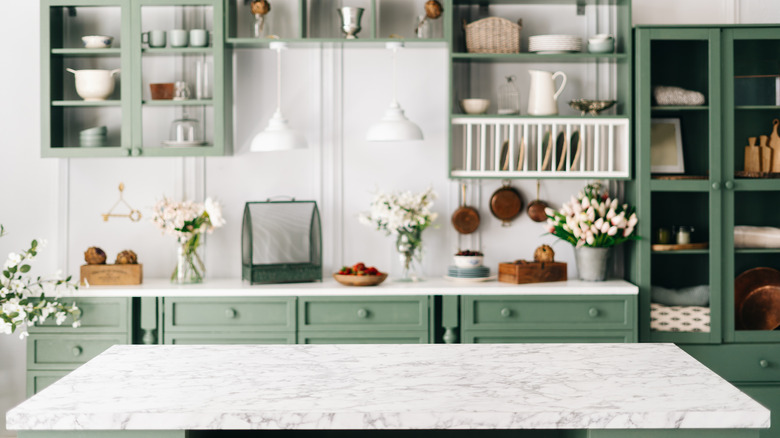 brizmaker/Shutterstock
Do you have kitchen cabinets exploding with snacks, Tupperware, and other cooking supplies? There's a solution that can stylishly give you extra storage without the need to renovate your entire kitchen. Before adding more shelf space, you must go through what you already have to determine what you need and what can be donated. After you assess what you want to keep, Cliq Studios recommends organizing everything into five storage categories. These are consumables, non-consumables, cleaning, preparation, and cooking.
Now that you've decluttered and organized your belongings, you can decide what you need more storage for. If it's shelf space, there's a perfect hack for you. Installing a bookcase in your kitchen will add three to six more shelves, depending on what size you choose. There are ready-to-assemble bookcases available in a multitude of materials at varying prices. Even if you only have a small space open in your kitchen, there is a bookcase that could turn it into functional storage.
Use bookcases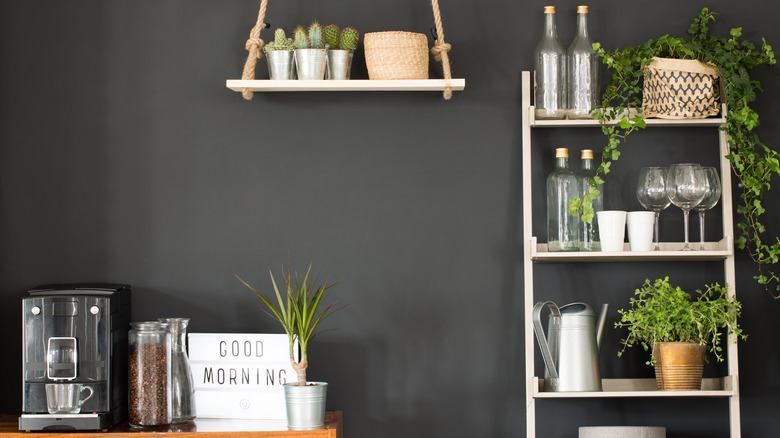 Ground Picture/Shutterstock
Bookcases are perfect for adding storage to any room, even your kitchen. They are not only functional but stylish too. You can custom-build one for your specific space and storage needs or purchase ready-to-assemble boxes. Bookcases are helpful in a kitchen because they give you more shelves to store all kinds of items. Although, you need to keep them neat because there is no cabinet door to hide the mess. Nathan James recommends using them to store your dry goods, baking supplies, cookbooks, and extra appliances.
The best place to put your bookcase depends on where you have extra space in your kitchen. This room is about function so you can prepare meals as conveniently as possible. If you know you're putting items on those shelves that you use frequently, put the shelf near your fridge, stove, or sink. Otherwise, a good place to put a bookshelf is in the transition space between your kitchen and the dining or living room.
Turn them into built-ins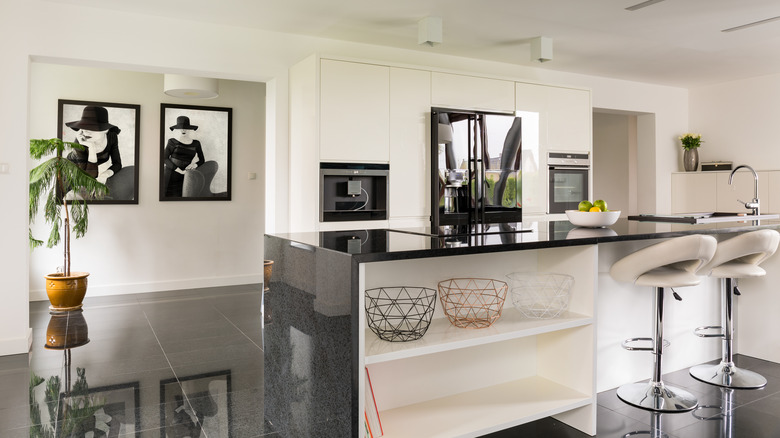 Ground Picture/Shutterstock
Making your bookcase into a built-in unit will make it look more like a part of your kitchen and not like you threw random furniture into a room. There are multiple ways you can do this. If you already have a kitchen island you don't use, you can easily turn all or part of it into storage. Eleven Magnolia Lane used Ikea Billy bookcases to create shelves under the overhanging part of a kitchen island. They installed the bookcases with brackets and covered all the seams with decorative trim. Now they have extra shelves that look like built-ins.
If you need more counter space, you can use two three-shelf bookcases to create a kitchen island. You would put them back-to-back and secure everything with brackets. Then purchase a countertop, like butcherblock, to attach to the top. Even if you use ready-to-assemble bookcases, you can repaint them to fit your decor.