The Most Important Spot On Your TV That You're Forgetting To Clean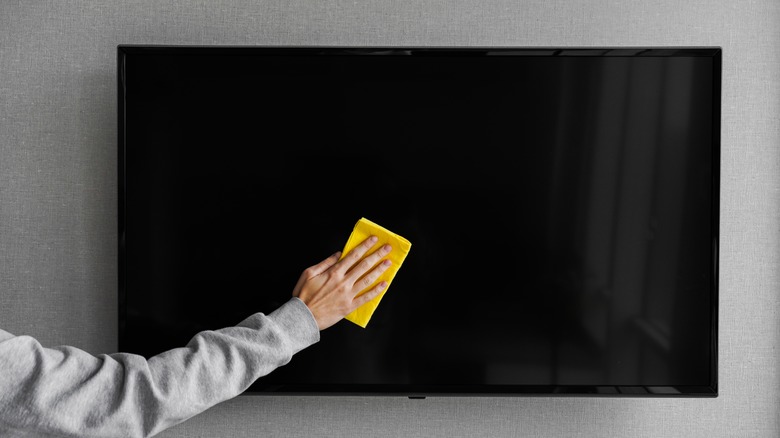 Irine and Andrew/Shutterstock
When you list off your routine cleaning responsibilities, odds are your television is something that gets neglected. It can be intimidating to clean a large and expensive piece of electrical equipment like your TV — using the wrong cleaning products or getting an abrasive substance into one of the ports can be a costly mistake.
Still, it's a necessary chore and relatively simple as long as you know what you're doing. In fact, not cleaning a TV can cause damage, too. As Consumer Reports points out, at best, a dirty TV will obscure whatever you're watching. However, at worst, accumulated dust can cause electrical issues and even become a safety hazard. While most people only pay attention to the screen when cleaning their set, in terms of safety, it's the least important place to direct your attention. Thus, next time you clean the electronic devices in your living room, pay special attention to the back of your TV set — specifically its vents and ports.
Vents
Linus Strandholm/Shutterstock
The trickiest aspect of cleaning your TV is avoiding ruining its electrical components. As such, you may hesitate to even approach the back of the TV with your cleaning kit. However, leaving its back to collect dust may lead to your television breaking, according to Kim Komando. For example, your television's vents, which help keep it cool, can become clogged with dust if you fail to provide them with necessary love and care. Of course, an overheating TV set rarely turns out well, so it's wise to tend to the vents semi-regularly.
To clean your device's vents, unplug it from your home's electrical outlet to avoid electrical shock and move it around freely. Then, grab a vacuum with a handheld attachment and suck up the dirt out of the vents. You can then employ a dry microfiber cloth to wipe off any debris or dust released. Do this at least once a month to prevent significant dust accumulation.
Ports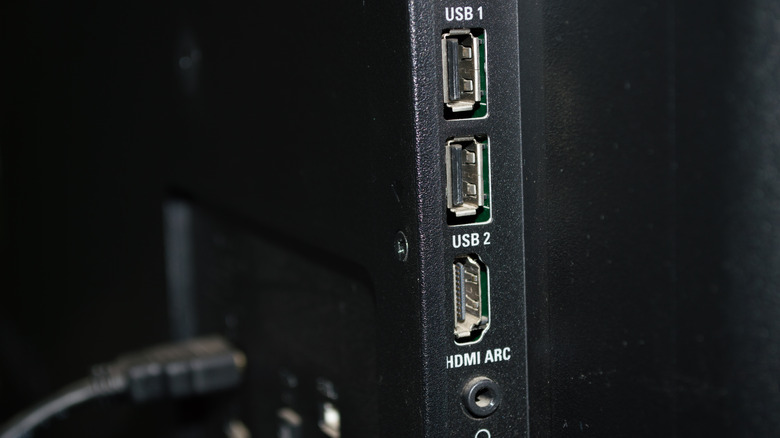 lidiasilva/Shutterstock
While your television is unplugged, you should also pay attention to its ports, advises Kim Komando. Even in the age of smart TVs, your device's ports are still some of its most essential components. So whether you plug in a streaming stick, a gaming console, your computer, or something else, its ports must remain in working order if you want to get the most out of your TV.
Over time, though, those ports will accumulate dust, and similar to vents, excess build-up can lead to them breaking. While this probably won't render your TV unusable, it can pose a safety hazard and limit your device's functionality. Since these ports are quite small, vacuum attachments likely won't be able to get into the nooks and crannies of your TV. Instead, use a can of compressed air or a reusable air duster. However, don't stick the nozzle directly into the port. Instead, slightly angle it so that the air blows out. You can use a dry towel or microfiber cloth to clean up the freed dust after you're done.