The Home Feature People Say Is Most Important When Entertaining - Exclusive Survey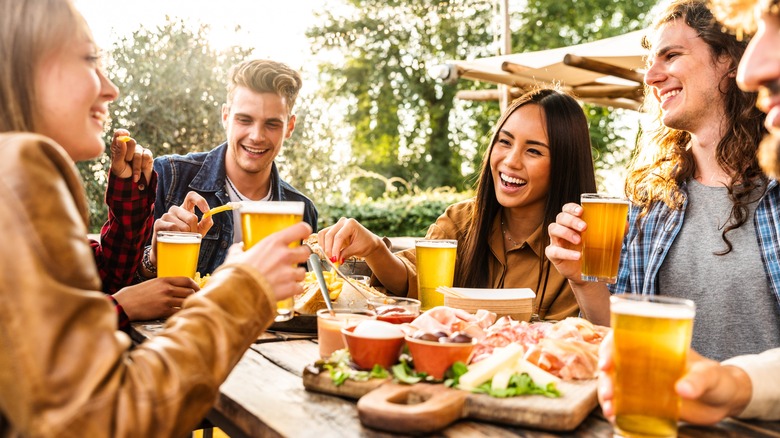 DavideAngelini/Shutterstock
It's always good to have a space to entertain for the occasional surprise visit from mom or to celebrate a momentous pillar of your life. According to Viking Custom Homes, creating a space to entertain is important if you want to ensure your guests are comfortable throughout their stay and have space for eating, sitting, and other activities, as well as an area to sleep if they choose to spend the night. Luckily, there are certain features you can incorporate to create the perfect home for entertaining. 
House Digest recently conducted an exclusive survey asking participants which home feature is the most important when entertaining. We gave them five options: kitchen seating, large dining table, outdoor space, bar area, and open floor plan. If you're ready to give your home a functional and stylish update, we'll reveal which option gained the most votes and the factors that led to its popularity.
Space to move freely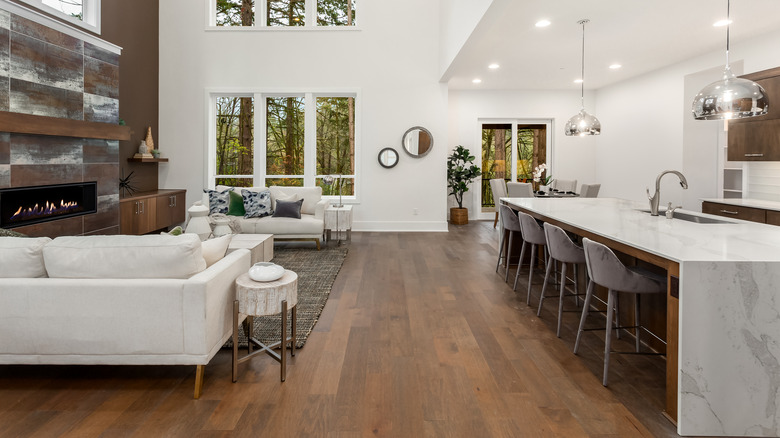 Justin_Krug/Shutterstock
Out of 612 respondents, 36.93% (226 people) chose an open floor plan as the most important home feature for entertaining, according to our survey. MasterClass explains that an open floor plan is the connection of major spaces — such as a living room and kitchen — by removing walls or any other types of separation. This is great for those who want a space for entertaining, especially if you tend to invite several guests, because this type of floor plan will make it easier for people to move around when there are no barriers. 
An open floor plan will also allow more natural light to flow throughout the space, which, in turn, will create the look of a bigger home. Additionally, this floor plan will make it easier for your guests to communicate with each other because the absence of any walls or other separators will allow sound to move freely throughout your home.
And a space for endless possibilities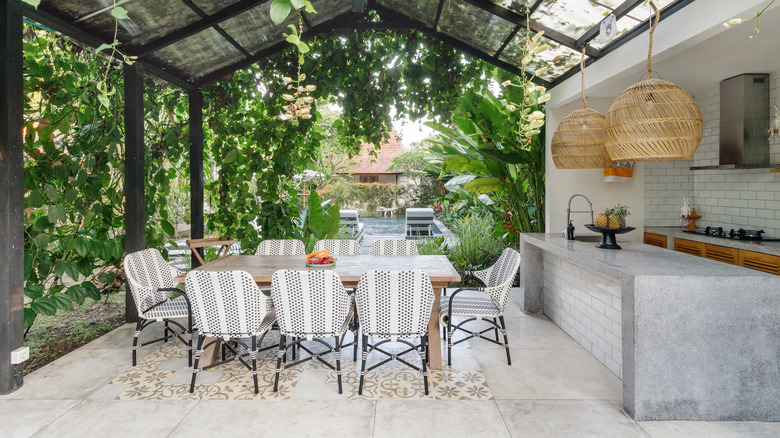 brizmaker/Shutterstock
Coming in second is outdoor space, with 24.35% (149 people) of respondents choosing this option as the best home feature when entertaining. According to Prince William Home Improvement, there are a plethora of features you can install outside to create the perfect entertaining space for you and your guests.
For example, some homeowners install a pool and a few lawn chairs to create a space for fun and relaxation. However, you can also opt for an outdoor kitchen to make catering for your guests easier, or you can amp up the seating area of your patio to make entertaining guests outdoors more enjoyable. We suggest hanging a few string lights and ensuring there are enough comfortable seating options.
The following are the other options from most to least amount of votes: a large dining table, which received 119 votes (19.44%), a bar area with 60 votes (9.80%), and kitchen seating with 58 votes (9.48%).