How Much Does It Cost To Reupholster A Couch?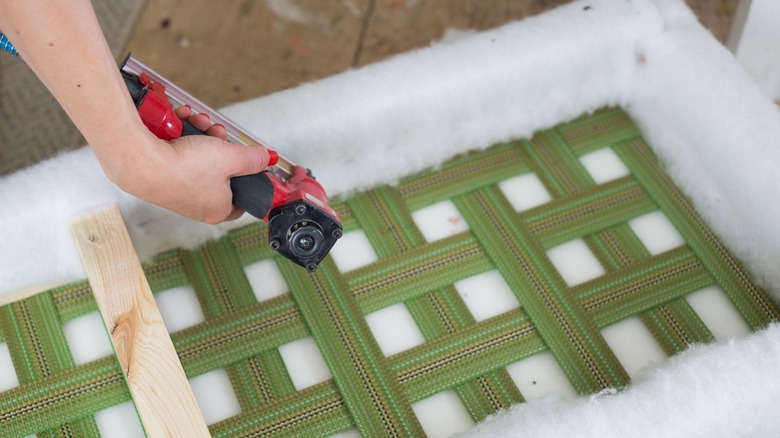 Kat Om/Shutterstock
When shopping for a couch, quality and durability are the most important factors to consider. It's not worth purchasing something that's going to need replacing in a year or two. As a matter of fact, a good-quality couch should last you anywhere between seven and 15 years, according to Bob's UDC – of course, this depends on how well you treat it. When homeowners begin to notice signs of wear and tear, many will automatically assume it's time for a new couch, but why replace when you can reupholster? 
Reupholstering furniture is much less expensive than buying an entirely new couch, but it's important you know when it's time to just throw the entire sofa away. If your couch has visible seams or lumpy, uncomfortable cushions, more than likely, it's still salvageable. So, how much does reupholstering a couch cost? There is no one clear-cut answer to this question — the price ultimately depends on the type of sofa you own. 
Loveseat and leather couch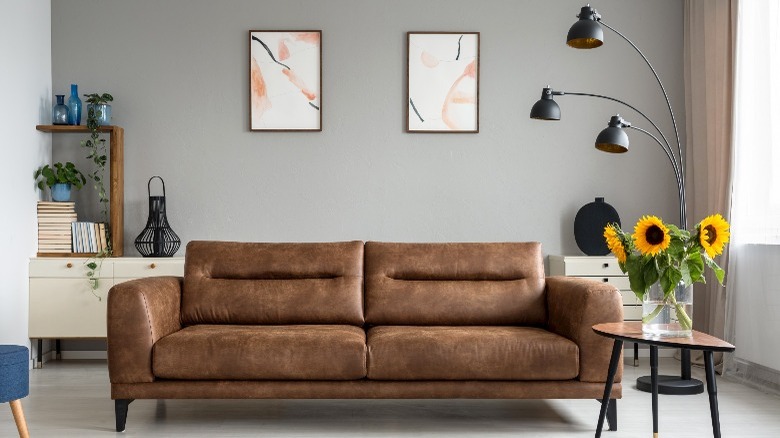 Ground Picture/Shutterstock
To reupholster your lovable loveseat, it will cost you somewhere in the region of $500 to $2,000, says Revolution Performance Fabrics. Loveseats typically need eight to 12 yards of fabric, depending on the size. To make sure you aren't overspending, contact a professional to get their opinion on how much fabric you should purchase. You need to take the type of fabric into consideration as well — you will obviously pay way more for a leather loveseat than one made of a cotton blend. 
For those with a leather couch, expect to pay anywhere between $600 to $4,500 (again, this all depends on the size and number of cushions). If your couch is made of durable, high-quality leather, you'll be paying upwards of $750 per hide. You can opt for fake leather, but the material is more susceptible to peeling. It's ultimately your decision, but paying for the real thing up front may save you money in the end.
Sectional and chaise lounge
Hendrickson Photography/Shutterstock
According to Home of Cozy, a sectional sofa reupholstery runs anywhere from $2,000 to $4,000. Because sectionals are much larger than the average couch, they require about 24 to 36 yards, says Kovi Fabrics. To measure your sectional, first, find the height and width of its back, then the back of the other sections. The chaise is next (if you have one), followed by the depth of the arms, and finally, the back support. Be sure to add a few inches to each measurement — it's better to have more fabric than you need. 
On average, the cost to reupholster a chaise lounge is between $900 and $1,500. To determine the price of your chaise, consider the fabric, nails, foam, labor costs, and other necessary supplies. It may cost you a pretty penny, but at the end of the day, your loveseat, couch, or chaise will look as good as the day you bought it.