You Can Stay In A Texas Airbnb That Is Made Out Of Converted Shipping Containers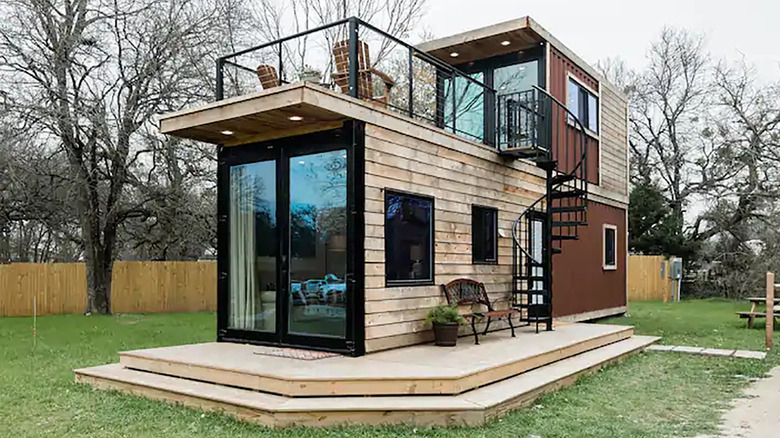 Airbnb
Have you always wanted to see what it might be like to live in a tiny home? Have you pondered converting a shipping container into a guest house? Perhaps you dream of visiting Chip and Joanna Gaines' Magnolia Market in Waco, Texas. These are just a few of the reasons to stay at the Helm, a two-story shipping container refurb reservable on Airbnb.
Since the Helm rents for as little as $95 per night on weekdays, a mid-week bargain trek to Waco during the off season could be the budget-friendly way to go. Weekend prices vary widely from $132 to $477 a night (with minimum stays of 2 to 3 nights during peak times of the year). Be prepared to pay a one-time cleaning fee of $55 and a variable service fee as well. With two bedrooms, friends or couples can split the cost when road tripping together. Just remember that Magnolia Market is closed on Sundays when planning your trip.
What's to like about the Helm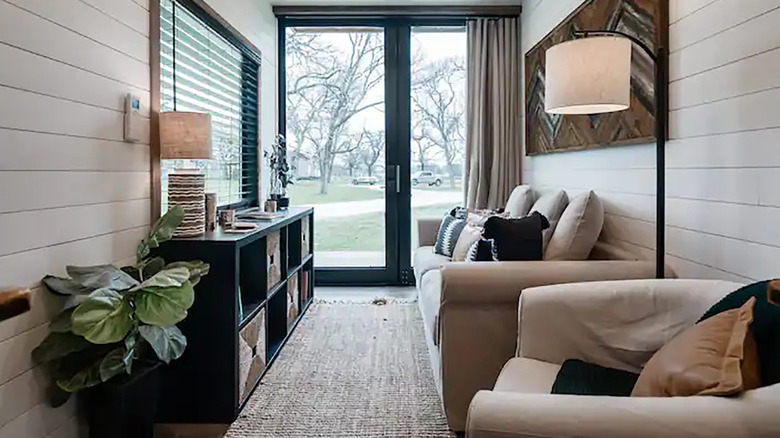 Airbnb
According to the Airbnb listing, the Helm boasts chic yet comfortable décor that would surely make the Fixer Upper designers proud. This is particularly apropos since the Magnolia Market at the Silos is only a few miles away. With shiplap walls, antique wood accents, rustic shelving, and barn doors too, there are plenty of modern farmhouse touches that would make any HGTV fan feel right at home. The shipping container tiny house also has all the well-equipped conveniences you'd hope for including a charming kitchenette with sink and microwave, a comfortable sitting area, two bedrooms with queen beds, and two full baths with walk-in showers.
This hip little home boasts 4.96 stars from 539 reviewers on Airbnb, many of whom describe it as unique, quaint, and a great spot to relax. And no wonder, as mentioned on Tiny Living, there's also a cool winding staircase on the exterior of the building that leads up to a rooftop patio area. The host of this retreat also gets high marks for hospitality with Airbnb's coveted Superhost status.
The Helm offers a great place to rest and explore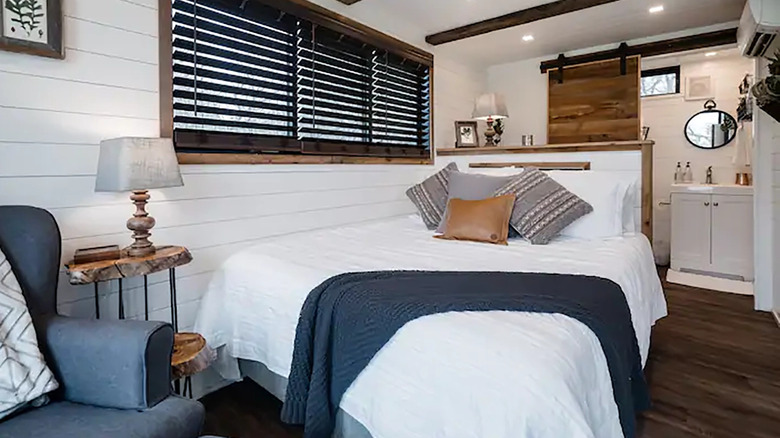 Airbnb
After a restful night in one of the Helm's two cozy bedrooms, there's lots to see and do in Waco. In addition to the Magnolia Market complex, there's also a self-guided tour called the Magnolia Trail. Follow it to find Magnolia Table restaurant and several other shops, according to the Waco Convention & Visitors Bureau.
Even if you're not a hard core fan of home improvement shows, there are many attractions to explore in Waco. Families staying at the Helm can enjoy the Cameron Park Zoo. Those interested in local culture and lore can check out the Texas Ranger Hall of Fame & Museum. The Dr. Pepper Museum also provides a fun stop filled with nostalgia, and natural history buffs can make the Waco Mammoth National Monument a destination. Distilleries and vineyards dot the vicinity, as noted on the Waco Visitors Bureau website. When your day of shopping or sightseeing is done, retreating to the Helm's lighted rooftop patio offers the perfect chill spot to enjoy your glass of locally produced wine.