Extreme Makeover: Home Edition Star Breegan Jane's Top Tips For First-Time Home Buyers
Jerod Harris/Getty Images
Purchasing a home is no easy task, especially if it's your first time; there are several factors to think over depending on your circumstances. How well are the schools rated? How big should the lawn be? What are you willing to renovate? Luckily, the one thing first-time home buyers can look forward to is the continued drop of property prices — which were noted to decrease for nine months in a row, according to Axios. However, what are the many other important factors you should be aware of as you begin your home-buying journey?
Luckily, the designer and star of "Extreme Makeover: Home Edition" Breegan Jane has revealed what your main priorities should be as a first-time homebuyer (via Breegan Jane). A California native, Jane is not only a designer but also a blogger, influencer, and entrepreneur. She has made several television appearances and shared her expertise on all things home-related, and we believe she can lead virgin house buyers in the right direction.
Avoid aiming for perfection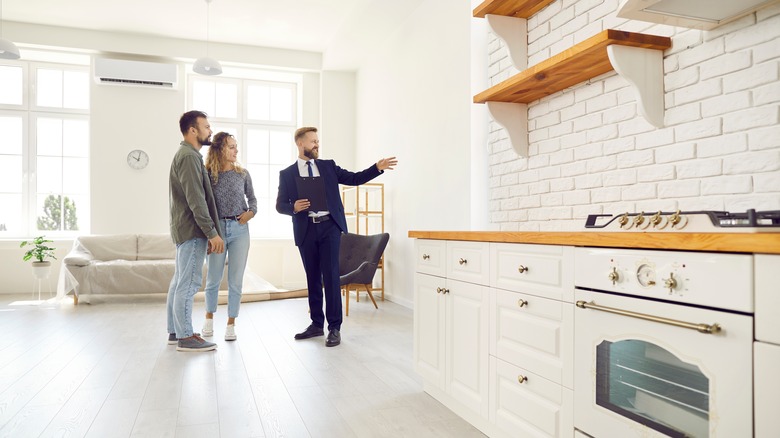 Studio Romantic/Shutterstock
One thing the star of "Extreme Makeover: Home Edition" emphasizes is to avoid looking for the perfect home (via Breegan Jane). Instead, she urges buyers to give that house with outdated countertops or unattractive carpet a second chance, especially if it provides non-negotiable benefits. This includes the property's layout, location, and local school district. She advises taking note of the permanent features rather than what can later be replaced. Other non-negotiables include parking space, a detached or attached garage, backyard space, and bedroom quantity, according to Intuit MintLife.
It's Breegan Jane's belief that if buyers focus on purchasing a house with a strong structure and budding potential, they'll be better off in the long run. To ensure you're buying a property you can safely grow into, Edens Structural Solutions says there are a few things you should look out for, such as sagging floors, cracked walls, difficulty opening windows and doors, damp crawl space, and bulging exterior walls.
Stay within your budget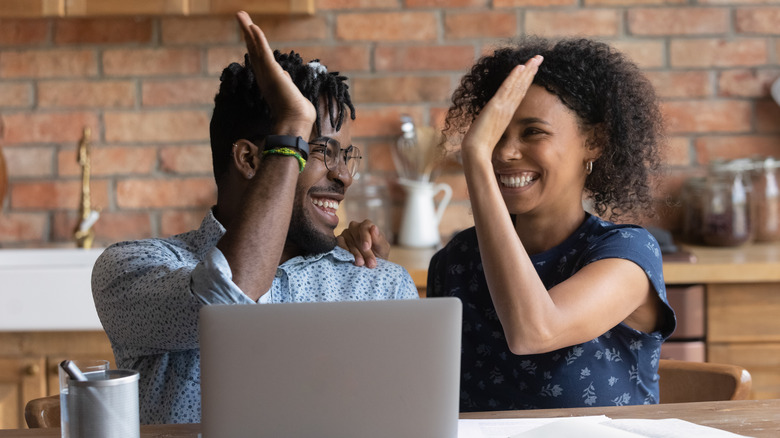 fizkes/Shutterstock
To start the process of purchasing your first home, Breegan Jane says to first figure out the type of budget you're dealing with. Once you have a set sum in mind, this will help you better understand the types of homes you'll be able to afford. Jane notes many people look for properties they believe they can afford in the future without confidently determining their current financial circumstances (via Breegan Jane). To avoid future delinquencies, it's important to understand the different types of financial situations you may have to deal with later.
According to Investopedia, first-time home buyers should follow the 28% rule, which states that your mortgage should be less than 28% of your gross monthly income. Also, purchasers should remember that sellers typically want a 20% downpayment on the house. So if 20% of a seller's asking price is beyond what you can afford, it may be time to make some reconsiderations.