30 Spa-Inspired Bathrooms That Will Make You Feel Like You're On A Retreat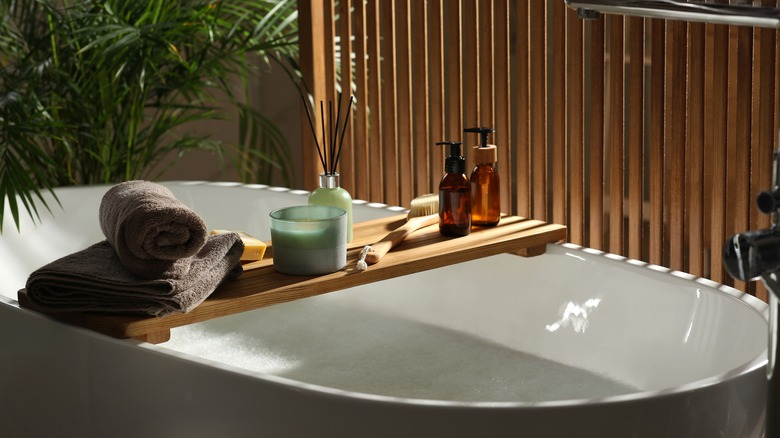 New Africa/Shutterstock
While designing your dream bathroom, or maybe just getting the mood board together, you may ask yourself, what makes a bathroom feel like a luxury spa? That can be especially difficult if you have your own distinct design style you want to incorporate. First on Creekstone Designs' list of importance is high-end materials, while MHM Professional Staging swears by springing for lush linens, like plush bath mats and organic cotton bath sheets. 
But there are many ways to get that spa day vibe in your at-home bathroom — sometimes it's just a matter of knowing what your options are and really narrowing down what you want out of your bathroom. That's why we've found some of the most stunning spa-like bathrooms, each with its own unique style, that will have you reaching for the lemon water and cucumber slices for your eyes. Check out some of our favorite at-home spa retreat-inspired bathrooms for some instant inspiration.
1. Natural and organic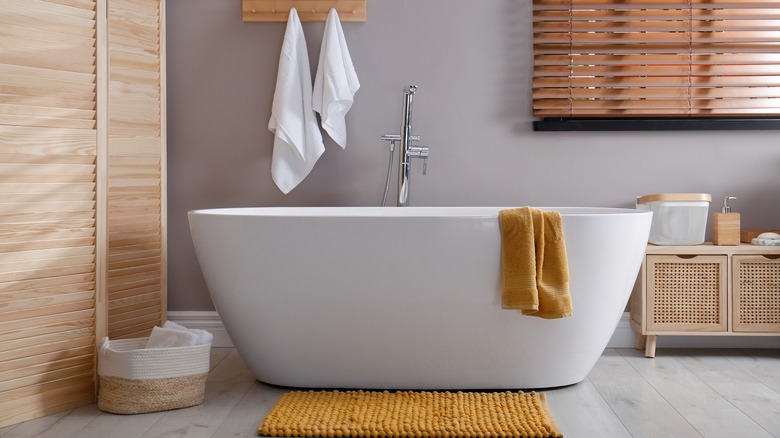 New Africa/Shutterstock
Cane-covered wicker cabinets and a wood slat room divider make this bathroom feel relaxed and orderly. Plus, wooden blinds lend an elegant, organic touch. 
2. Neutral and sleek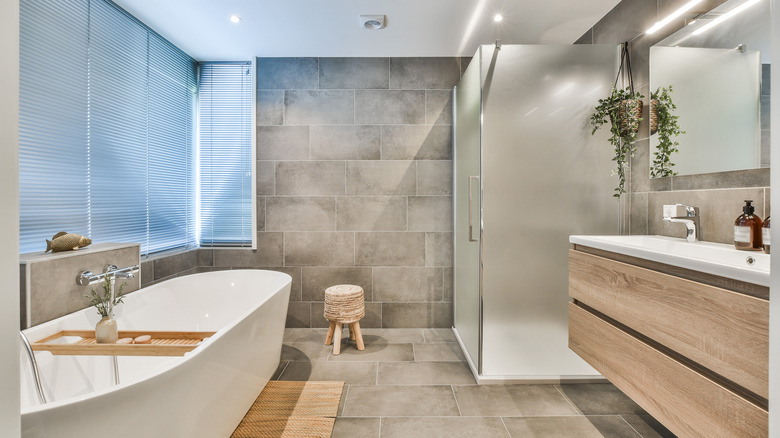 Procreators/Shutterstock
Tile often gets a bad rep as being a touch traditional, but these rectangular grey, floor-to-ceiling tiles are contemporary and chic.
3. Stunning floating vanity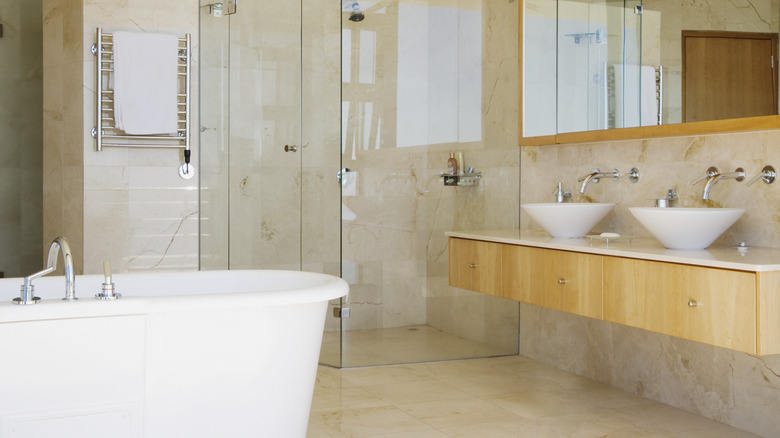 Martin Barraud/Getty Images
Elegant silver faucets, a double basin sink, and a dreamy all-glass shower are enough to make anyone feel like they're kicked back at a spa retreat. 
4. Dramatic and stunning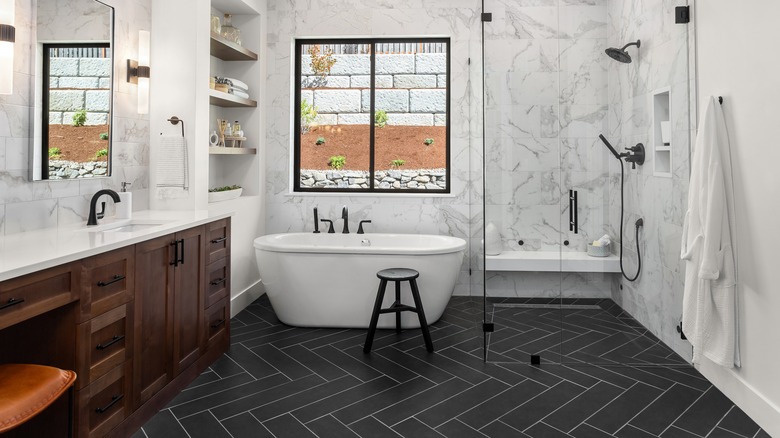 Justin_Krug/Shutterstock
Many luxury bathrooms go for all-white with light fixtures, but the dark walnut cabinets and black herringbone floors in this bathroom prove you can have a moody, relaxing sanctuary in your bathroom. 
5. Botanical garden bathroom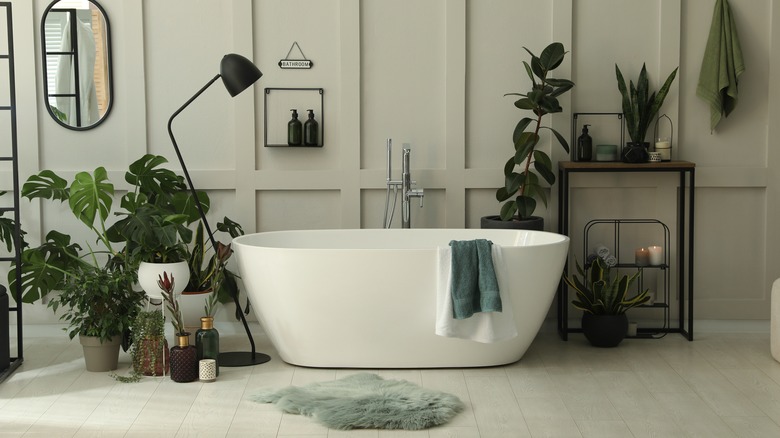 New Africa/Shutterstock
A fool-proof way to add color to the bathroom without making it cluttered and busy is to incorporate plenty of potted plants. Look for plants that can withstand plenty of humidity. 
6. Minimalist bedrock
An oval freestanding tub on a white, loose stone foundation? It doesn't get more spa-like than that, especially with a rough grey stucco wall for additional texture.  
7. Stunning fluted walls
Fluted, textured walls add visual interest that will play light off differently than smooth textured walls. And we love a fresh take on the traditional bathtub with a glossy black acrylic finish. 
8. Jungle bungalow bathroom
Even if you have a slightly outdated tub surround, adding botanicals and shrubs around the extra surface space not only brings it up to date but makes it feel incredibly luxurious and relaxing. 
9. Blissful blue brick
While bricks aren't an obvious choice for bathrooms, given their porous nature, covering them with waterproof paint adds a delightful texture to the space. 
10. Modern and Moorish
This bathroom has stunning, unexpected details, like the Moorish-shaped mirror and multi-patterned tiling, but it still feels relaxing and breezy. 
11. Textured and dramatic walls
Don't shy away from bold walls like these gorgeous black, textured pavers. We especially love the abstract, feather-like white details in this particular pattern. 
12. Classic and traditional
This bathroom uses warm pinks more akin to a Tuscan village than a zen spa, but the unique, raised bathtub definitely pushes this bathroom into spa territory. 
13. Luxury by any standard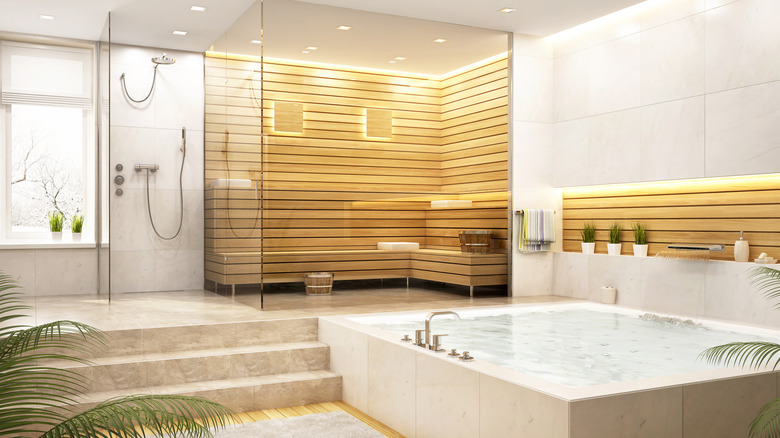 Sl-f/Getty Images
Between the giant square bathtub, separated shower and steam room, and dreamy wood slat walls, we aren't convinced this bathroom isn't from an actual spa. Any one of these details would make for a gorgeous home bathroom. 
14. Warm, warm wood tones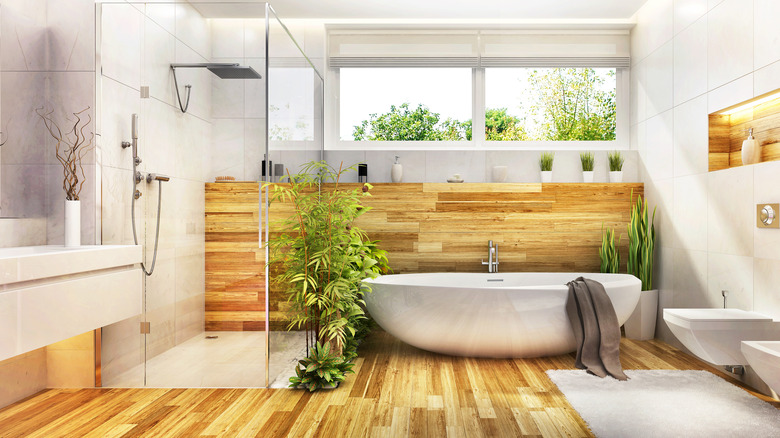 Sl-f/Getty Images
One thing that makes this bathroom feel so natural and organic is the unique and defined wood grain found throughout the planks on the floor and accent wall. We also love the continuous paneling from the bath to the shower wall. 
15. Smokey and serene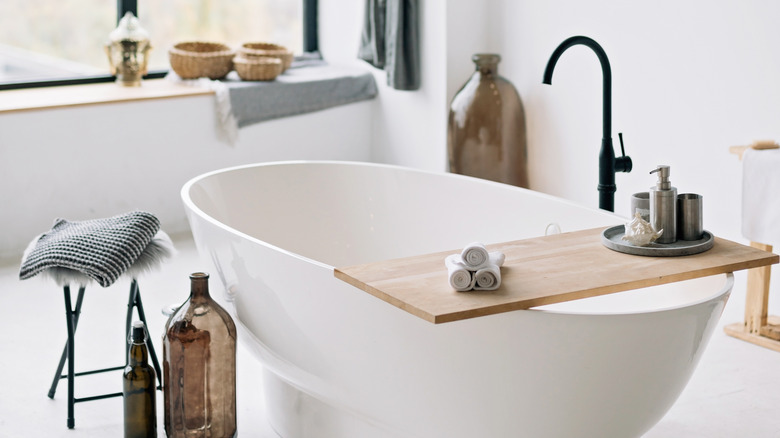 Nataliia Sinchuk/Getty Images
The mix of smoked amber glassware, grey linens, and natural wood tones make us want to spend a few hours in this freestanding garden tub. 
16. Multi-textured feature walls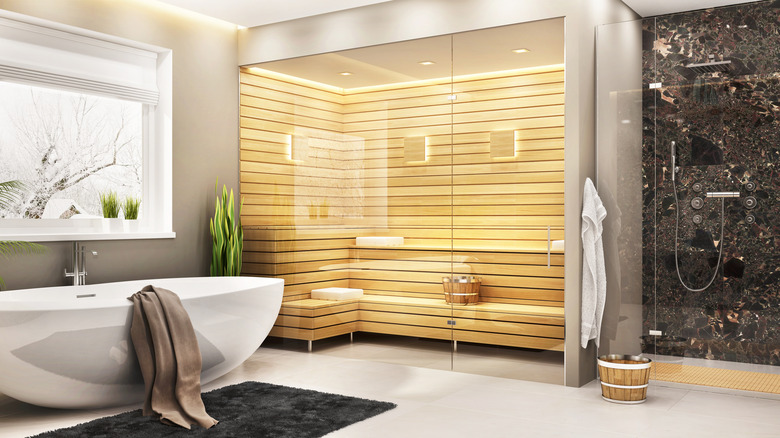 Sl-f/Getty Images
Mixing textures, like the black-speckled stone and smooth, golden cedar planks seen here, is one of the key characteristics of spa retreat bathrooms. 
17. Double the glam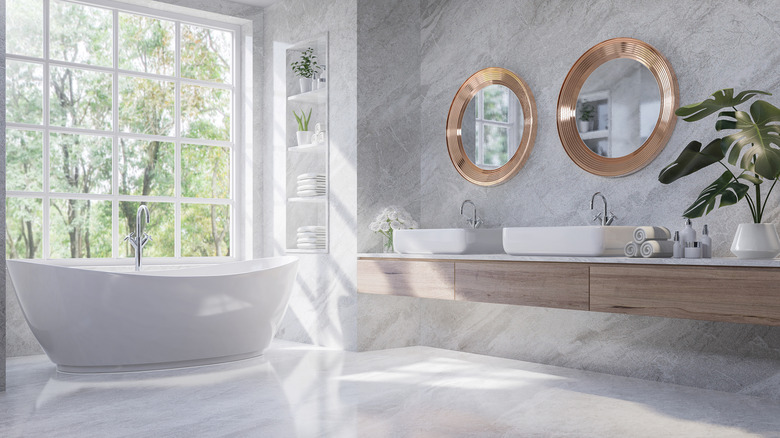 Runna10/Getty Images
This floating vanity makes the space feel weightless, and the floor-to-ceiling marble slabs are peak luxuries that are sure to make jaws drop. 
18. Breezy beautiful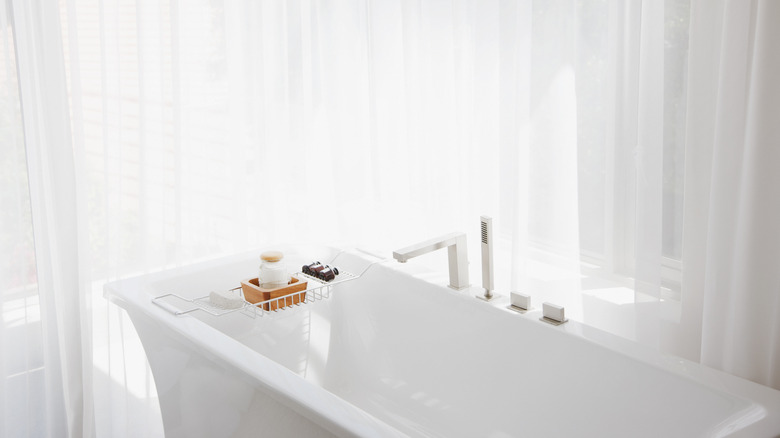 Paul Bradbury/Getty Images
While it may not be your first instinct to hang drapes in the bathroom, using a transparent, airy fabric like the one seen here is a great way to soften the bathroom and make it feel secluded from the rest of the house.
19. Antiqued and luxe
Erik Snyder/Getty Images
If you find your bliss in French country style, your bathroom should reflect that. Paneled walls and a clawfoot garden tub will have you feeling like you've been transported back in time. 
20. Tantalizing terrazzo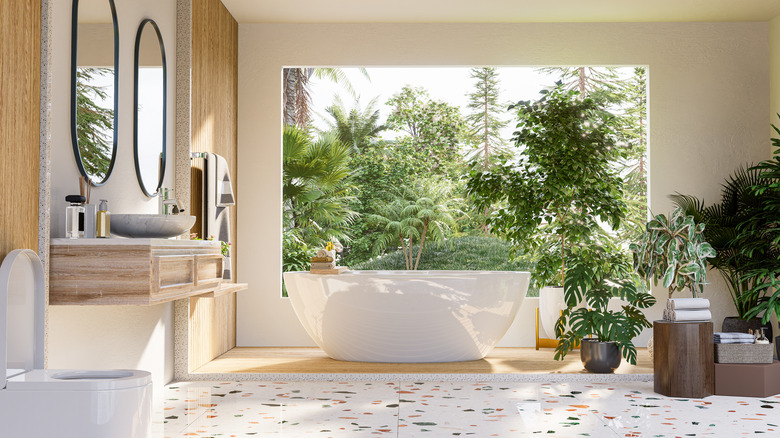 Vanit Janthra/Getty Images
Terrazzo is a glossy, mixed concrete material with other stones mixed throughout it for additional color and texture, like in the stunning floor seen here. Of course, the view definitely helps with the ultra-relaxing spa vibes. 
21. Brutalist luxury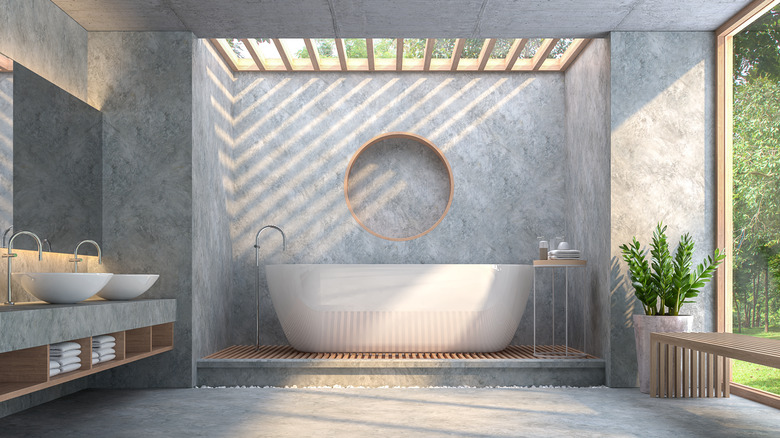 Runna10/Getty Images
We love a luxe bathroom with an industrial edge, which can be incredibly soothing in its minimalism. This smooth floor-to-ceiling concrete is a prime example. 
22. Wide open tubs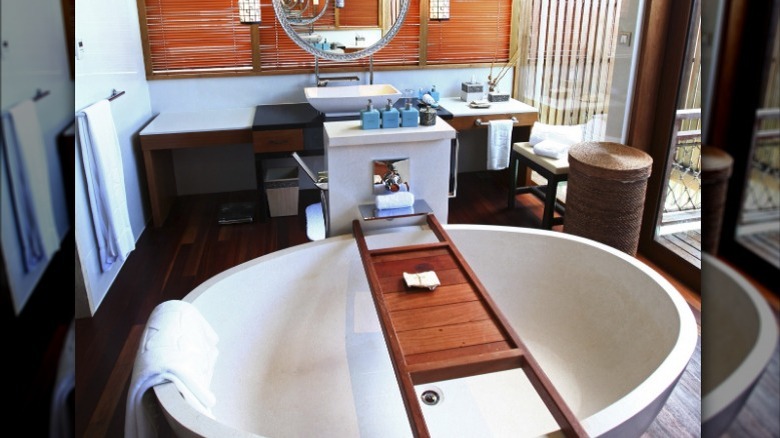 Eyeswideopen/Getty Images
Nothing says luxury like an ultra-long bath tray that extends all the way across your enormous circular tub. Top it off with a glass of lemon water and a bud vase of flowers for a quintessential spa experience. 
23. Rustic terracotta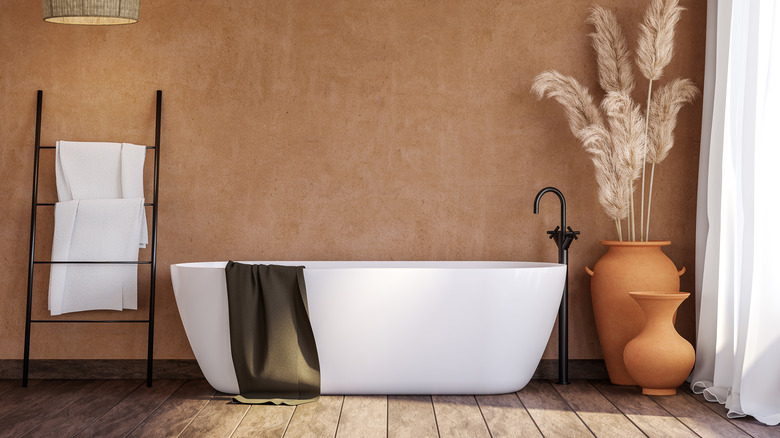 Runna10/Getty Images
We can't stop drooling over this terracotta and stucco bathroom. Its mellow southwest vibes, tall pampas grass, and gorgeous garden tub are enough to make our hearts skip a beat. 
24. Serenely cerulean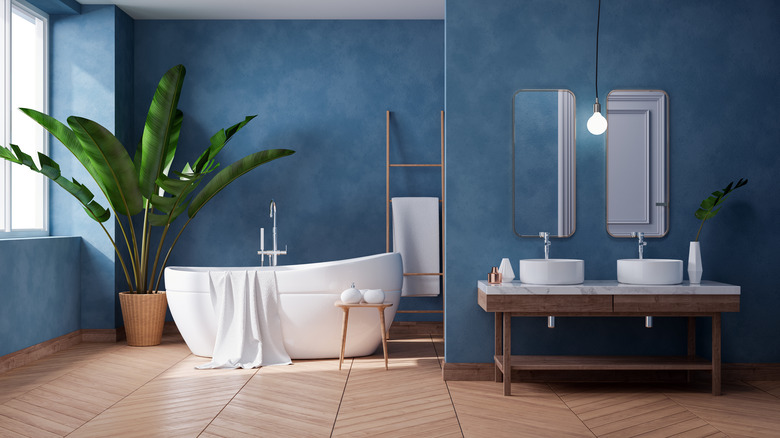 Lek_3dphoto/Getty Images
Sky-blue walls never have a chance of getting covered up with clouds. According to Very Well Mind, blue can cause feelings of calm and relaxation, making it a lovely addition to the bathroom. 
25. Deck it out with wood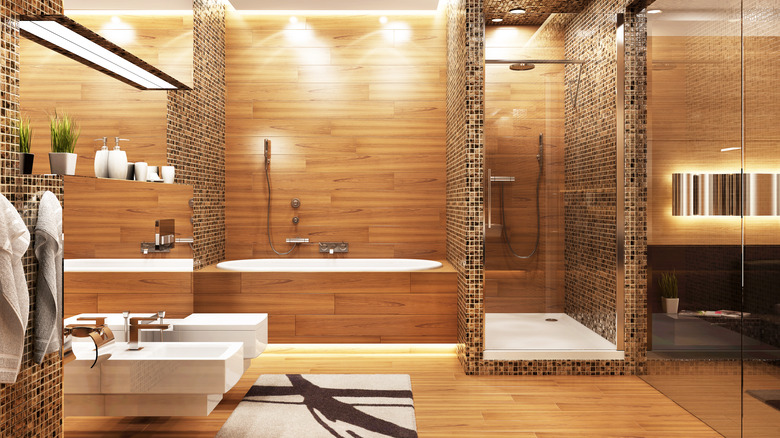 Sl-f/Getty Images
Using warm-toned wood all over your bathroom feels like a relaxing hug from the moment you walk in. The small multi-colored tiles to help break up the texture. 
26. As good as bathing under the stars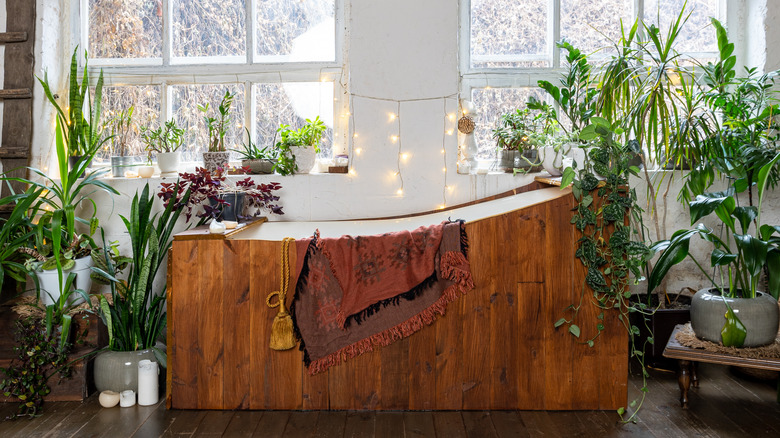 Brizmaker/Getty Images
The next best thing to bathing under the open sky is to make your bathroom feel like it's right in the middle of the forest. A wood plank inclined spa tub and plenty of plants help to create an incredible illusion. 
27. Practical soaker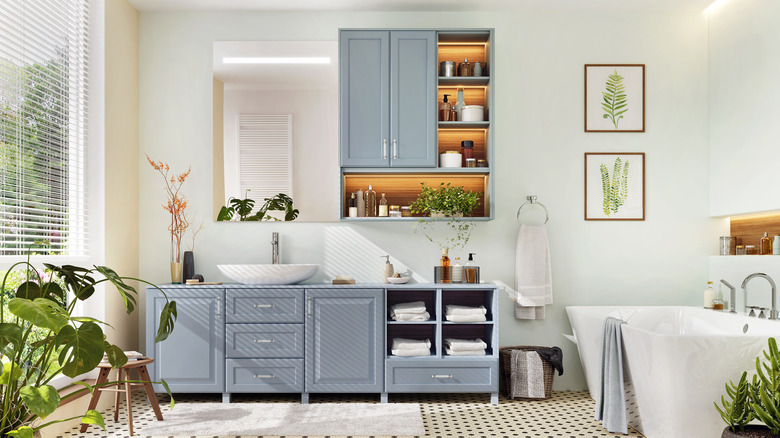 Sl-f/Getty Images
Though they are slightly less on-trend, rectangular, tapered freestanding tubs are no less luxurious. In addition to being great soakers, you can also balance a few of your favorite bath products on their side more easily than with an oval or circular tub. 
28. The buzz on spa bathrooms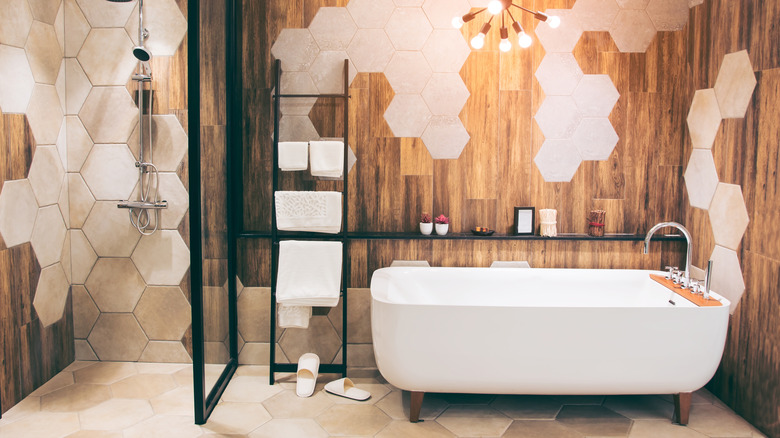 gan chaonan/Shutterstock
It's truly impressive whenever a designer manages to make a space that is both relaxing, functional, and a work of art. We can't get enough of these honeycomb wall tiles in this gorgeous bathroom. 
29. Elegantly antiqued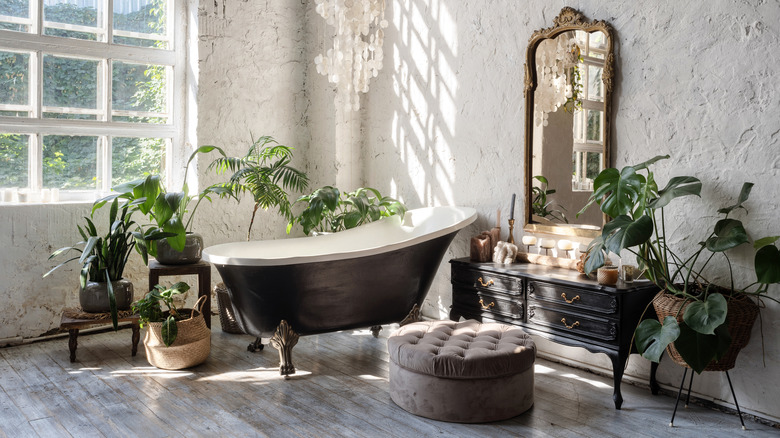 brizmaker/Shutterstock
New and ultra-sleek is not always the best way to have a relaxing spa vibe. The rugged walls seen here and the tasteful Victorian-gothic fixtures — especially that black clawfoot tub and gold framed mirror! 
30. The bathroom that checks all our boxes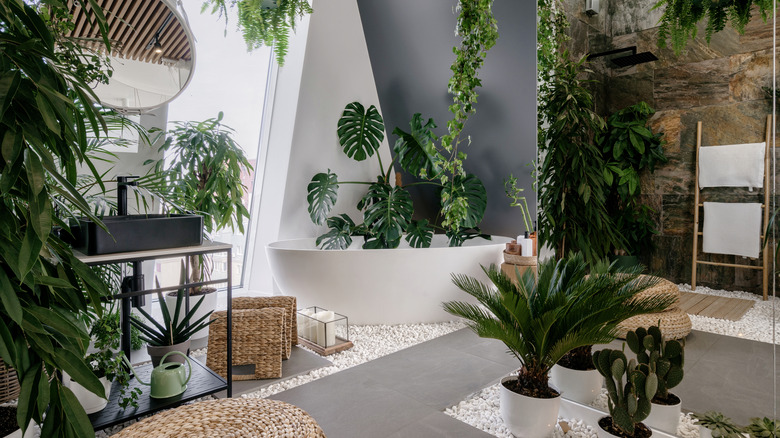 brizmaker/Shutterstock
And finally, a bathroom that combines all of our favorite spa-like finishes. Clean slate grey tiles, loose white rocks, and of course, an abundance of happy, healthy plants. What's not to love about that?