The Dream Bathroom Must-Have Over Half Of People Really Want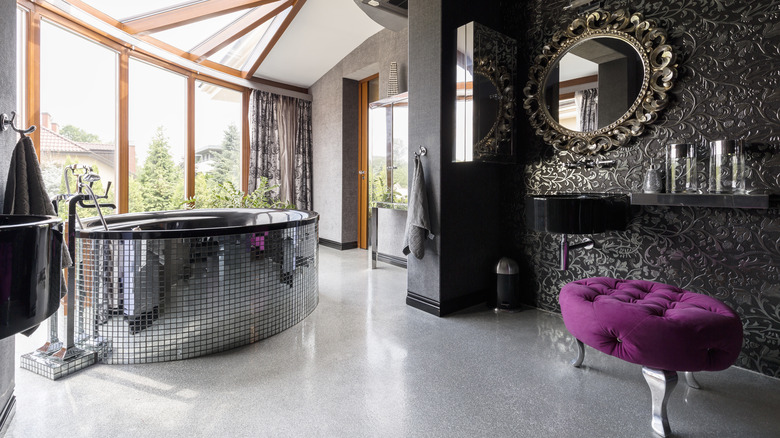 Photographee.eu/Shutterstock
At their best, bathrooms are more than places of repose and rejuvenation. They can be destinations unto themselves — at-home spas where you can let the worries of the world slip away as you soak or shower to your heart's content while your favorite music plays in the background. But what bells and whistles do we crave most when we're looking to be taken out of our world-weary days? 
In order to learn what soothes people's senses and makes them privately sigh in their suds, House Digest recently conducted a non-scientific poll of 596 people, and what the respondents told us may surprise you: Many of the gadgets considered to be extravagant treats are well within most people's budgets. You may not be able to afford a tile-mirrored freestanding bathtub and ornate vanity setup, but you very well may be able to elevate your bathroom from a place of business into a palace of pleasure.
Rain Showerhead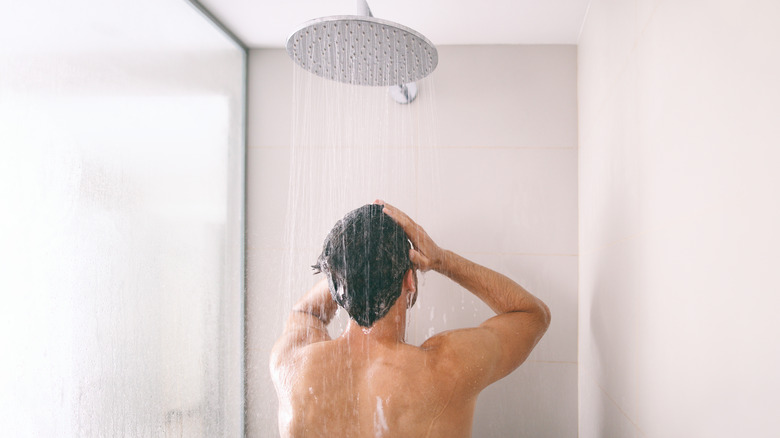 Maridav/Shutterstock
More than half of the respondents (50.34%) said that a rain showerhead is what would bring them the most pleasure as a bathroom wish list item. But here's what's interesting about that: Rain showerheads generally deliver less pressure than standard showerheads (per Apartment Therapy), so the notion that you'll step under one and get something like a water massage is misreading what they deliver.
What they can do, however, is provide the sensation that you're standing under a gentle fall with the water reaching a greater percentage of your body at the same time. It's soothing, relaxing, and energizing all at once (per American Discount Plumbing). 
And here's the thing about these shower heads. They can be nuanced and made from high-end materials or they can be made of less expensive components and sold much more cheaply. You can commonly find them for anywhere from less than a hundred bucks, up to thousands of dollars.
Vanity mirror, bidet, and more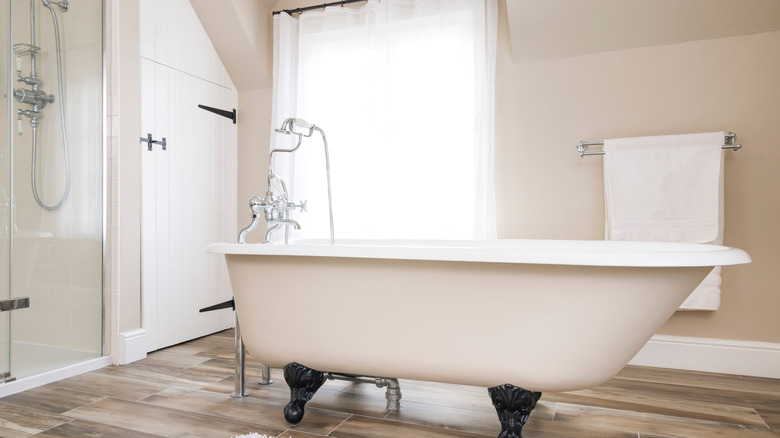 Paul Maguire/Shutterstock
Bidets came in second for our readers (at 15.44%), and it's easy to see why. Some involve heat, a variety of spray strengths, and air dryers. If you're looking to feel pampered, it's hard to beat the bidet.
Rounding out the survey is the vanity mirror at 13.76%, the heated towel rack (a true godsend when you've just finished showering in a chilly bathroom) at 10.40%, and the always-classy clawfoot tub at 10.07%. Mirrors run the gamut of course, and great vintage items are available at reputable flea markets everywhere. Often they'll need a bit of work in restoration, but when you're done, you have a one-of-a-kind art statement that truly sets your bath apart from any other.
Likewise with clawfoot tubs. Prices can range from $500 up, not including hardware and installation fees. No question that these timeless beauties are pricey — but how much is the opportunity to soak in one of these daily worth?