33% Of People Agree This Is The Best Paint Color For An Open Floor Plan - Exclusive Survey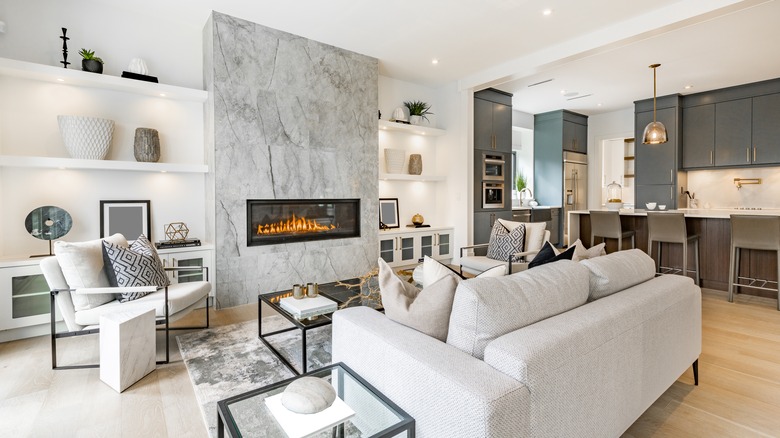 Sheila Say/Shutterstock
If you have a home with square footage to spare and dream of designing an open and airy floor plan, then there is nothing like choosing the ideal paint color to help achieve the effect. An open-concept floor plan is perfect for both larger and smaller homes, especially if you are the type of person who loves to entertain guests. Instead of limiting folks to one area of the home, having a seamless flow from room to room can encourage people to move around, mingle more, and enjoy the whole residence.
Things like style and décor play a huge role in achieving your open space idea because you don't want to over-clutter the environment, which closes off the airy feel. However, the paint color you choose for your walls can also single-handedly make or break the perfect open floor plan. You could have all the space in the world, but if you select a dark paint tone, then you are seemingly closing in on the area and stopping any light from making its way around the rooms. Having brighter paint colors on the walls of your space can encourage that cohesiveness from room to room, help to reflect natural light more, and allow you to be more creative with colorful furniture, according to Colorado Color Consultants. In a House Digest exclusive survey, we asked 612 people, "Which is the best paint color for an open floor plan?" Here were the results.
The most popular paint colors for an open floor plan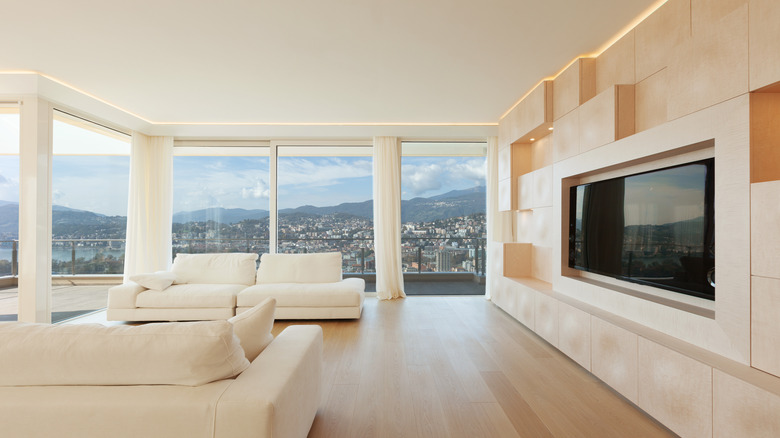 alexandre zveiger/Shutterstock
In our House Digest exclusive survey, it seems people agree that having a bright wall paint color is key to balancing your open floor plan. Of the 612 people surveyed, 202 — 33.01% of the total vote — selected off-white as the paint color of choice for their space. Having a neutral tone on your walls can help to make each room flow effortlessly into each other and allow for bold-colored or patterned furniture items to pop, according to Shoreline Painting. Off-white can also soften the area and make it seem cozier to you, your family, and your guests. This shade is sure to let other elements of your home take center stage, such as expressive art pieces, exposed brick accent walls, or other décor you have around the room.
The second most popular wall color for an open floor plan is gray, which received 151 votes or 24.67% of the total survey. A gray shade for your walls can be ideal for an area that already gets plenty of natural light from large windows or an expertly designed-lighting system. Gray can tone down some of that brightness and bring a level of comfort to the space. Next, 109 folks — about 17.81% of those surveyed — said that tan would be their choice for an open-concept home. A tan color staves away neutrality and keeps the area feeling warm without closing the space in.
These other colors rounded out our survey
Sheremetio/Shutterstock
62 people — or 10.13% of those surveyed — chose white as their go-to color for the walls of their open floor plan. Plain white can be a no-nonsense pallet cleansing shade to create continuity among your home's different areas. However, in order to keep your abode from feeling too sterile, play around with colorful décor to balance the expanse of one-toned wall paint. This could mean introducing natural wood furniture to soften the environment or pop in bright accent colors to liven up the room, as per Total Care Painting.
Next bright colors were a popular choice among 54 people, or 8.82% of the total survey. For more modern-style homes, introducing bright colors can be a bold choice when it comes to your open-concept floor plan. Yellow, red, and orange tones can warm up the entire space and blend well with any plant life you have around the room. Whereas bright blues and purples may give off a cooling vibe, but would also bring out lighter-toned furniture, tables, or accent pieces. Finally, 34 people — or 5.56% of those surveyed — chose chocolate brown as their paint color for an open floor plan. This color can add some much-needed drama to an area as it brings out earthy tones and a new unique perspective on a room. Contrasting colors such as blues, gold, and greens can help to complete the stunning look.