You Can Stay In A California Airbnb That Features Stunning Tiles Everywhere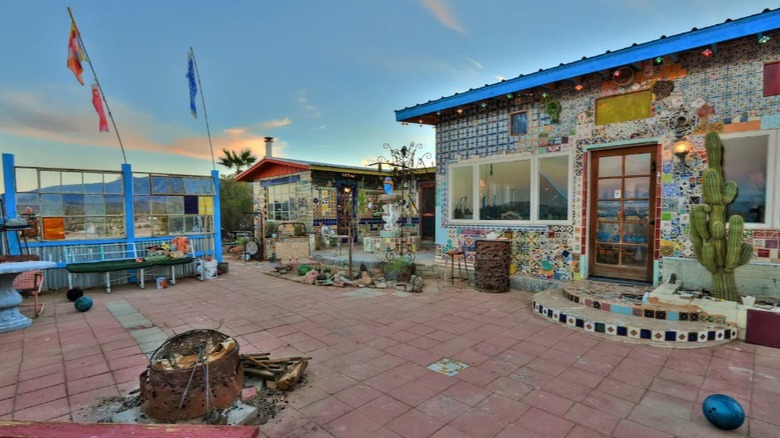 Airbnb
When it comes to finding unique locations to spend time in California's Mojave Desert, you probably won't discover any dwelling more unique and colorful than the Tile House listed on Airbnb. Even though you can't actually host a party there, the structure is a party of a place unto itself that could be summed up as one-part Zen and two parts piñata. As you're flipping through the property photos provided on the listing, you'll notice that the location offers desert views by day and starry skies at night, while the interior décor combines the festivity of Día de los Muertos with calming touches of Buddhism.
This eclectic space was designed by married artists Perry Hoffman and Doug Smith. Hoffman, according to his bio on Magenta Raven, is a maker of tiles and mosaics and it shows all around the property he has owned since 1999. Smith's furniture decorates the place in an equally artistic way. It would be a great place for a small group of friends to chill on the patio; couples wanting to get away from the bustle of the big city could easily unplug there as well. Notes in the listing state that the property is not recommended for small children, but well behaved dogs are welcome with prior notice.
More about the Tile House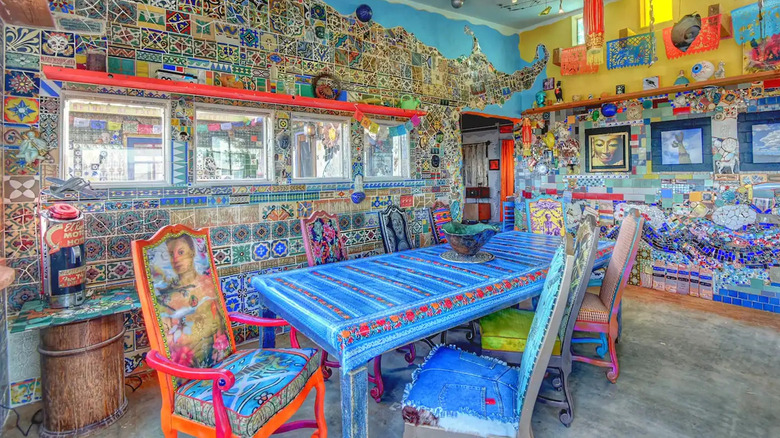 Airbnb
The Tile House is certainly not your typical desert hacienda, yet it offers all of the amenities you'd expect from a short-term rental. There's a fully equipped kitchen, two bedrooms with queen beds, and a bathroom that includes a Mexican Talavera pottery toilet and a sink decorated with skeletons. The larger of the property's patio areas has a fire pit and charcoal grill, as well as a hot tub available for some super-relaxing star gazing. There's even an outdoor clawfoot bathtub for soaking in the sunshine if you're so inclined. Wi-Fi is available for those who prefer to stay in touch with civilization
As noted on Locations Hub, the property is situated several miles east of the entrance to Joshua Tree National Park in Twentynine Palms, California, making it a great home base for a bucket list trek into the park during your stay. You don't have to venture further than the house and patio areas to enjoy a great desert view, however. Another perk is that discounts are offered for booking an entire week.
Why the Tile House may not be right for you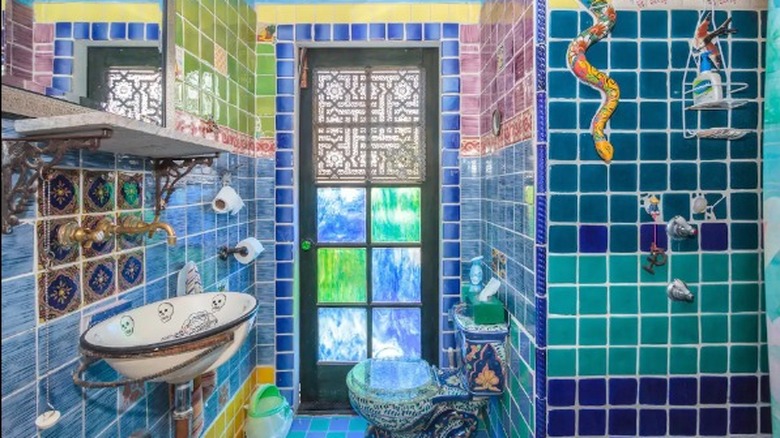 Airbnb
The Tile House has great reviews yielding 4.96 stars from more than 536 reviewers. Even so, there are still a few reasons why it may not be a good fit for all. For one, the desert is within walking distance but that's about it. If you're not into cooking or grilling at the very least, and you like rentals with dining options very nearby, this may not be the place for you.
Also keep in mind that there are plenty of critters in the Mojave Desert, as noted by One Earth. Some are cute or interesting animals like ground squirrels and iguanas, others are on the big scary side and include scorpions and rattlesnakes. Coyotes in the area could pose a risk to small dogs, too. The owners further warn about remnants of the tile work scattered about the property and encourage keeping your feet covered. Desert weather is one more consideration; according to the Tile House listing on Airbnb, dust storms and flash floods may occur. Checking with the owners about any concerns you have is wise before booking your stay.