15 Savvy Ways To Incorporate Art In Your Yard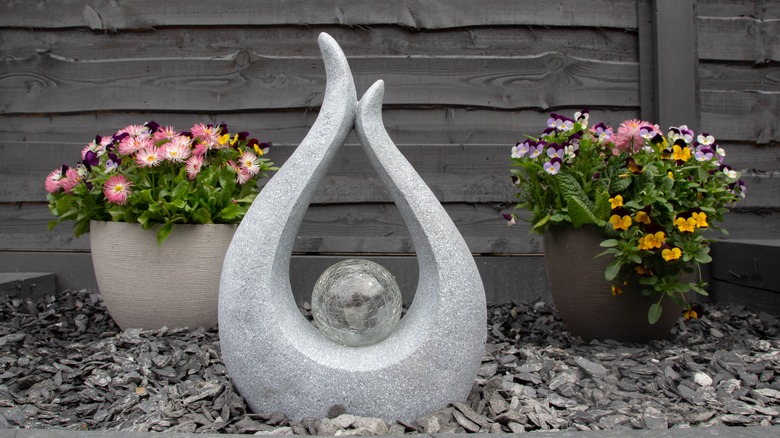 Juiced Up Media/Shutterstock
When you turn the interior of your home into a stylish space, you'll surely want to include the perfect artwork for your particular taste. At the same time, if you also want to turn your yard into an area that's just as fabulous as the inside of your abode, then you should definitely consider adding art to your yard. While your property may already feature a pristine lawn and stunning plants, Jill Nooney, the creator of the sprawling 20-acre sculpture- and installation-filled Bedrock Gardens in Lee, New Hampshire, explained to Garden Design, "Art can do something that plants alone cannot."
As for what exactly art can do for your exterior space, that depends on what kind of pieces you choose and how you use them. For instance, it can enhance what already exists by simply adding more colors, patterns, designs, and textures, according to Animalia Art. Various creative touches can also offer both motion and a range of heights that can either lead the eye up, down, or to a specific spot that you'd like to highlight on your property. That's not to mention the fact that it can also accent buildings, as well as adorn any gaps or boring spots, and let you show off your own vibe or theme.
Whether you want to spruce up your front yard, backyard, side yard, or various exterior areas, be sure to check out these savvy ways to incorporate art in your outside space.
1. Outdoor sculpture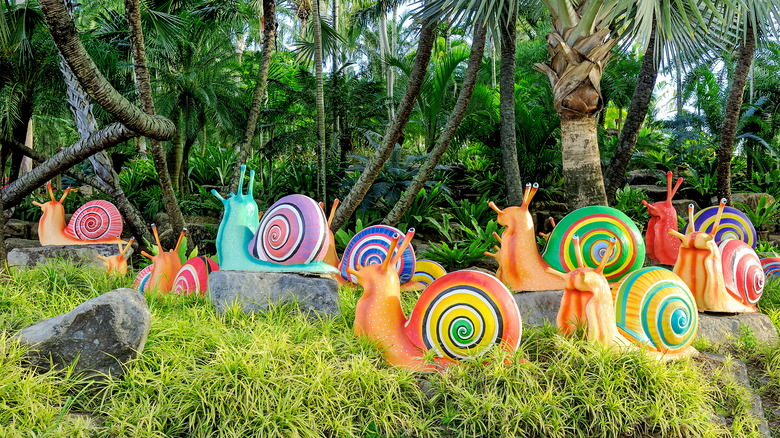 Yatra4289/Shutterstock
When you think of the kind of sculptures that you find outdoors, you might imagine marble pieces that depict ancient Greek goddesses. While you could certainly put one or two of those in your yard, you can also choose a sculpture that is made of anything from metal to clay, and that's subtle and classical or colorful and quirky.
2. Fence mural
If you have a large paneled fence in your yard, then you're also lucky enough to have an ideal surface for a mural. You can choose to paint just one side or both and can opt to do it yourself or hire a professional. Just be sure to talk to your neighbor first if it's a shared fence.
3. Painted deck
If you're intrigued by the idea of a mural on your fence, then you might also be interested in painting your deck. The next time the surface is in need of some TLC, skip the stain and instead paint a pretty design that you can seal. Cover the entire deck or just a section depending on your preference.
4. Decorative gate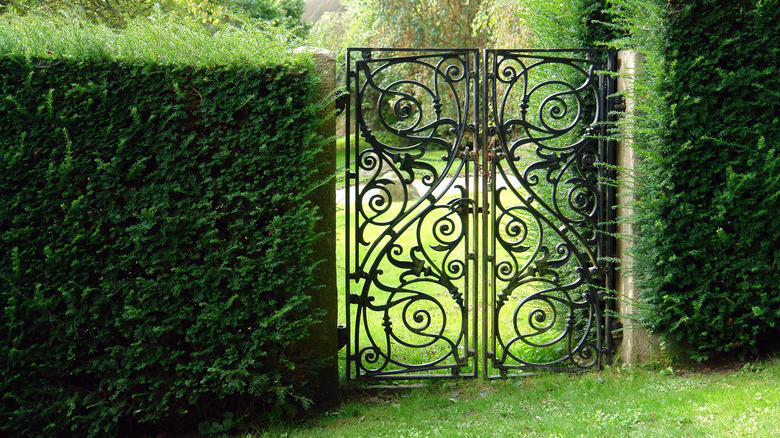 Ronyzmiri/Getty Images
A gate can simply be a way to enter your yard or it can be a captivating work of art. While artists can create whimsical and wonderful designs in wrought iron, you can also find gates that are made of carved wood and are just as creative. Artisans can even add decorative elements of glass or stone.
5. Wind chimes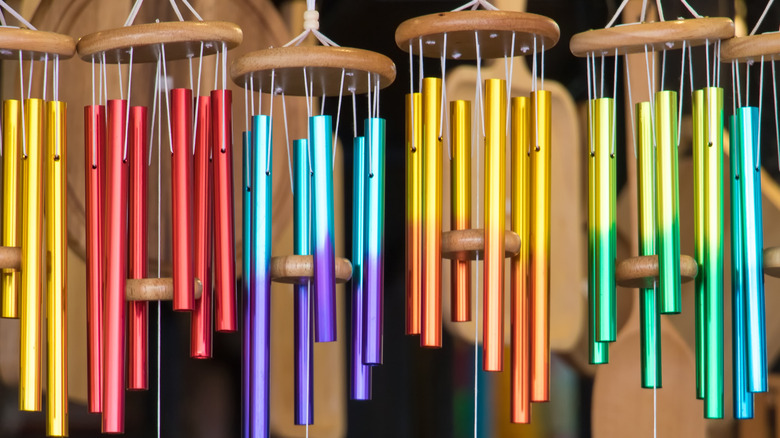 Graphicbyake/Shutterstock
When it comes to the artistic possibilities presented by windchimes, the options are seemingly endless. Not only do they create a new kind of song every time a breeze passes, but they can also be made of a wide range of materials that can boast an even larger variety of artistic designs.
6. Creative flower pots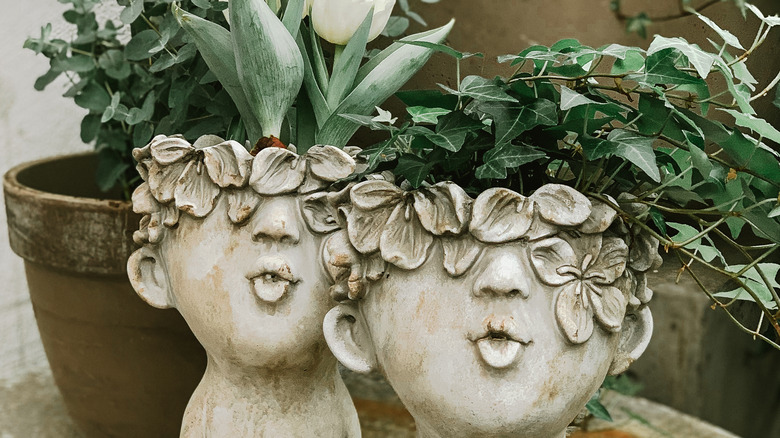 tayaphotolab/Shutterstock
Whether carving, molding, painting, or using other techniques, artists can turn pots that are meant for plants and flowers into surprisingly creative pieces. While some are lovely on their own, other pots incorporate the intended plants into their design, which can help blend the art into the space in a fantastically fun way.
7. Painted rocks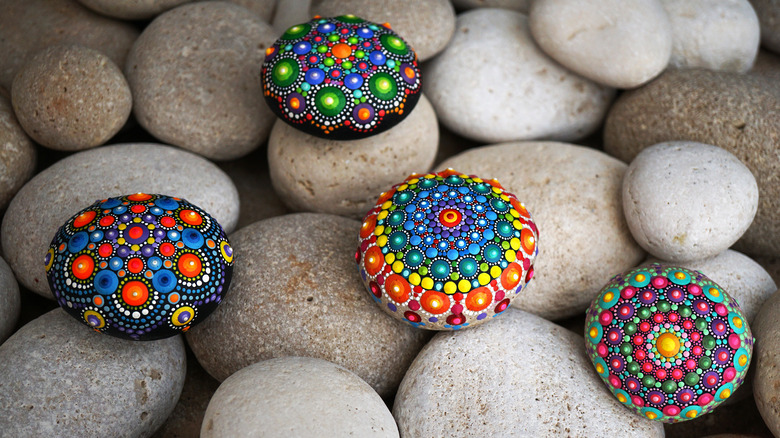 Jekatarinka/Shutterstock
Painted rocks offer you plenty of creative options for your yard. You can choose rocks that are of various sizes and designs and feature anything from colorful mandalas to special messages. You can also purchase them or make them yourself if you enjoy DIY projects. Just be sure you use waterproof paint that won't seep into your garden.
8. Carved birdbath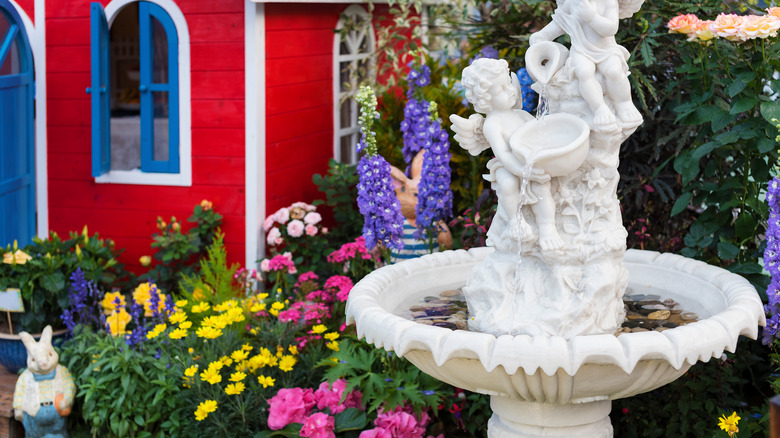 Lee Yiu Tung/Shutterstock
Bird baths can attract flying animal friends to your yard while also being a work of art. Along with a carved bowl to hold the water, many bird baths also boast additional details on the pedestal while others have added sculptural sections and stylized fountains that make them even more eye-catching.
9. Handmade or handpainted birdhouses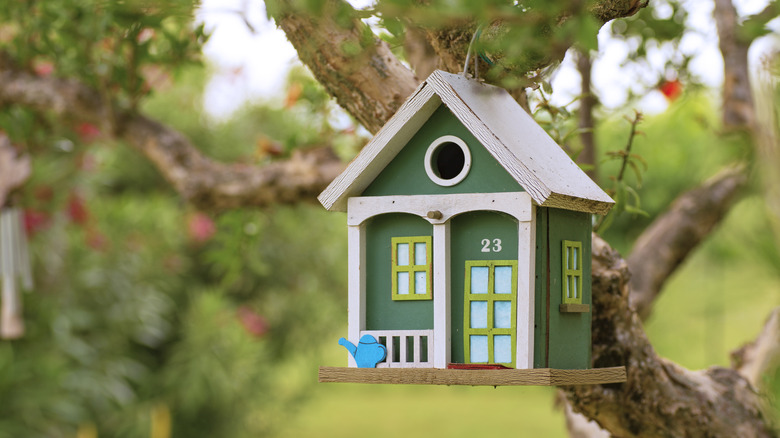 Davide Frontero/Getty Images
If you love having birds in your yard, then you might also want to have a house for them to live in. You can find plenty of artistic birdhouses available in stores, online, and at art markets, however, you could also choose to make one that looks like a tiny version of your own home.
10. Artistic lighting fixtures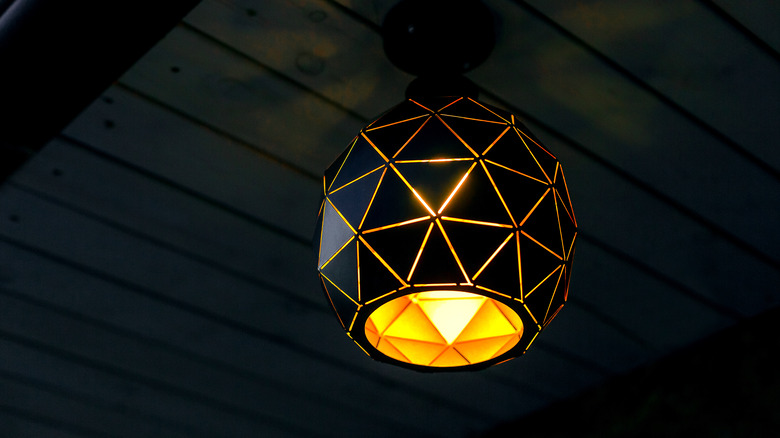 Bespalyi/Getty Images
Adding lights to your outside space can allow you to enjoy your yard even when it gets dark. While solar lights can be eco-friendly and fairy lights can create a dazzling atmosphere, artistic light fixtures can enhance your space with their design and how they cast their glow.
11. Tree face
Any trees in your yard can also be a part of the artistic fun. While you don't want to do anything that can harm a living tree, such as covering its exterior with toxic paint or carving into the trunk, you can make minor creative alterations such as popping a face onto the outer surface.
12. Shed art
Your shed — or any exterior building and wall — can become the location of your very own outdoor gallery. You can choose to fill an entire space with smaller pieces that create a full gallery wall just like you might inside your home, or you could instead paint the surface with a single scene or concept.
13. Mosaic path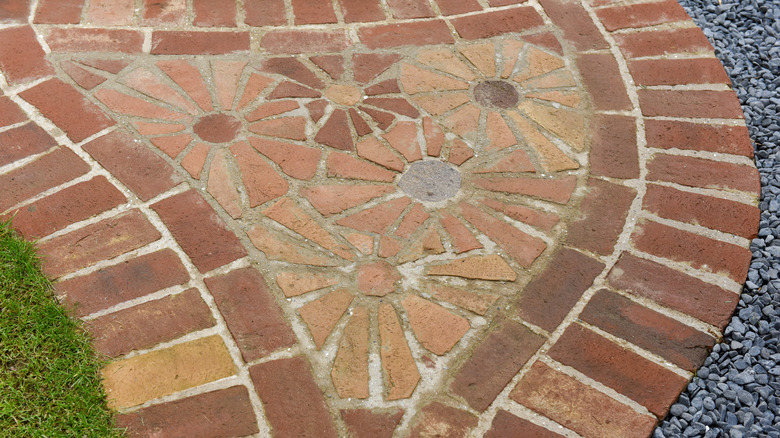 Maruska Raunacher/Shutterstock
Adding a path to your yard can give you the opportunity to wander around and appreciate your outside art. The time that you spend strolling can be an even more art-filled experience if you lay down a creative walkway. For instance, a mosaic path can use stones or bricks in various colors to create gorgeous designs and patterns.
14. Creative privacy screen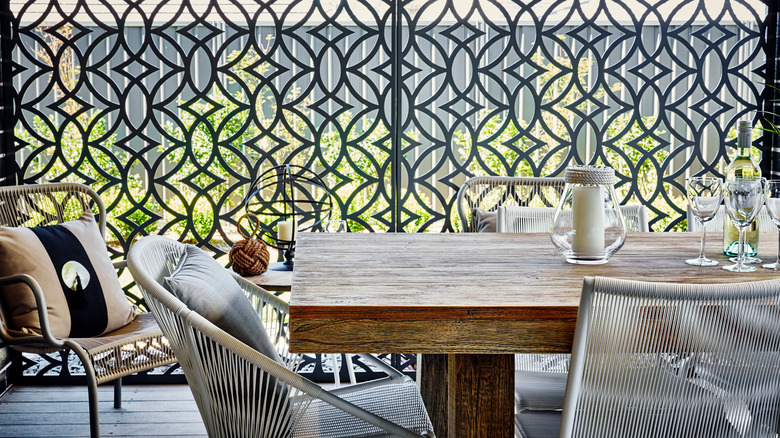 PhotoMavenStock/Shutterstock
Privacy screens can be designed to separate areas of your yard, block the neighbor's view into your outside space, and also be something that you love to look at. From chic, almost floral metal screens to printed fabric panels, you'll surely be able to find something that suits both your needs and artistic preferences.
15. Shaped hedges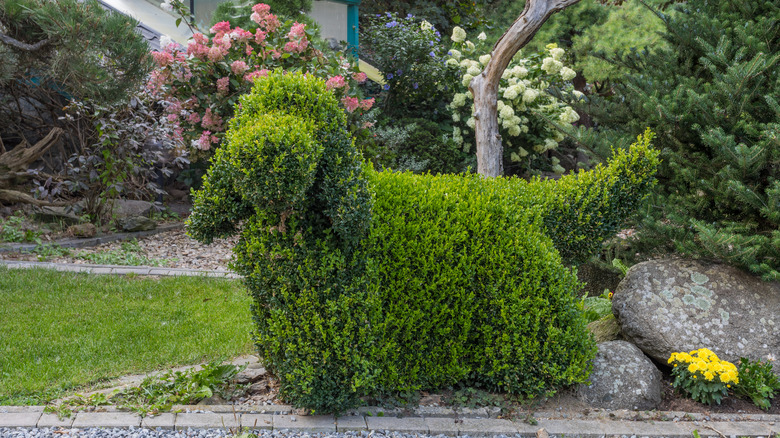 Artush/Getty Images
It's understandable if your goal has simply been to keep your hedges neatly trimmed. Of course, you could also turn them into artwork, or have a professional take on the task. Depending on the size and shape of your hedges, you can transform them into anything your heart desires, from an abstract design to a floppy-eared dog.