The Best Mirrors For Under $80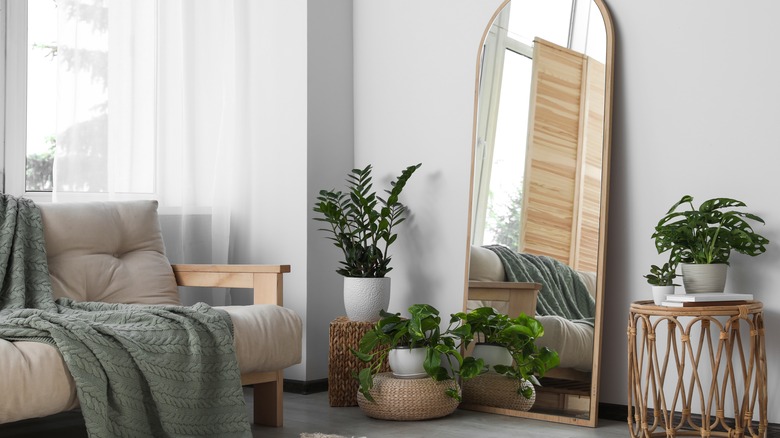 New Africa/Shutterstock
The Loch Ness Monster. The number of licks it takes to get to the center of a Tootsie Pop. The way some towels still smell musty after a wash. These are just a few of life's biggest unknowns. However, none of these are more confusing than figuring out why mirrors are so expensive. I mean, come on, people. Why does a nice mirror cost the equivalent of six rounds of selling plasma?
Luckily, dear reader, it doesn't have to. Finding the best mirrors under $80 is tough, but it's no match for House Digest! Whether you're looking for something colorful, wooden, or antique-inspired, we've found some great options across the interwebs. Plus, according to the Psychonomic Bulletin & Review, mirrors can help a small space look larger. Mirrors can also make a space fill up with more light, especially when placed near a window. As if you needed more reasons to stock up on affordable mirrors.
Floor-length mirror
Fit check time! Grabbing a floor-length mirror will not only help you evaluate your outfit before heading out for the day, but it can also make a room feel larger. Full-length mirrors are not cheap, so finding options on sale is always a smart move. Check out this 65-inch-by-31-inch mirror from Kirkland's Home, which features a silver-colored border with a textured feel. In the reviews, some customers showed how they placed the mirror: Longways across a wall, propped up against a corner, and even within their closet.
When looking for a floor-length mirror, it is important to keep in mind how you plan to use it. If you want something for decor purposes versus one for checking out an entire outfit, you'll likely have different qualifications.
For those who plan to use their floor-length mirror to fine-tune their fashion sense, consider measuring yourself ahead of time. Yes, we did say to measure yourself. You'll want to ensure your mirror is long enough to accommodate your entire frame (via Fab Glass and Mirror). Make sure the option you choose is at least half of your height to get the desired effect.
Purchase the Textured Silver Framed Mirror from Kirkland's Home starting at $69.97.
Rectangular mirror
A traditional rectangular mirror doesn't have to be a boring addition to your space. Check out one that incorporates multiple materials –– like this wood and metal combo from Home Depot! Referred to as the Galvanized Antiqued Farmhouse Accent Mirror (say that three times fast), this piece can be a stunning addition above a console table, in a bathroom, or as soon as you walk into your foyer.
Plus, this mirror even has handy dandy D-rings to expedite the mounting process. When mounting a mirror to a wall, it's wise to gather all the needed materials ahead of time, according to Home Depot. Before getting started, grab a stud finder, a level, a hammer, nails, and optional mounting clips. If the mirror is particularly heavy, utilize a friend or your partner to help make the process go a bit smoother (and safer).
If you pick a rectangular mirror, make sure you don't choose something run-of-the-mill. This will help you avoid creating a cookie-cutter look in your space since many mirrors are rectangular.
Purchase the Galvanized Antiqued Farmhouse Accent Mirror from Home Depot starting at $71.40.
Decorative mirror
Adding multiple smaller mirrors in a grouping can add intrigue without tons of effort. Although West Elm is known for its expensive home decor, these Peruvian Wall Mirrors are reasonably-priced and offered in various sizes between eight and 15 inches. Customers have even shared how they've styled these funky decor mirrors (which are provided in both eye and starburst shapes) within the reviews. Some photos show just one gold eye mirror near a stack of books or above a couch, while others have groupings located on their living room mantle.
Plus, if you like to support artisans, you'll especially appreciate the craftsmanship that goes into each of these wall mirrors. West Elm states on its website that these are "handcrafted in Peru" and part of its "Handcrafted Collection." We love things that are made with extra care, and supporting local craftspeople is a no-brainer.
Purchase the Peruvian Wall Mirrors from West Elm starting at $55.20.
Wooden mirror
Into the rustic-chic look? Upgrade your wall with this round, natural mirror from Kirkland's Home. You'll look like you spent Joss & Main money (hello, beach-house chic) without losing half of a paycheck. The Round Natural Beaded Wall Mirror is a clear showstopper, and not just because of good looks. Consider perusing the almost 400 reviews on the website, which give this mirror an average score of 4.9 stars out of 5. Talk about an overachiever.
But if we are talking looks, this distressed, wooden mirror hits the nail on the head with symmetrical, whitewashed balls dotting the frame. This contributes to a beach-house-inspired, but this mirror would also look right at home in a rustic space. Thanks to its whitewashed stain, it looks like something Joanna Gaines would incorporate into her house. 
Purchase the Round Natural Beaded Wall Mirror from Kirkland's Home starting at $79.99.
Rainbow-hued mirror
Whether you want a colorful mirror for yourself or your kids, this arched option from Home Depot likely won't disappoint. Color can actually change your mood, according to a study done by Cyprus International University, so why not make it affordable? The Medium Arched Wood Framed Rainbow Mirror from Home Depot is large enough to go over a nightstand (or two), as demonstrated by the product photos. We can also see this adding a touch of whimsy to a playroom or powder room, especially when paired with additional colorful accessories.
Customers who purchased this colorful piece of decor mention that this mirror is particularly durable because the arches are constructed from heavy-duty wood. Each of the six lines is cylindrical in shape and features colors like purple, white, pink, blue, and yellow. Plus, with yellow being the most prominent rainbow color in this mirror, you're bound to be in a "happy mood" when you see it. How's that for a mirror that may actually elevate how you feel?
Purchase the Medium Arched Wood Framed Rainbow Mirror from Home Depot starting at $90.30.
Minimalist round mirror
Round mirrors aren't anything ground-breaking, but you can add a modern twist to a classic with a broader frame, like this option from Wayfair. The Black Andrickson Round Wall Mirror would work well over a bar cart, sofa table, or in a bathroom to add a touch of class to your space. Plus, with over 3,500 reviews and a 4.8-star score out of 5, you'll likely walk away satisfied with your purchase. We also noted that this wall mirror is available in a variety of finishes: black, white, pink, teal, sand, silver, navy blue, gray, gold, and bronze. That means it can work with a bevy of different home styles.
This mirror also includes D-rings and a wire, which will expedite the hanging process. This is especially helpful if you're switching out an outdated mirror for this more modern, round option.
Purchase the Black Andrickson Round Wall Mirror from Wayfair starting at $62.97.
Vanity mirror
Who doesn't love a cute heart-shaped mirror? Besides the adorable shape, this vanity mirror from Urban Outfitters has a light for easier makeup application. Although many of us makeup lovers would enjoy having a giant vanity mirror with bright, gleaming lights, this may not be feasible due to price or space concerns.
Enter the Heartbeat Makeup Vanity Mirror. This $20 mirror is available in a few different colors: rose, neutral, light green, and purple. To turn it on, simply tap the circular button at the tip of the heart. Plus, the base of this vanity mirror is rounded to allow for the storage of small trinkets. We love vanity mirrors with extra jewelry, makeup, and hair accessories storage. A few reviewers even mentioned using the Heartbeat Makeup Vanity Mirror in their college dorm room because of its convenient size.
Purchase the Heartbeat Makeup Vanity Mirror from Urban Outfitters starting at $20.
Rattan mirror with storage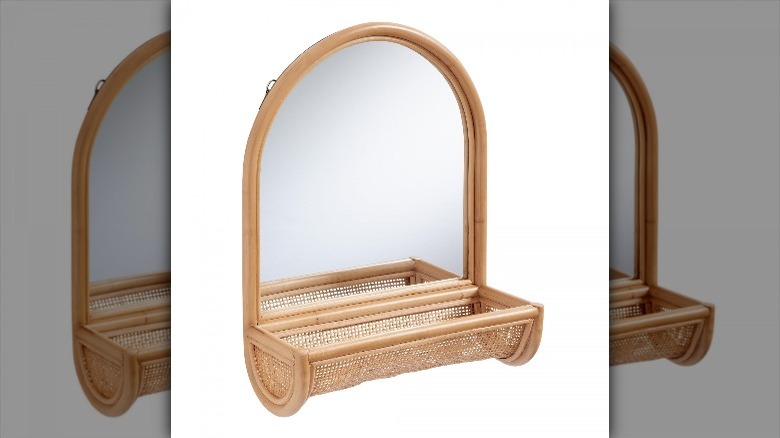 World Market
This rattan mirror from World Market screams, "I live in a studio in NY and need every inch of storage possible," but make it chic. The Rattan Arch Wall Mirror is "handwoven" and made in Indonesia. This arched mirror is coupled with a rounded basket at the base to hold things like brushes, hair products, and makeup.
According to Vaunt Design, rattan isn't wood but rather a "tropical vine" that is used to create furniture, and it has recently made a comeback as a popular design material. This is likely due to the material's boho style, which coincidentally also has a lot of longevity. With proper care, rattan furniture and decor, like the Rattan Arch Wall Mirror, can last for years. Rattan pieces are challenging to find for a reasonable price, making this under-$80 mirror a downright bargain.
Purchase the Rattan Arch Wall Mirror With Caddy from World Market starting at $55.99.
Funky mirror for eclectic design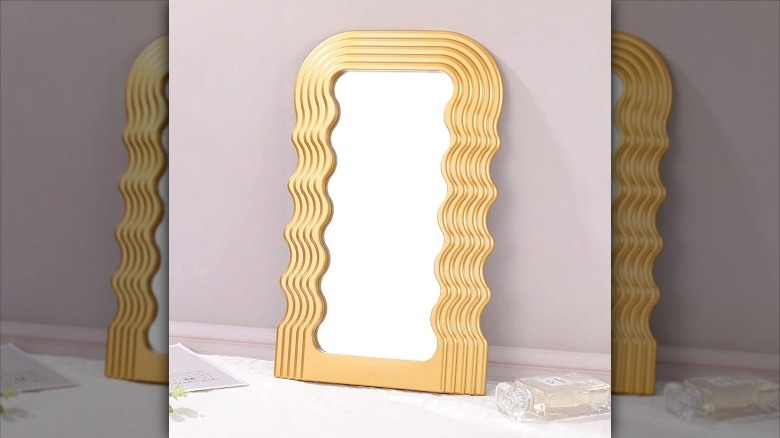 Roomtery
Can't afford those giant wavy mirrors everyone seems to have on TikTok? This pint-sized version from Roomtery can add a touch of uniqueness to a desk, nightstand, or bedroom without the hefty price tag. The Retro Wavy Ultrafragola Mirror is available in purple, pink, white, black, and yellow. Customers are using this mirror on their minibars, desks, and nightstands. It has a Gen Z quality about it but can just as easily mesh in postmodern and minimalist rooms. Whether you're trying to add this small statement-maker to your kid's bedroom or your own, you likely won't be disappointed. Plus, when you purchase this funky mirror, you'll be treated to free shipping (if you're in the United States).
The 16.1-inch-by-10-inch mirror is constructed out of heavy-duty plastic and high-quality glass. All of your house guests will ask, "Hey, where'd you get this sick piece?!"
Purchase the Retro Wavy Ultrafragola Mirror from Roomtery starting at $55.99.
Antique mirror
Sure, you could scour a thrift store or flea market to find the perfect antique mirror. Or you could save yourself the time and purchase this antique-looking option from Walmart for around $40. This ornate Gold Wall Mirror is designed in Baroque style and what we'd call a little cousin to the drool-worthy Gleaming Primrose Mirror from Anthropologie.
According to Oxford Art Online, baroque as a design style originated in Europe. It can be described as "dramatic" or evoking emotion in some way. In the case of this mirror, the dramatic swirls that adorn the outer frame, coupled with the gold resin finish, make this a Baroque-inspired piece. Is gold not your thing? Don't worry about it! This mirror is also available in silver or white (plus an additional size), so you can have the vintage-esque piece of your dreams.
Purchase the Gold Wall Mirror Oval Framed Mirror from Walmart starting at $39.99.
Simple arched mirror
Gold, arched mirrors are the hot design trend right now. If you're looking for an affordable way to bring this design trend to your home, check out Threshold's Arched Metal Wall mirror. It won't break the bank and adds instant flair and style to any room. It delivers big on design, value, and quality. It's sure to be a classic.
At 20 inches by 30 inches, it's well made, but at under nine pounds, it's not too hard to get to your car. Plus, it's easy to hang when you get home (hanging hardware included). The best interior design includes layering; a great way to layer is to use a well-placed mirror. This sleek mirror would be amazing by itself in an entryway over a console, powder room, dresser, or mantle. Or use this mirror to anchor a grouping of your favorite art or photos. (Bonus points if you position it opposite or near a window.)
Purchase the Arched Metal Wall Mirror from Target starting at $70.
Silver mirror
Mirror, mirror on the wall, who's the most silver of them all? The answer is this sleek, silver mirror from Kirkland's Home, which is dubbed the Infinity Frameless Wall Mirror! It checks all the boxes — it's beautiful, versatile, and a great value. The unique beveled edge is clean, simple elegance. It marries well with many different interior designs, from transitional to modern.
It would look stunning in an entryway, as a focal point over a fireplace, in a powder room, or over a buffet or bar cart. The 24-inch-by-36-inch mirror is the perfect size for multiple places throughout your home and can be hung vertically or horizontally. We all know a well-placed mirror reflects light back into the room. But the tricky part is how to hang a heavy mirror. Is any special hardware needed? No, it comes ready to hang.
Purchase the Infinity Frameless Wall Mirror from Kirkland's Home starting at $59.99.