This Houseplant Is The Perfect Christmas Tree Alternative For Your Small Space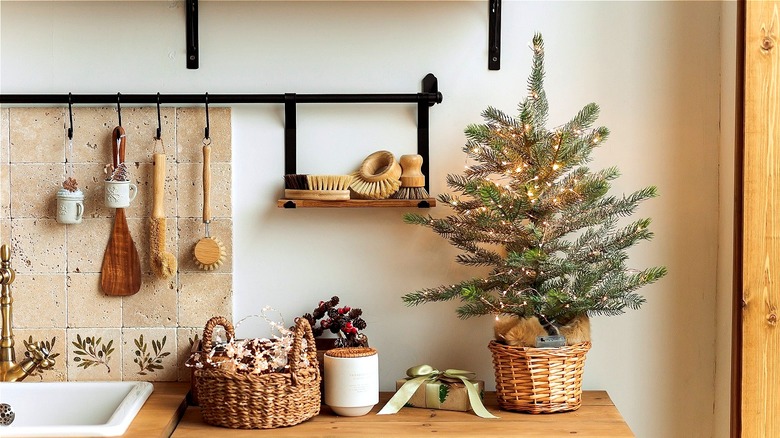 Trofimova Natalya/Shutterstock
Decorating a small space during the holidays can be daunting when you can't find the right-sized Christmas tree, and most are sold over 7 feet tall. Some might not make it past the front door, or the highest point will bend against the ceiling. In addition, there's controversy over whether buying a real Christmas tree is better than an artificial tree. While artificial trees are sold in various sizes, perfect for any space, they tend to be more expensive than real trees, per GOBankingRates. As a result, Christmas trees this year will be higher in price than in other years. According to GOBankingRates, natural trees will range between $84 to $94, while artificial trees will range between $48 to $599 from retailers, such as Target, Costco, Home Depot, etc.
While artificial trees tend to be more expensive, they help you save money if you reuse them for years. However, they're not made of recyclable materials, so once you throw them out, they'll be in landfills, as The Nature Conservancy explains. In addition, artificial trees don't give off the same strong pine aroma as the real ones. While it's true real Christmas trees might only last you through a season, they can be recycled and used for wood-made products.
On that note, for your intimate space, you might consider the Norfolk Island pine as a stand-in Christmas tree. Even though it's a houseplant, keep reading to find out why these Christmas tree-shaped plants are perfect for your smaller space.
They'll spread Christmas cheer
The Norfolk Island pine (Araucaria heterophylla) is a tropical houseplant that thrives in humid and moist temperatures, per the University of Florida's Gardening Solutions. They're small enough to place in your living room in a cozy corner or the bedroom across from your bed. While they're not typical pine trees, their resemblance is uncanny. The plant has thick brown branches and pine-like needles, but instead of their needles being pokey, they're soft. If you dislike the number of pine needles that fall from real Christmas trees, this houseplant will be your favorite holiday decoration. It's perfect for a simple but cheerful look.
However, if you enjoy going all out with embellishments, like Christmas lights, ornaments, and candy canes on your tree, you should stick with real trees. As the "Today" show notes, you will need an actual tree, like a balsam fir, to hold the weight of heavier ornaments if that's what you're looking to do. The smaller branches of the Norfolk Island pine won't be able to hold very much, limiting your Christmas-tree decoration choices.
If smaller decorations are fine for you, though, then the Norfolk Island pine can serve as a Christmas tree stand-in. And though this houseplant won't give you the same pine smell, similar to most artificial trees, there's nothing a little pine spray or scented candle won't help with.
You can purchase the Norfolk Island pine at any hardware store; Walmart, for example, sells the houseplant in a 4-inch pot for $9.99.