How To Decorate A Small Apartment For Christmas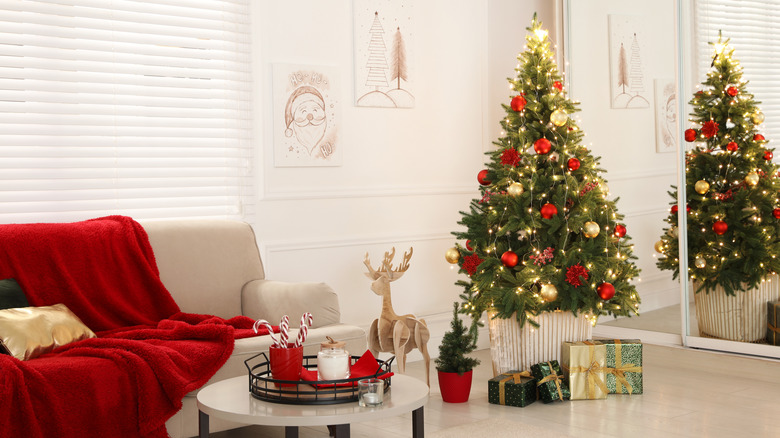 New Africa/Shutterstock
When living in a small apartment, it can be difficult to get into the Christmas spirit. Your neighbor's elaborate outdoor setups and extra tall trees may cause jealousy. Further, That Homebird Life says that apartment dwellers may be reluctant to decorate because they don't want the items to get in the way of everyday life, while others may think that it's a waste of time to go all out in a rental. 
However, just because you live in a tiny apartment doesn't mean you can't decorate. In fact, it may be even more important than if you lived in a larger house, as the colorful items could help your rental feel more like home. Additionally, your pieces could also help you get more excited about the upcoming season. 
Even though you don't have the whole exterior of a house to work with, you can still make the most out of your limited space. To inspire you, we've gathered 25 ways to decorate a small apartment in preparation for Christmas.
Replace regular decorations with festive pieces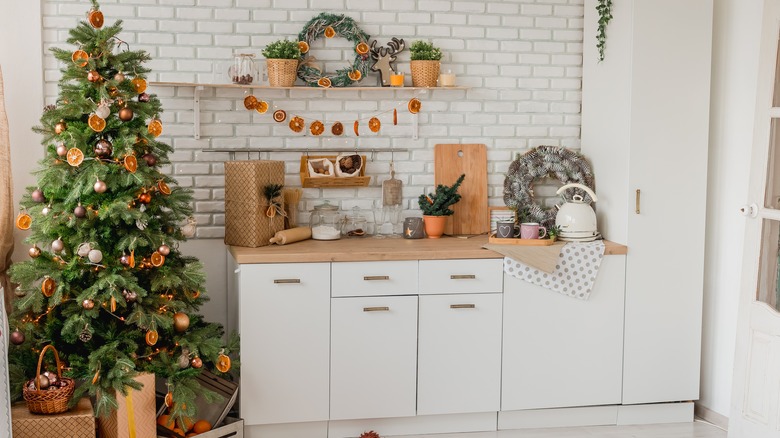 Alena Antsygina/Shutterstock
Since you're working with a small space, it's best to replace the decorations already displayed with Christmas ones, so that your apartment doesn't appear too chaotic. In the above image, pieces were most likely replaced on the floating shelf. 
Reuse pieces you already have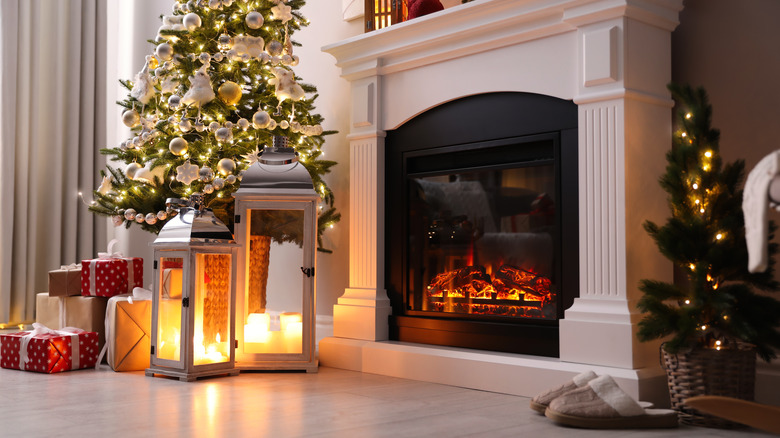 New Africa/Shutterstock
Some regular décor pieces could also be used during the holiday season. For example, neutral-colored lanterns or candles can be displayed year-round.
Change out throw pillows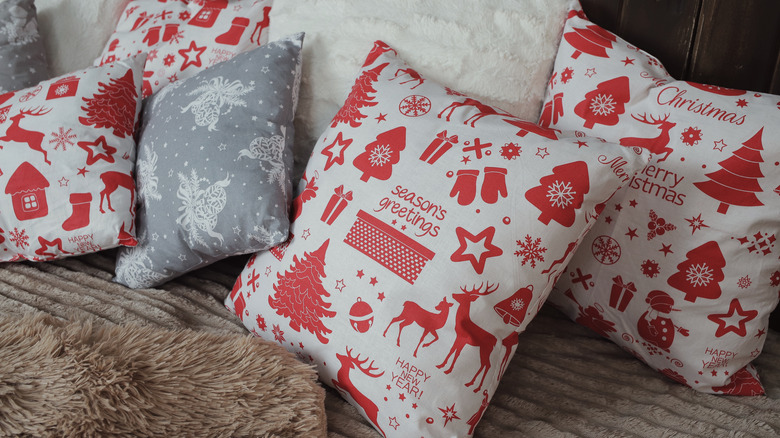 PALINKASH81/Shutterstock
An easy way to decorate your couch or chair is by replacing your everyday throw pillows with more colorful and festive ones.
Choose a tabletop tree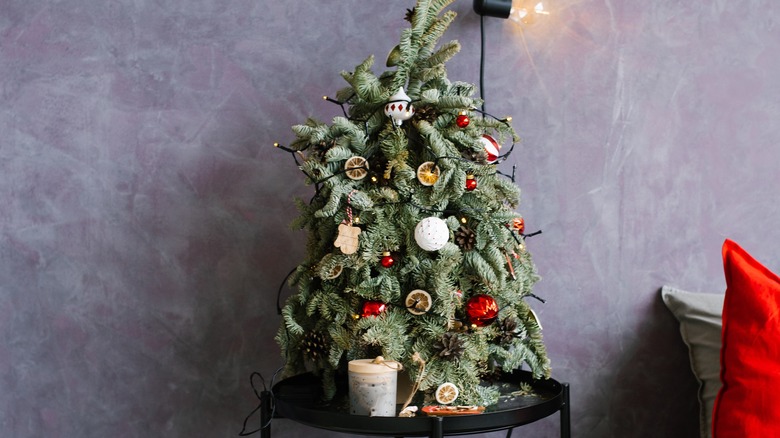 Chamomile_Olya/Shutterstock
If you're limited on floor space, opt for a tabletop tree instead of a full sized one, as this will take up much less room.
Hang artwork on the walls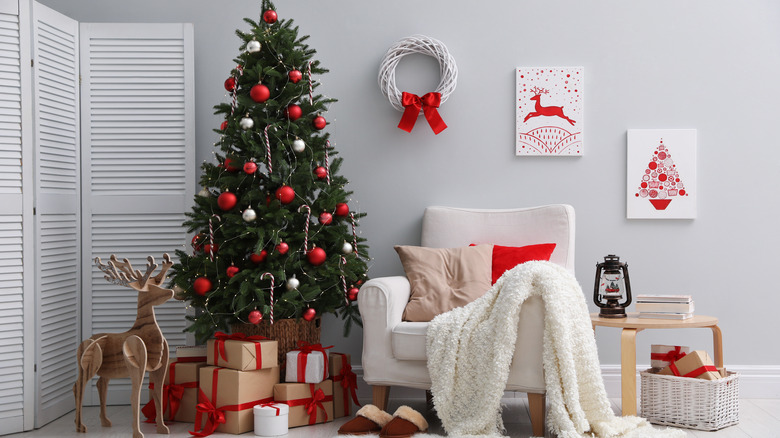 New Africa/Shutterstock
Another way to decorate without taking up any floor space is by hanging artwork on the walls, which could either be purchased or DIY'd.
Ditch the tree for a poinsettia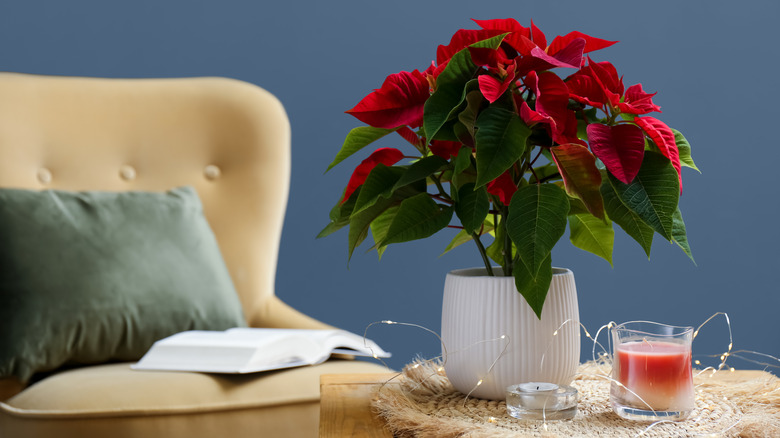 New Africa/Shutterstock
If you don't want a tree, replace it with a festive-looking poinsettia plant, which could either be displayed on top of a table or right on the floor.
Use lots of tiny trees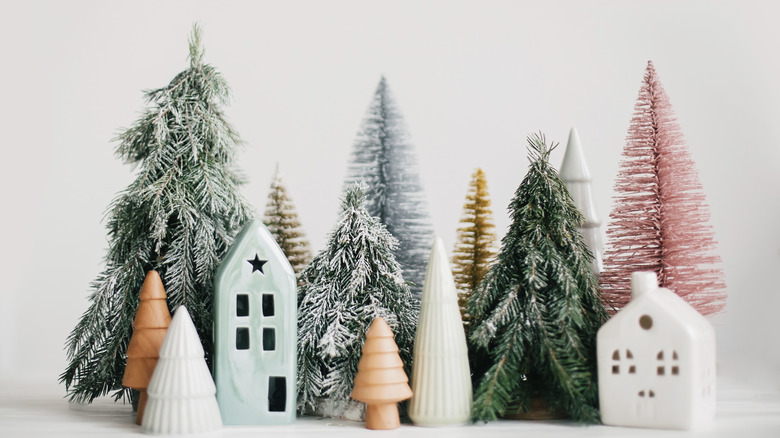 Bogdan Sonjachnyj/Shutterstock
A collection of tiny trees and trinkets could be added to any surface, creating the appearance of a forest wonderland.
Follow a color scheme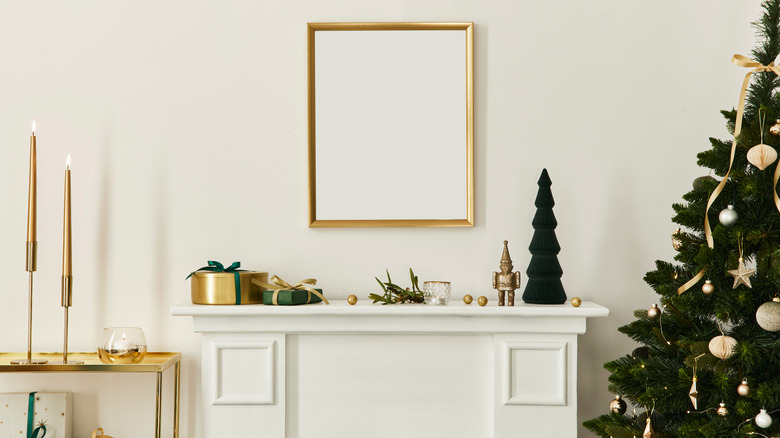 Followtheflow/Shutterstock
If you have an open concept design in your apartment, make each room feel cohesive with the rest by following a color scheme.
Adorn the coffee table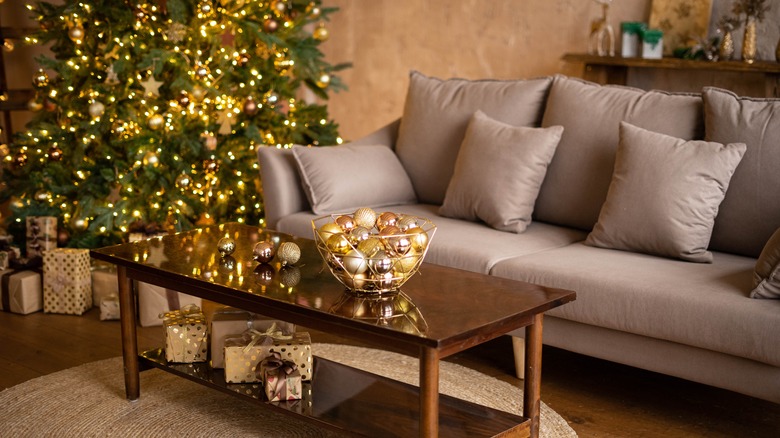 July Ko/Shutterstock
Replace your regular items with more festive ones on the coffee table. You could also include a fun fabric table runner that covers the surface.
Layer a throw blanket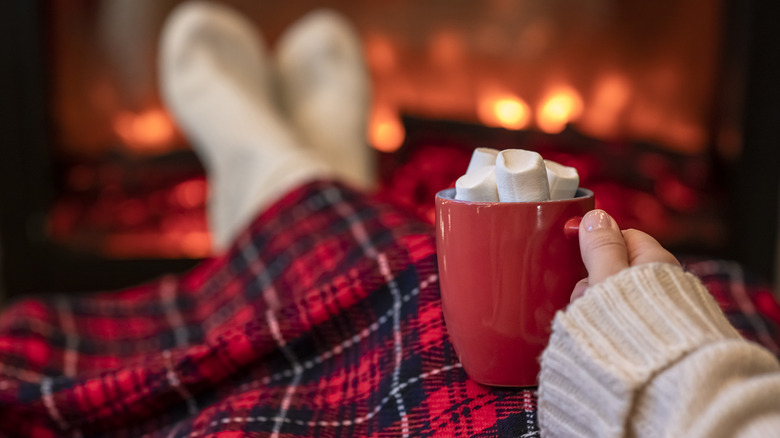 Ftiare/Getty Images
Along with your pillows, add a festive throw blanket. These don't have to be overtly Christmas-y; Instead, you could choose a cozy design, such as this one in red and black flannel. 
Place a wreath on the door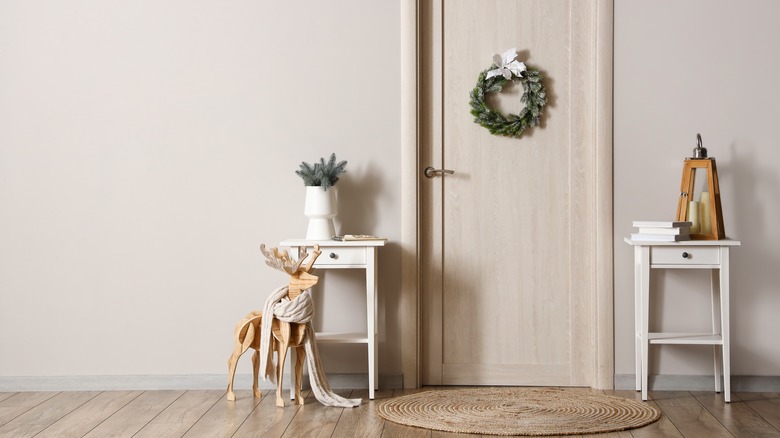 Pixel-Shot/Shutterstock
To give your space an inviting atmosphere, why not hang a wreath on your front door, either on the outside or the inside? 
Include candles
Andriana Syvanych/Shutterstock
Candles are an easy way to create a cozy ambiance. If your apartment has a rule against real flames, choose a battery-operated one instead.
Make use of the balcony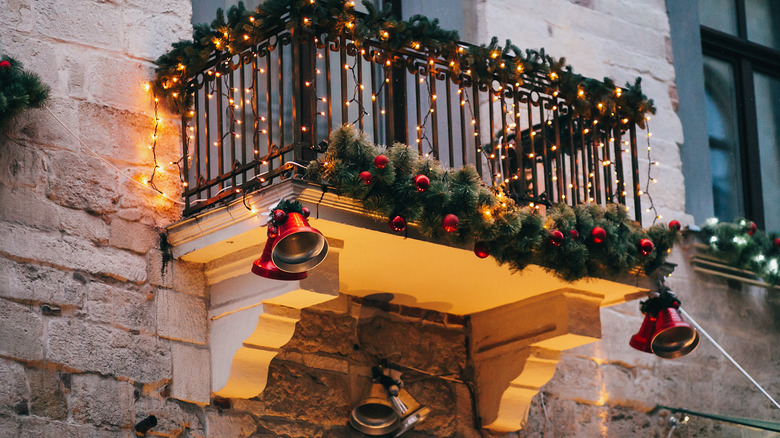 Bogdan Sonjachnyj/Shutterstock
Just because you don't have an entire house to decorate doesn't mean you can't make your small outdoor area more festive. To do this, wrap Christmas lights or garland along your balcony's railing. 
Create a holiday vignette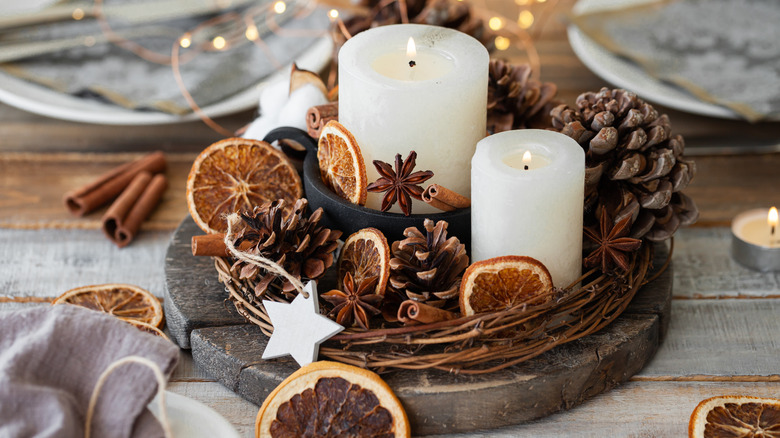 Vera Prokhorova/Shutterstock
Find an empty surface in your space, either on a bookshelf, dresser, or side table, and create a holiday vignette. To make it appear orderly, corral the items inside a tray.
Add a centerpiece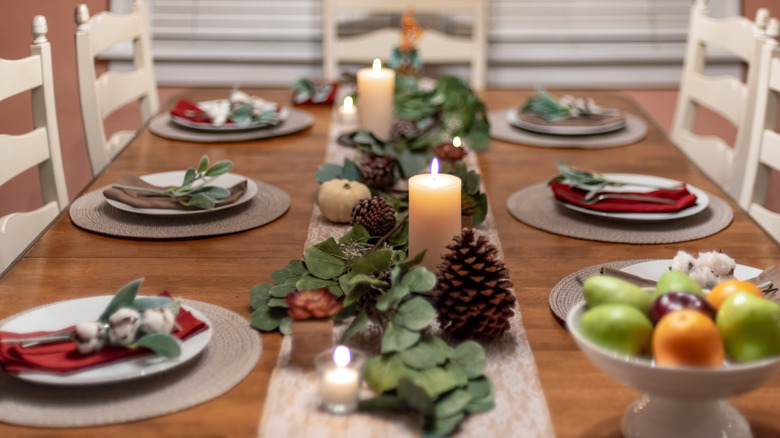 Kristen Prahl/Shutterstock
If you have a rectangular or square dining table, lay down a garland or another item to create a long centerpiece. Alternatively, if your table is round, use a small item to adorn the center, such as a wintry floral arrangement.  
Surround the television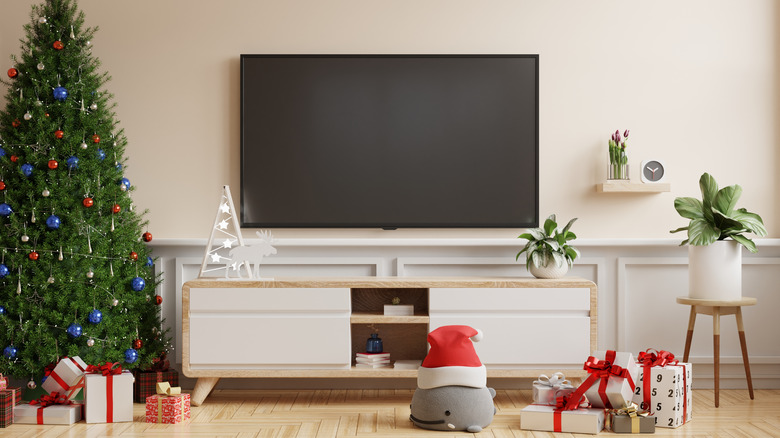 Vanit Janthra/Getty Images
Place smaller decorative items around your television either in the bedroom or living room. These could include presents, trees, reindeer, candles, or anything else that brings holiday cheer.
Display stockings in unique places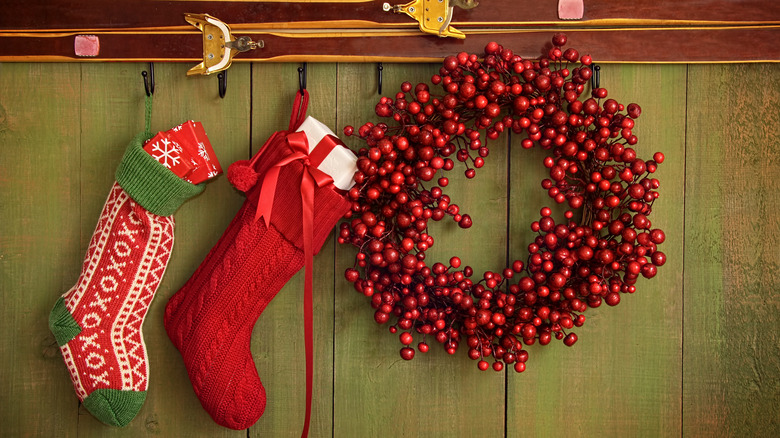 Sandra Cunningham/Shutterstock
If your apartment doesn't have a fireplace, you could display stockings on the wall, the cabinets, or even on a piece of furniture.
Suspend garland above a mirror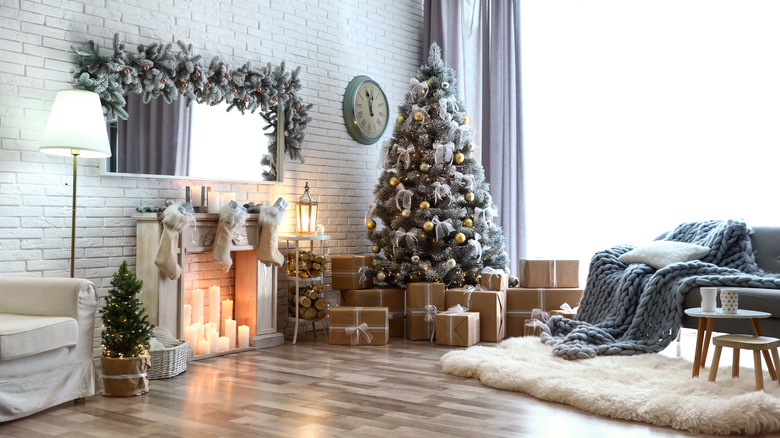 New Africa/Shutterstock
Further, instead of placing garland on a fireplace mantel, you could suspend it along the top of a mirror or a piece of artwork. 
Keep it simple with pinecones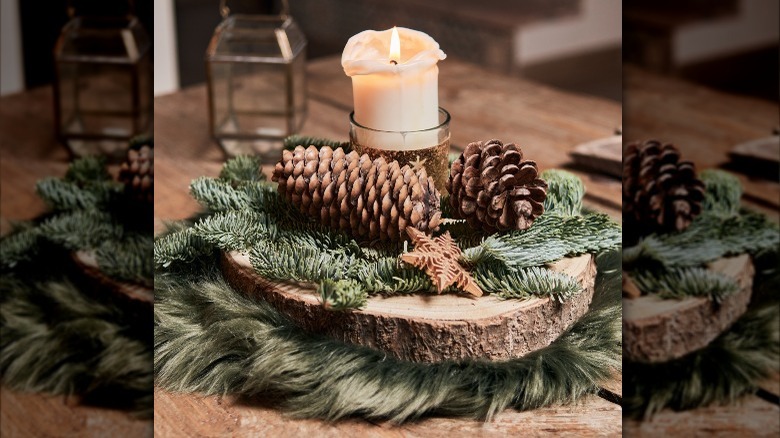 Cerrotalavan/Shutterstock
Pinecones are an easy way to bring a natural element into your display. These could be scattered along a centerpiece, placed in a decorative bowl, or hung on a tree like ornaments.
Decorate the windows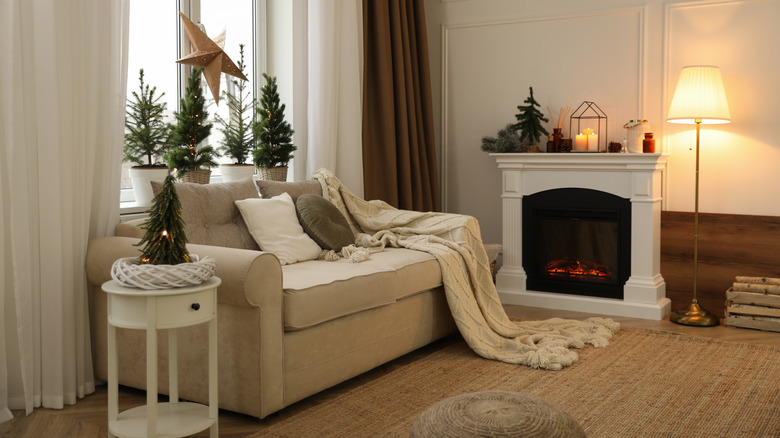 New Africa/Shutterstock
Window sills are perfect places to add decorative items like trees, string lights, or candles, as these pieces could be seen from both inside and outside your apartment. 
Utilize edible items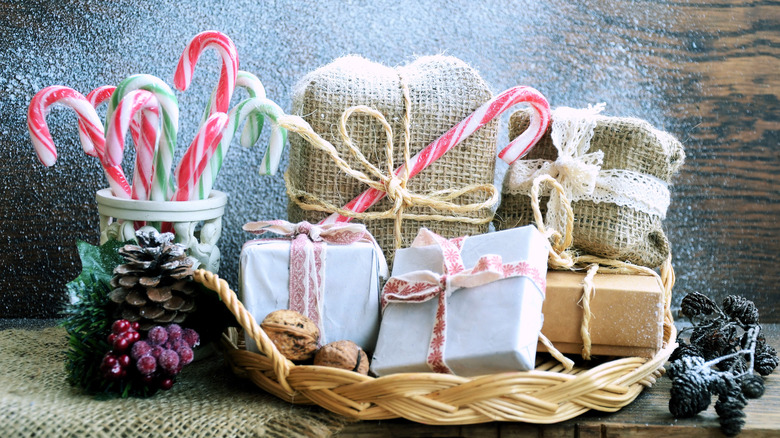 TGTGTG/Shutterstock
Because edible items like candy canes and gingerbread houses won't have to be stored after the season (as they'll be eaten before it's over), they're great pieces to use in apartments.
Use vertical space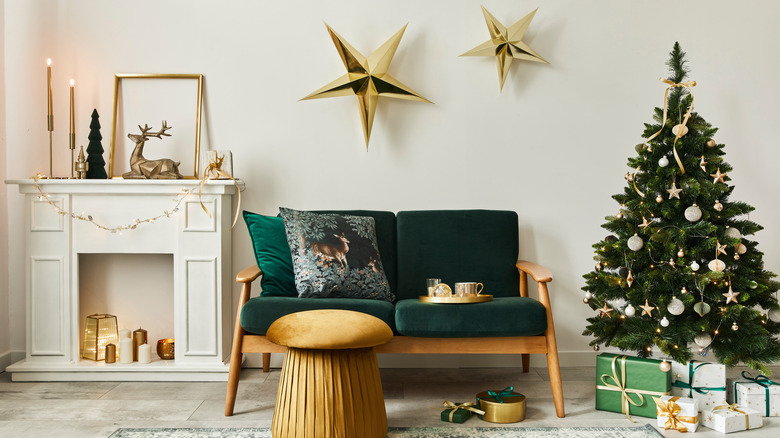 Followtheflow/Shutterstock
If you're limited on floor space, consider using the areas closest to your ceiling, like above cabinets, doorways, or furniture pieces.
Don't forget about the bedroom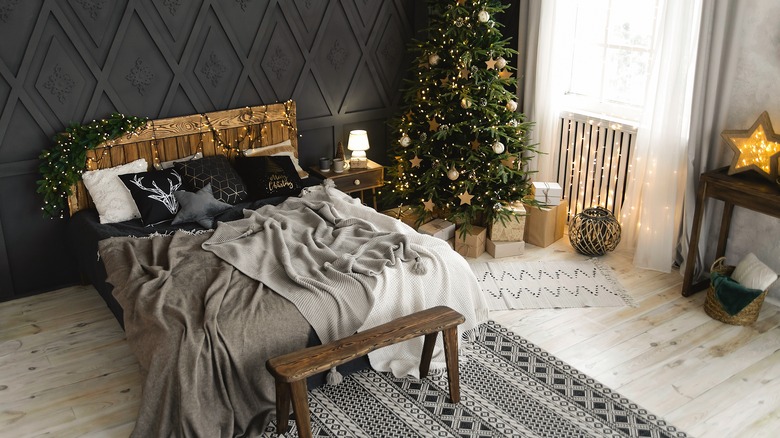 Sheremetio/Shutterstock
Because your apartment is small, decorate every room, including the bedroom. To do this, suspend string lights or garland on the bed frame, add a small tree, or include festive throw pillows. 
Even include the bathroom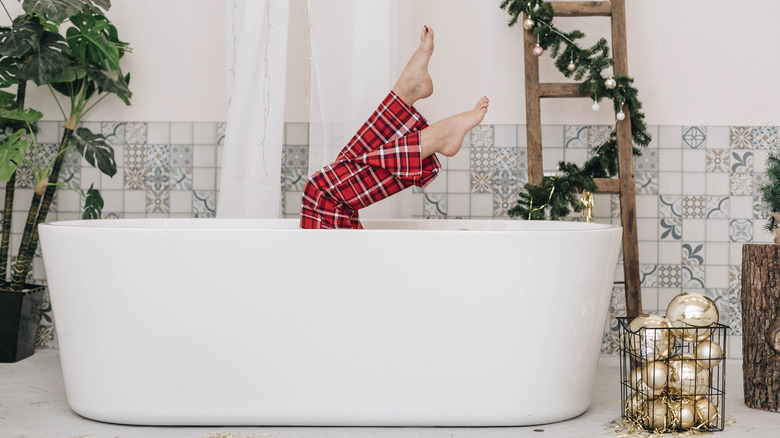 Margarita Aniskina/Shutterstock
In fact, you could even decorate the bathroom. Add garland, ornaments, towels, and other pieces to the floor or counters.
Avoid creating clutter
PhotoJuli86/Shutterstock
When decorating a small space, it's easy to make it appear too cluttered or full. Take a step back and remove anything that feels out of place.