Home Depot Or Lowe's: Which Has Better Deals On Greenhouses?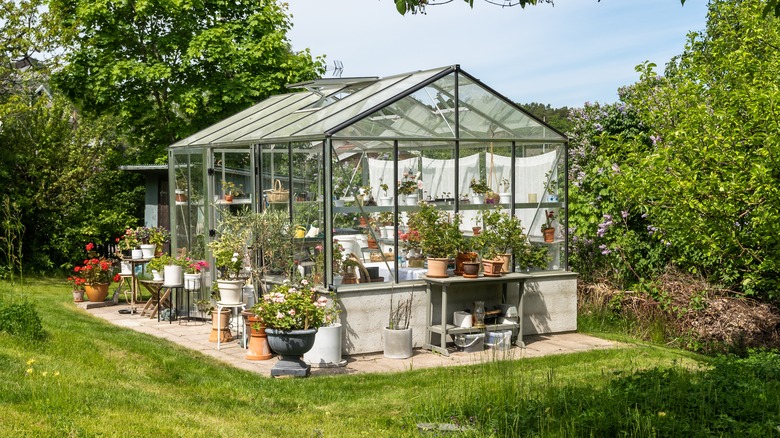 GenOMart/Shutterstock
If you've been testing out your green thumb for a while, investing in a classic greenhouse is a great way to level up your gardening game. According to Hope Gardens Nature Preservation Foundation, greenhouses give you more control over the environment, protect plants from insects and animals, provide additional space for tool and supply storage, and allow you to garden year-round, despite fluctuations in weather and humidity in the air. The only downside? They can be a bit pricey.
That's why we'll be scouring two of the most popular home improvement stores across the country, Home Depot and Lowe's, and comparing their inventory of greenhouses. Each retailer has an expansive catalog and quite a few options to choose from, so we'll be reviewing a number of similar choices. The final judgment will be based on price, quality, and reviews to ensure you get the best deal possible on a product that will last you for years.
Lowe's
Lowe's carries quite a selection of greenhouses, everything from low-cost pop-up plastic options to prefab wooden choices that cost more than $10,000, so we decided to stick with the mid-range solutions for this comparison. Priced at $634, the Outsunny Green Frame, Clear Panel Greenhouse is 6 feet long, 6 feet wide, and 7 feet tall. It's made of a powder-coated aluminum frame with polycarbonate sheets to allow in the perfect amount of light. You can also control the temperature and sunlight levels year-round thanks to its rooftop panel.
With nearly 20 reviews, consumers have given this greenhouse a 4.9-star rating, with most agreeing it's a quality product for the price — although some remarked that the vague assembly instructions could use some fine-tuning. One reviewer, however, said the panels weren't sturdy enough to withstand wind and tend to pop out when experiencing high gusts. The general consensus? This greenhouse isn't poorly made or by any means a bad choice, but there may be better options elsewhere.
Home Depot
Home Depot's answer to the mid-range greenhouse is this VEIKOUS Walk-in Garden Greenhouse that features an adjustable roof vent. It comes in a few different sizes, ranging from 6 feet by 8 feet all the way up to 8 feet by 16 feet, and features an aluminum frame and polycarbonate panels throughout. Compared to the Lowe's option, it's cheaper by about $150 for a similar size. It also has the same roof panel and single door to adjust to your liking. Consumers are satisfied with this product, giving it a 4.8-star rating across 205 reviews. The biggest issue? Some said it was difficult to assemble, but once up, it does the job well. 
When comparing greenhouses at Home Depot and Lowe's, this latter option is the clear winner — same materials and same construction; just at a much lower price point with a lot more detailed customer feedback. If you find yourself shopping for a greenhouse, make sure to do your homework before making a purchase. There might be some hidden deals waiting for you.