Should You Start At The Bottom Or Top When Putting Lights On Your Christmas Tree?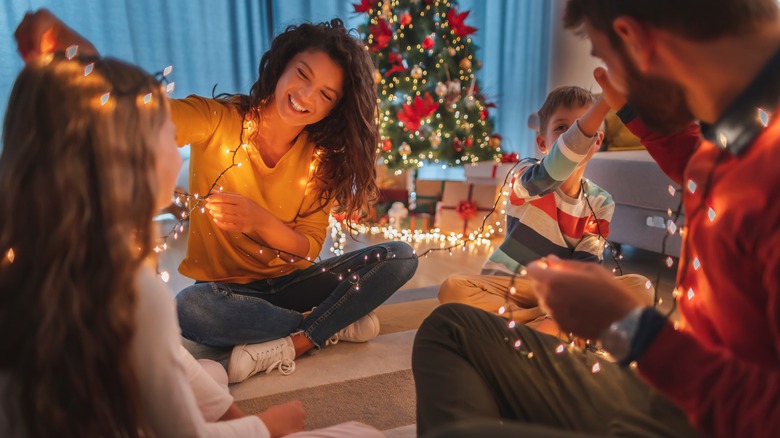 Impact Photography/Shutterstock
As the holiday season nears, decorating the Christmas tree is definitely one of the most exciting family activities and traditions. In fact, nearly 80% of Americans believe adorning it with lights and ornaments early on puts them in good spirits, and some experts say doing so can improve your overall mood and mental health, according to Newsweek. It's especially fun because of all the different motifs you can create, whether it's pink and feminine, festive and cheerful, or even dark and chic.
Indeed, there are so many themes to choose from, but none will look right unless you follow a certain technique. Did you know there's actually a proper way of wrapping your lights around the Christmas tree? Well, we're here to explain how! Standing in front of your festive fir with a string of lights at hand can be daunting if you're unsure of whether to start at the top or bottom. If you don't want to put in a bunch of work, only to have your tree become a hot mess, check out what we've found to be the proper way to hang your lights.
It all depends on your methodology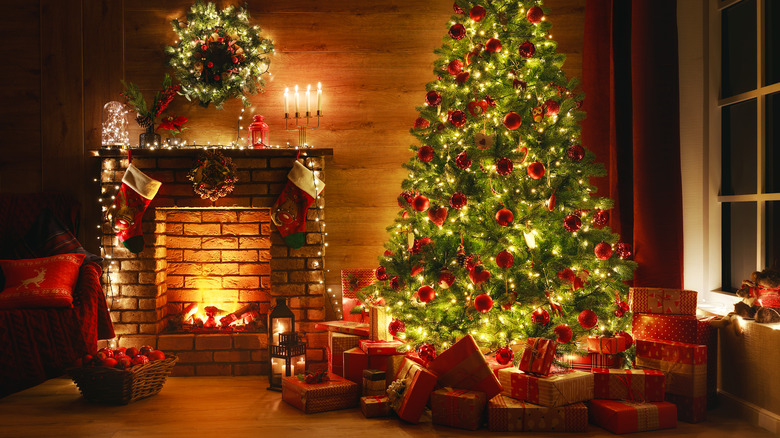 Evgeny Atamanenko/Shutterstock
According to Wayfair, while it doesn't matter how you go about it, make sure to be consistent throughout. A traditional method is the zigzag; if you start at the base, wrap the first layer of lights on the lowest branches and ensure the plug is near an outlet or just plug it in. The next layer will go above the first, and you'll have to wrap it around in the opposite direction. Conversely, when beginning from the top, you can basically follow the same directions. Regardless of the process you initiate, each row should be about 3 inches apart.
A more secure yet tedious method is the spiral technique. You can start at the top or bottom, but Wayfair says the former is easier. Just like the aforementioned process, ensure the plug is at the bottom. Then, you can wrap your first layer of lights around the tree, but avoid making a connection at the end of the circle. Additionally, wrap the Christmas lights at a downward angle, and the second layer should be wrapped 3 inches below. Repeat the process until your entire tree is illuminated.