The One Upgrade Every Bathroom Needs, According To HGTV's Fix My Flip
The bathroom is often one of the first places that homeowners decide to upgrade in their space. In fact, according to a 2019 Remodeling Impact Report from the National Association of Realtors, it's the most popular home improvement project of all.
It's not difficult to understand why. First, most bathrooms have a relatively small amount of square footage compared to the rest of the home. This means it's cheaper for both labor and materials because there's less space to cover — it's the perfect opportunity to splurge for those incredible but pricey tiles that you couldn't justify in a larger room like the kitchen.
And, as per Modernize, the average return on investment on a bathroom remodel is 64%, so you recoup a fair amount of that cost. Obviously, it makes a difference whether you spring for a high-end transformation with no expenses spared or a more DIY, budget-friendly approach. However, at the end of the day, it's undeniable that sprucing up this particular space in your home has a major impact. In fact, about 26% of homeowners decide to give their bathroom a bit of a refresh before putting their property on the market.
If you're convinced that your bathroom could use a transformation, HGTV's "Fix My Flip" has a key piece of advice for the one upgrade you should always consider, according to flipping expert Page Turner.
Forget the half-bath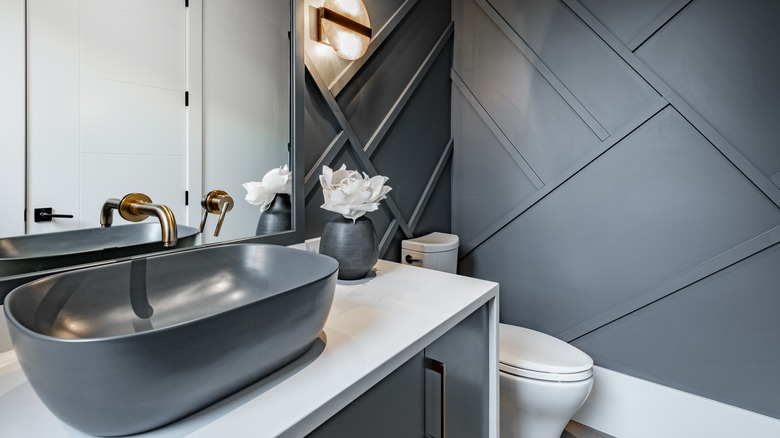 Sheila Say/Shutterstock
Many homes typically have at least one half-bath, often referred to as a powder room. This particular space is commonly nestled on the main floor as the primary bathroom guests can use, but depending on the layout of your home, it may be located elsewhere.
When considering potential upgrades for your bathroom, your mind likely goes to things like getting new tiles or flooring, a more modern vanity or sink, or even swapping out the light fixtures for a much different ambiance. However, according to real estate broker Page Turner, the personality behind "Fix My Flip," you shouldn't just accept that a half-bath must remain a half-bath. Instead, whenever possible, she highly recommends transforming a half-bath into a full bathroom, as she told Realtor.com.
Now, this is a task that's definitely suited to bigger renovation projects. If you're just doing a cosmetic transformation, you're likely not messing around with the location of the appliances. However, if you're willing to spend a bit more (and have the space) to add in a small shower or bathtub, it's an upgrade you should always consider, as Turner suggests.
It may not seem like the most significant difference to you, but on paper, it bumps your home's bathroom count up considerably. As per Home Climates, an additional bathroom can increase a home's sale price by 8.7%, or bump the value by anywhere from $20,000 to $50,000, according to iBuyer.
Where to find the extra space (if you need it)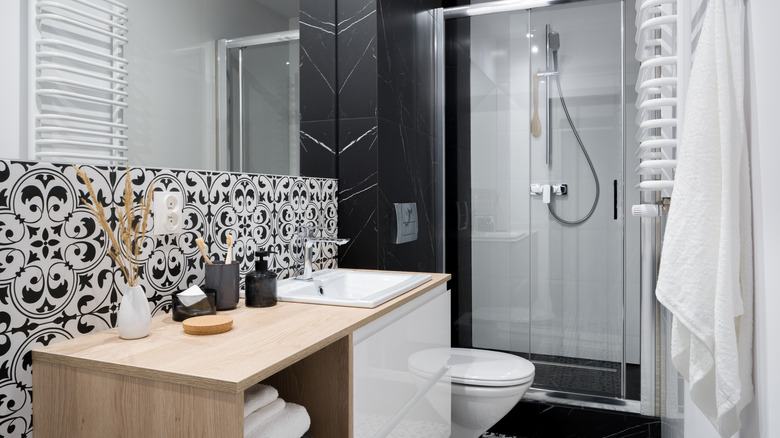 Dariusz Jarzabek/Shutterstock
So Turner's expertise has convinced you to upgrade a half-bathroom in your home to a full bathroom. However, what if there truly isn't space in the existing footprint of the bathroom to add a larger fixture like a shower or bathtub? The solution is to look at the areas around your bathroom and determine if any unused areas with square footage could go towards your fresh new bathroom's floor plan.
For example, as Budget Dumpster outlines, you might consider using some space in a nearby hallway or closet to bump up the size of your bathroom to accommodate an additional fixture. Or, as Turner herself did in a home she helped flip on her HGTV show, you could steal a bit of space from the laundry room if your powder room is adjacent to that space in your home (via Realtor.com).
If increasing your home's value isn't enough of a motivating factor, consider the functional perks of having an additional full bathroom in your space. First, it would allow guests to have their own private bathroom, making overnight hosting much easier. Additionally, if your powder room is on the first floor of your home and the other full bathrooms are on the upper levels, transforming that half-bath into a full bath could help make your space more accessible, which On the House reports is a highly-desired feature.