A Real Estate Agent Reveals The HGTV Trends That No One Wants Anymore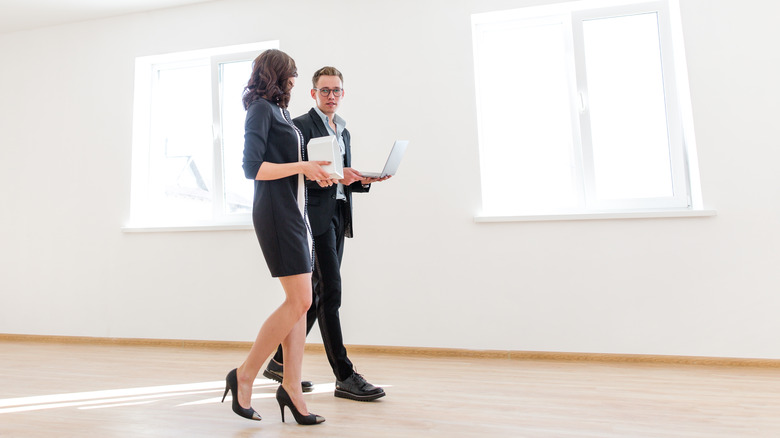 Yulai Studio/Shutterstock
If you're planning on selling your home now or in the near future, you should be thoughtful of every change to the design you make. It's expensive to make alterations, whether you're slathering on a new coat of paint, installing a new countertop, or replacing your cabinetry — and CNBC reported that the average seller spent $21,000 prepping in 2019. With that much money on the line, you want to keep things up-to-date and appealing. However, designing a home, whether you're an expert or not, is always a daunting task. Trends come and go, and it can be hard to stay on top of what buyers want.
So, in an exclusive interview with House Digest, we've asked real estate agent Josh Steppling of Josh Steppling Real Estate Group what design trends are going out of style. As a top-producing real estate agent in Stuart, Florida, Steppling has previously been ranked as the best realtor in the area and has obtained over 100 five-star reviews. With his expertise and belief in calculated home marketing plans, he can give you a nudge in the right direction when making design-related decisions.
Fake anything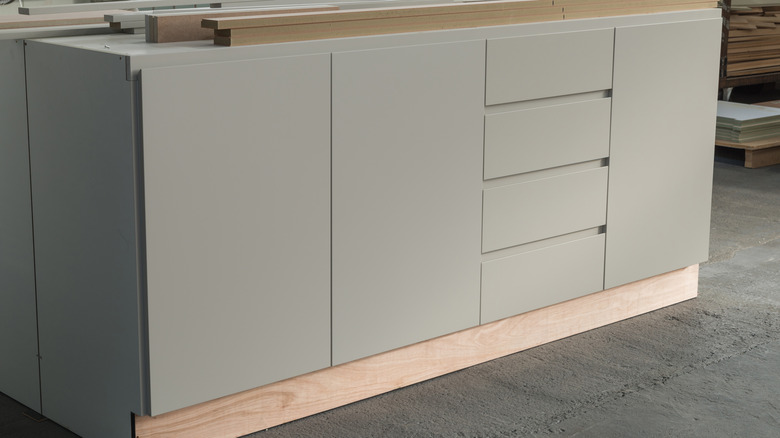 Mark Anthony Ray/Shutterstock
The term "fake it till you make it" may apply to certain aspects of our lives, but it's going out of fashion when it comes to home design. "In hopes of making their space look luxurious and modern, homeowners have opted for faux materials rather than embracing the natural attributes of the materials," Josh Steppling said. Now, we're watching as certain materials are favored over others. "Particle board cabinets are being replaced with real-wood shelving or carpentry," he noted.
As builders create new homes, they're also harnessing the beauty of natural materials while leaving behind what used to be deemed as the standard. "Where builders used to use granite counters that mimicked marble or a more luxurious stone, they are highlighting the raw beauty of more basic alternatives," Steppling revealed. Avoiding granite may also become a major budget saver if you opt for a different natural and affordable material.
White and sterile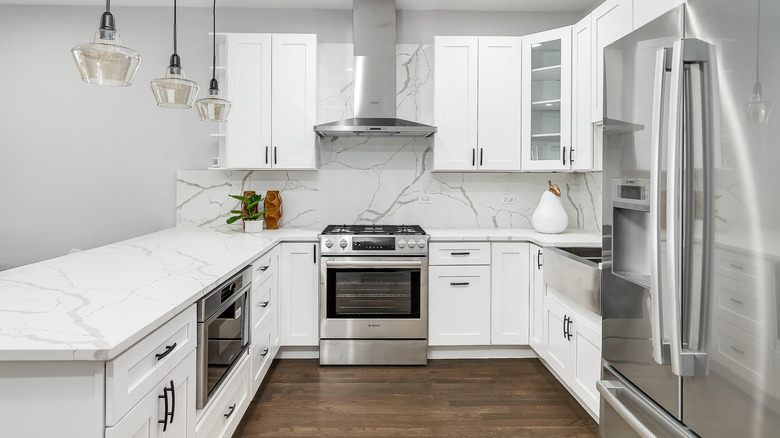 Hendrickson Photography/Shutterstock
White kitchens may have been a popular choice for years, but now they're becoming a homeowner's biggest weakness. "More and more designers and homeowners are turning their nose at the white and sterile kitchens that were once seen as contemporary," Josh Steppling explained. Now, it seems more popular to create a design that is true to yourself rather than designing based on what you believe others will enjoy. "The new trends are bringing personality to a space and using materials that might represent the homeowner, energy, or the surrounding environment," he continued.
Take the time to discover your own personal aesthetic in the kitchen. Check out different styles and concepts until you find something that grabs your attention. If you need help finding inspiration, peruse through image galleries or speak with a designer. Something as simple as adding a pop of color to your cabinetry can add unique flair if you're trying to break up an all-white space.
Stainless steel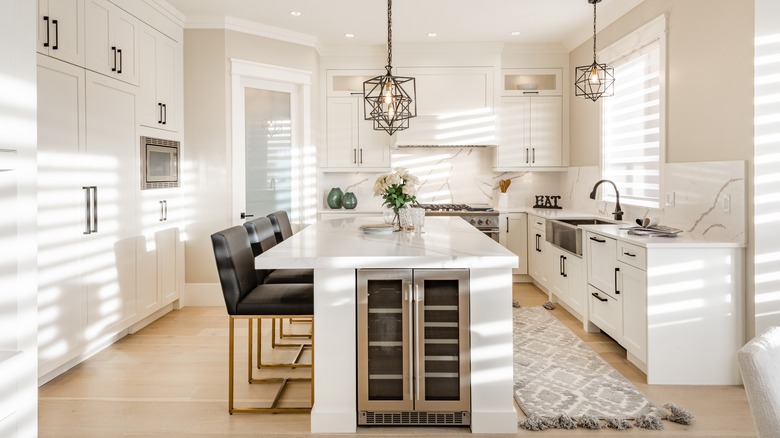 Sheila Say/Shutterstock
Choosing the right appliances is also a huge part of design, and homeowners are now turning their heads away from finishes that were once the norm. "This might be less of a shock to most people, but even the most high-end appliances are starting to go away from the stainless steel that makes things look very commercial," Josh Steppling said. The realtor has noticed that homeowners now opt for appliances that create an entirely different feel. "Custom builders and owners are choosing something more neutral that doesn't make itself the focal point of the space," he stated.
White appliances can be neutral and complementary to your home's bold hues. They're also a good option for spaces with minimal natural light because they will create an essential sense of brightness. If white feels too bright for your kitchen, black appliances are also a neutral option that can complement different designs.
Shiplap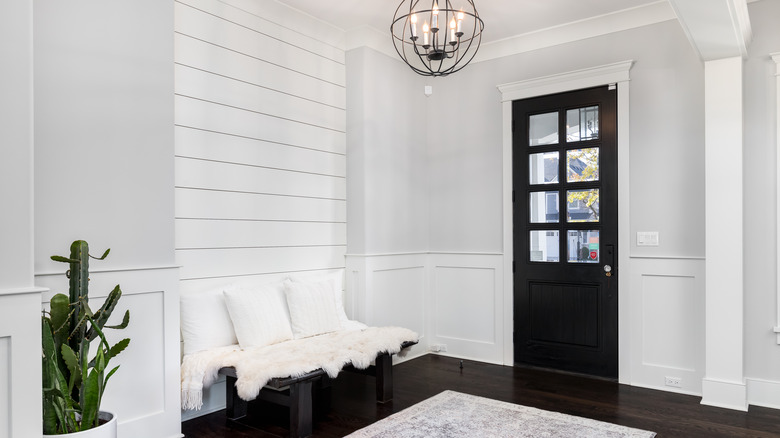 Hendrickson Photography/Shutterstock
We've all grown to adore shiplap after watching it transform several homes on the hit HGTV show "Fixer Upper." But it may not be a great choice depending on the type of home you have. "This came along with the Farmhouse Kitchen trend but it's starting to be seen as a faux-addition," Josh Steppling explained. "Homebuyers know that it's a veneer and unless you're in an actual rural building, it can come off as unpleasant." So if you're living in a city or ultra-modern home where shiplap wouldn't typically be seen, maybe it's time for something more natural to your environment.
As an alternative to shiplap, wainscoting can add texture to your wall, and it comes in different styles if you want to veer away from the farmhouse aesthetic. Colored accent walls are another alternative that can break up a space and add some dimension, and wallpaper is making its way back into the spotlight.
Open floorplans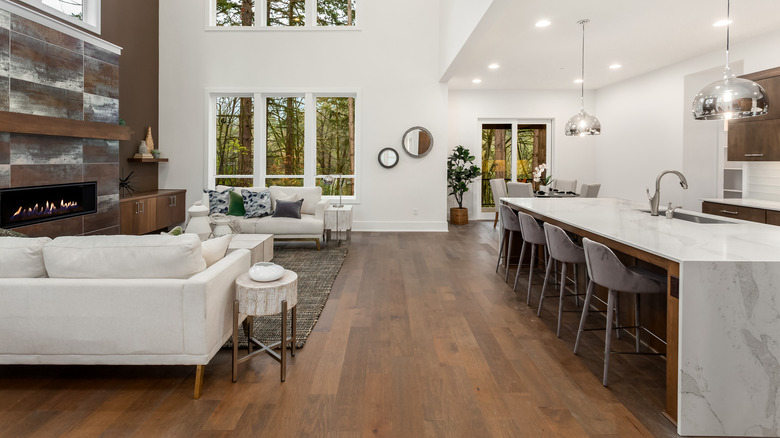 Justin_Krug/Shutterstock
The one design method we all thought was safe may be losing its popularity, according to Josh Steppling. "This one might be surprising, but many custom builders are seeing homeowners prefer spaces that are segmented to their individual uses rather than completely open," Steppling revealed. "Spec home builders are even starting to incorporate options for extra dens or offices, or providing formal dining rooms in a way that breaks up the open living areas and creates space that is more dedicated to its intended use."
Some homeowners prefer a closed floor plan because of the privacy it creates between rooms; working from your dining table is a lot harder when you can hear the whole family clanking around the kitchen or blaring the TV. It is also an excellent option for those with a creative kick or an expansive collection of artwork because of the additional wall space.