Christmas Decoration Ideas You Can Take From Kathy Hilton
Rodin Eckenroth/Getty Images
Fans of Bravo's "Real Housewives of Beverly Hills" would expect nothing less than a lavishly decorated home for the holidays from Kathy Hilton. The mother of Paris and Nicky Hilton and wife of real estate investor Rick Hilton usually starts hauling out the holly in October and has the halls fully decked by December, as mentioned by People Magazine. From the moment guests walk through the door of her Bel Air manse, they're greeted by floor to ceiling holiday delights. 
Each of the many decorated Christmas trees in Hilton's home follows a different theme or color scheme, and most have a matching garland lining nearby bannisters and mantels for a coordinated look. The fashion designer and socialite doesn't shy away from using family heirlooms to create her holly jolly décor. Learn more about what makes Hilton's Christmasy home so magical and how you can incorporate some of these amazing looks into your own holiday decorating all over the house.
Have a blue Christmas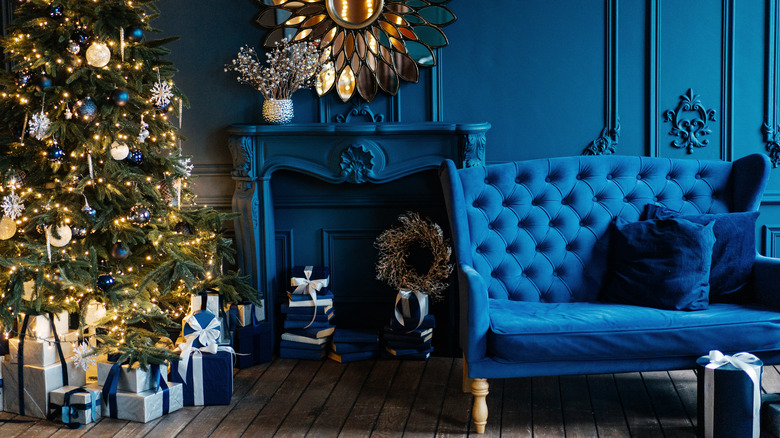 NatalyP/Shutterstock
One of the most striking trees in Kathy Hilton's home doesn't have a smidge of the holiday's typical red and green hues among the flocked boughs. Instead, she uses soft blues, lots of white, and just a hint of salmon to create a flowing fairy tale of a tree to decorate one of her sitting rooms. Hilton uses an interesting tone-on-tone technique by tucking in frosty white ornaments and antique decorations shaped like churches and houses among the boughs of her festive all-white tree. The colors blend with the room beautifully and provide a cue for decorating outside of the proverbial gift box.
Other designers follow the blue lead but combine richer shades of the color with gold and only a touch of white on a traditional green Christmas tree, advises Citrine Living. Creating a matching garland to bedeck the fireplace completes the look in many spaces. If you prefer a teal or turquoise blue, that hue can yield amazing results as well. Having a blue Christmas takes on a new meaning with lovely decorating ideas like these.
Embrace whimsy and nostalgia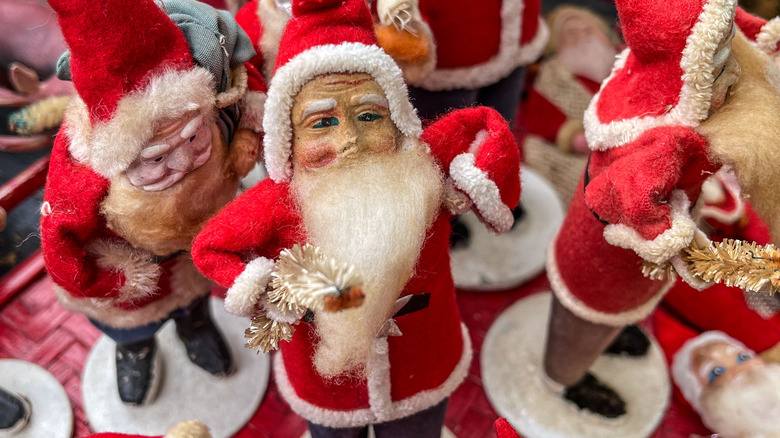 George Rose/Getty Images
As the former owner of an antiques store, Kathy Hilton loves to incorporate wonder and whimsy by using collectibles in her holiday décor. Take the decorations in her famed TV tray room where she and her family dine like everyday Americans. Many of the items on and around the tree and mantel are figurines that belonged to her children when they were young, and others have been collected over many years. Numerous vintage Santa statuettes are among those treasures. 
As mentioned on Holidappy, there are many ways to blend holiday themed antiques and collectibles into your decorating scheme ranging from your favorite glass ornaments to ephemera such as paper collectibles. Hilton does this in several other rooms of her home and uses old holiday houses made of pastel cardboard as a centerpiece on a dining table. She also displays a figurine shaped like Father Christmas alongside two coordinating children on a side table. Although she bought them all new decades ago, they're now technically vintage and have become prized possessions over the years. Do you have anything old you can pull out for the holidays? There's no time like the present!