The Open Shelving Trend You'll Absolutely Want In Your Kitchen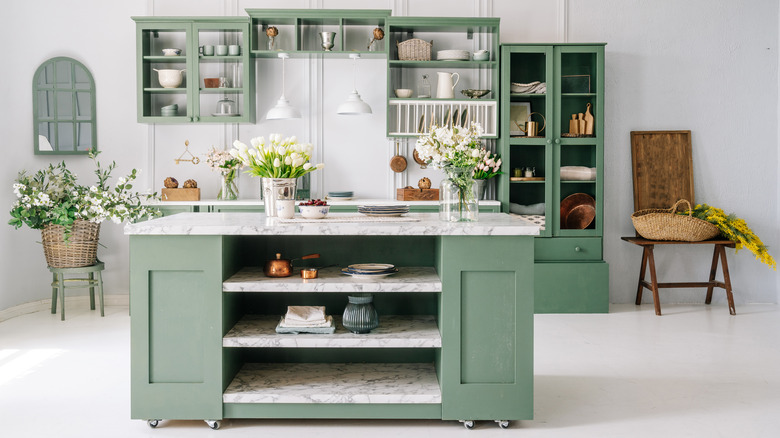 brizmaker/Shutterstock
Open shelving is a popular kitchen design trend that stands the test of time, according to Food & Wine. They provide a light and airy feeling in a space and allow individuals to stylishly showcase special keepsakes or items they regularly use. "If you have a small space and want it to look larger, using open shelving can be helpful... because visually your eye goes to the back of the shelf instead of hitting a cabinet door or other closed surface," says Elizabeth Byler, owner of design firm Eden Environments (per LancasterOnline). Open shelving is now so popular that people are searching for new ways to incorporate this simple and refreshing approach into other parts of their kitchens.
One of the most fashionable ways to feature open shelving is by including it on the kitchen island. Tricia Zach, the head of NKBA Research, says via Bankrate, "Open shelving units can provide plenty of extra storage while also being super-stylish." Of course, the kitchen island is already the center of activity in this space, but adding open shelves makes the island even more attractive. Here are some reasons this design trend should also become part of your kitchen.
Opening up the kitchen island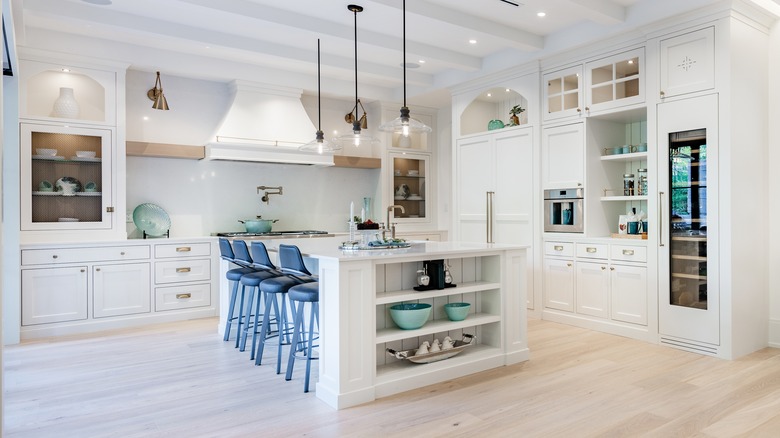 Sheila Say/Shutterstock
If the kitchen is the heart of the home, then the island is the heart of the kitchen. "No matter how large your home is, everyone tends to gather around the kitchen island," says Jessica Nicastro, a Los Angeles-based interior designer, per The New York Times. "Any party that you have, your kitchen island is the central meeting point. It also acts as a buffet, a homework center for children, and a breakfast table."
Adding open shelving to the kitchen island can make these activities more enjoyable and convenient, especially when the shelves are tailored to the homeowners' requests. Designing these racks should be like styling any other area of the home. "We think of the island more and more as something that can be treated like a piece of furniture, and that could be separate from the rest of the room," observes Scott Hudson, founder of the cabinetry company Henrybuilt (via The New York Times).
There are various ways to organize and style open shelves on the island. Dishes or placemats that are used frequently can be easy to reach on an open island shelf, making it unnecessary to fiddle with doors or drawers to find them. Place a piece of art behind these everyday items, or mix and match colors and textures by setting a wooden cake stand next to a copper tea kettle. Finally, an organized collection of cookbooks will add visual interest and also keep the countertops clear.
Creating storage and style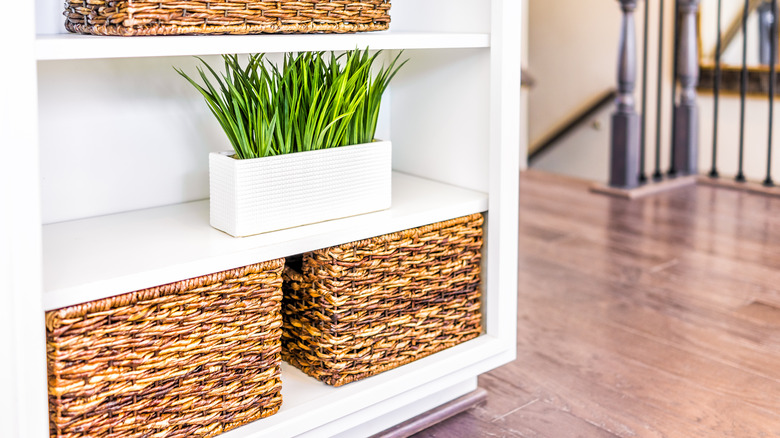 Kristi Blokhin/Shutterstock
Susan Serra, president of Susan Serra Associates, Inc., a design firm specializing in kitchens, told Bankrate that open shelving has become very popular in recent years. However, you don't need to spend a lot of money to make the space look high-end. "Decorative and useful items mixed together on a shelf add lots of personality on a budget," she said, suggesting using storage containers to maintain a neat look on the shelf. Serra added, "Lidded baskets can be positioned casually on the shelves to conceal kitchen tools or other items."
Decorating the open shelves on your kitchen island is also an opportunity to incorporate a coastal grandma chic look into your kitchen. Displaying items that are in sync with this trend will carry a peaceful and retro style into the space, suggests Bethany Adams, an interior designer in Kentucky, via Mansion Global. "Handmade pottery is a must. Try ceramic bowls in different sizes and in various shades of whites and blues. Show off small ones on open shelves." Overall, open shelving on the kitchen island is the perfect way to create this kind of timeless display, and it creates an opportunity to express yourself in other ways that match your interests in the future.