How The Ikea Place App Let's You Decorate Virtually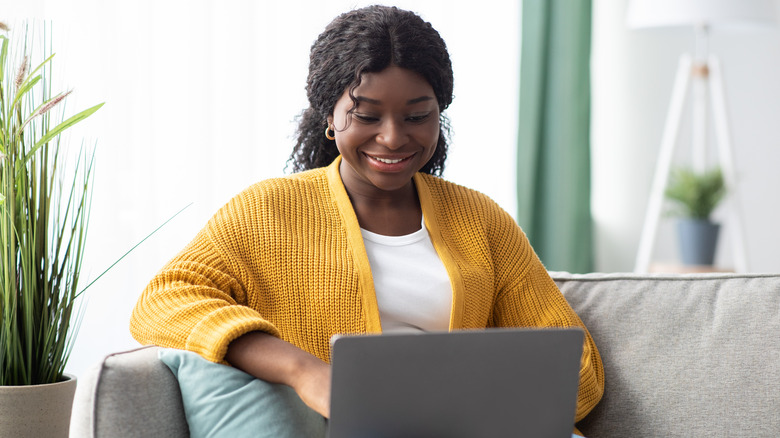 Prostock-studio/Shutterstock
It's always fun to make a trip to Ikea, walk around the seemingly endless warehouse, and fall in love with all the new and interesting designs and decorative items. Sometimes, that spur-of-the-moment item or the supplies you come back for every time catches your eye. Yet, the popular retailer is more than a place to shop when you have the time or have a specific need. It can also be worthwhile to visit when you need a bit of design help and plan to transform your living quarters.
Of course, you could hire an interior designer to help with the layout, choose colors, and pick out furniture for your living room or another area of the home, especially if you're not comfortable doing it solo. For a 1,500-square-foot home, that could cost between $7,500 and $25,500 for the project, according to Fixr. That's quite a bit of money. However, Ikea offers a DIY solution that provides all the supportive visuals needed to design a fabulous space more easily.
What is the Ikea Place app?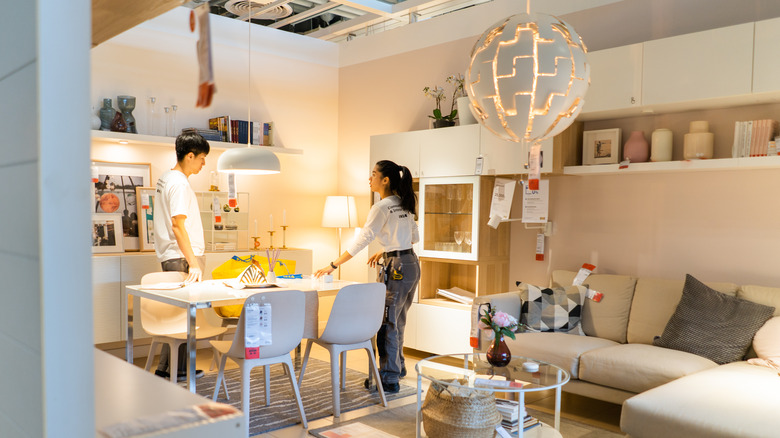 Prachana Thong-on/Shutterstock
Ikea Place is a downloadable app available for Apple device users to help design different areas within their homes virtually. The app works via a smartphone camera, allowing you to find the products you're thinking about buying and virtually place them anywhere. It's designed to be true-to-scale, which means you can see how large a rug will be in your living room or place a couch in the corner and see how much room you have to walk around it.
The key benefit of Ikea Place is that it's super easy to use. For example, you don't need to take measurements or share the design layout of any rooms and hope it all works together. Instead, using the app, you can see where items fit and how they would look in your residence by using the camera feature to scan the space. Will that blue chair really go well with your red walls? This is one way to evaluate it before making a purchase.
Using Ikea Place to design and decorate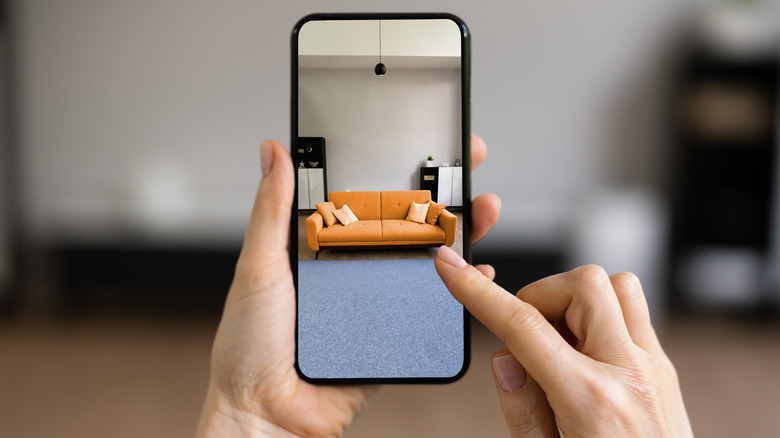 Andrey_Popov/Shutterstock
The Ikea Place app not only allows you to add a piece of furniture to a room virtually, but it also provides a way for users to design entire rooms at one time, according to Wired. To do this, it uses augmented reality features, allowing you to easily move items around in more than one room or open space. You can use the app to help choose between various colors, styles, layouts, and aesthetics.
While Ikea Place does a good job of providing ideas and allowing you to compare various features, it doesn't tell you how to decorate. Moreover, it can help you see whether colors look great next to each other, but it can't tell you how to create a fabulous interior design. Still, if you're looking for a refresh and don't want to constantly visit the store's return department, this is one of the easiest ways to virtually update your home.