The Best Place To Live In Oregon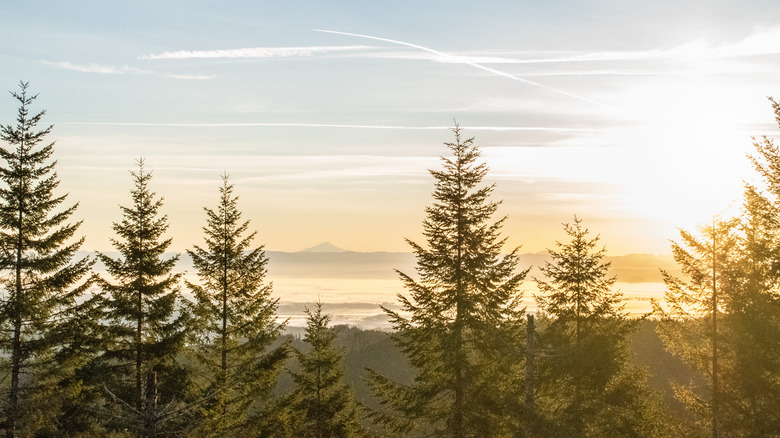 HarrisonLee/Shutterstock
Oregon is a state with something for everyone. There are mountains, beaches, forests, canyons, and even a desert. Oregon's cities run the gamut from densely populated Portland to tiny Bellfountain with a population of eight. But you can't go wrong by choosing Corvallis as the best place to live in this multifaceted state. Corvallis earned the No. 11 spot on Livability's Best Places To Live in America list. International study specialists at INTO praise it as one of the nation's top college towns, giving it additional high marks for safety and green initiatives. As such, the City of Corvallis, Oregon offers free bus service throughout and has established Active Travel Corridors, limited only to people, to encourage vehicle-less transportation. Furthermore, nearly all of its roads contain bike lanes.
Corvallis sits in the Willamette Valley at the foothills of the Coast Range, 50 miles from the Pacific Ocean. It's conveniently located less than an hour from Salem and Eugene, and less than 90 minutes from Portland. The lush valley area is the ancestral home of the Kalapuya tribe. According to Oregon Encyclopedia, the first settlers arrived in 1845 and established the town of Marysville there. The name was later changed to Corvallis, meaning "heart of the valley." Attracted by its growing reputation as an agricultural goldmine, convoys of pioneers from the Heartland began arriving mid-century via the Oregon Trail. Today, Willamette Valley is pinot noir country, with more than 700 wineries a stone's throw from Corvallis, per Willamette Valley.
Quality education and moderate crime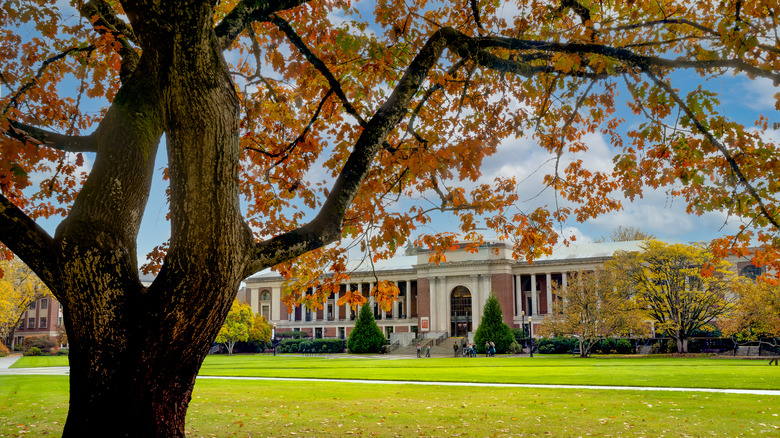 Bob Pool/Shutterstock
Corvallis' cost of living is higher than the nation's average, but low within the state of Oregon, according to Best Places. Utilities, healthcare, and transportation account for big savings, but groceries and housing costs are high. The median cost for a home is $437,900; this is $146,200 above the country's average, yet par for the course in Oregon. The city has a favorable unemployment rate of 3.1%, with the largest employers being Oregon State University (OSU), the regional hospital, and Hewlett-Packard.
Corvallis has a strong educational foundation. Its schools received an A- grade from Niche, with an A+ for college prep and an A- for teachers. The district is ranked as the state's 6th best, scoring well for athletes and for having the highest-quality teachers. Vacation Idea notes that OSU alumni were the geniuses behind the creation of the computer mouse as well as an artificial heart valve. The school's forestry program is also considered superb. Corvallis was declared America's second-most educated city in Smart Asset, based on the facts that 94% of residents are high school graduates, 53% of adults have bachelor's degrees, and 23% have advanced degrees.
According to Neighborhood Scout, you are 50% less likely to experience violent crime in Corvallis than elsewhere in Oregon. The city does considerably well in this category with 1.59 incidents per 1,000 residents versus 2.92 for Oregonians and 4.00 per the national median. However, Corvallis' property crime rate is slightly elevated compared to the state overall.
There is much to do in Corvallis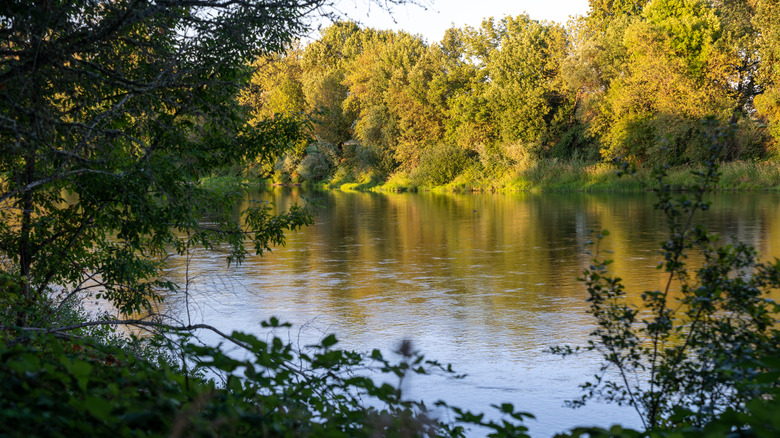 melissamn/Shutterstock
Are you ready for an incomparable 62-mile trek from Corvallis to the Pacific Ocean? Starting downtown and cutting a swath through the Willamette Valley, as described by Visit Corvallis Oregon, the Corvallis-to-the-Sea Trail traverses forests, rivers, modern communities, and, of course, the native lands of the Kalapuya people. Hikers might even share the experience with black bears, cougars, elk, and deer. For the weary walkers, a bus is available to take you back to civilization.
Corvallis has been declared a "Tree City USA," and Travel Lens cites its 47 public parks and green spaces, and the nearby 11,250 acres of the McDonald-Dunn Forest as strong draws. Avery Park and Natural Area adorns central Corvallis, and there's an expansive rose garden worth visiting. The Willamette River bordering the city is a boating, kayaking, and fishing paradise. Winters are mild here, but top-notch skiing is within easy reach in the nearby Cascade Mountains.
A full menu of other first-class natural diversions are available. Locals and tourists enjoy the William L. Finley National Wildlife Refuge, Bald Hill Natural Area, Siuslaw National Forest, Oregon Dunes National Recreation Area, and the Peavy Arboretum. A day in the city can also include an Oregon Beavers football game at downtown's Reser Stadium. American Dream Pizza, where President Obama chowed down when he campaigned in Corvallis (per Oregon Live) is a local favorite. Yet another bonus of living in the beautiful city of Corvallis: shopping in Oregon is tax-free.