The Indoor Christmas Light Styling Hack To Steal From Designer Kelly Wearstler
Amy Graves/Getty Images
Decorating your home for Christmas is anticipated year-round. The holiday cheer of putting up the Christmas tree, stringing bright lights, and filling the air with sugar-cookie aroma, all while Christmas music chimes in the background, is an unmatched type of joy. Although Christmas revolves heavily around traditions, the décor is one thing you can change year to year to bring new elements to the Yuletide season.
Ask yourself how you can add new flare and more spice to your space this year. Consider the colors you are using, the decorations you hang, and every small detail in between. What can you rearrange? What accents, such as picture frames, plant pots, and pillows, can you switch out? Your holiday lights are just one component that has limitless design possibilities. It can get tiring to place your lights the same way every year: along railings, against the windows, outlining your bookshelves, etc. Award-winning American interior designer Kelly Wearstler has a light styling hack that will save your Christmas spirit.
How to install Kelly Wearstler lighted wall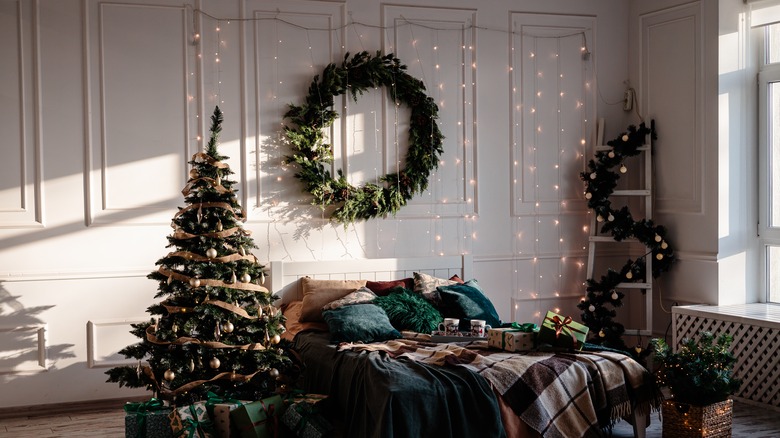 Dmitry Tkachuk/Shutterstock
Wearstler inspires her audience to shake things up with her lighted wall, and she leaves no mystery on how to create it. "A festive light adds a glowy dose of spirit," Wearstler told Homes & Gardens. She states that you can "use an entire wall as a canvas" and notes that "a geometric pattern with repetition brightens the mood while creating visual interest."
Of course, the first step in this endeavor is picking out your lights. You can keep a classic, colorful look or venture into white and warmer tones, whatever best fits your aesthetic. Kelly opts for "multiple strings of same-toned lights and inconspicuous hooks or tiny tacks." While shopping for lights, pick up transparent hooks to ensure easy hanging and a floating effect. That is all you need to get started on this trend-setting holiday design. Homes & Gardens explains that once you attach your hooks to the wall in an evenly-spaced sequence, it becomes as simple as using your artistic ability to arrange your string of lights in a waterfall configuration. "I love to let the lights cascade onto the floor for an artful, spilled-over-with-joy feeling," Wearstler said. "Think big and let your imagination be your inspiration."
More Christmas tips from Kelly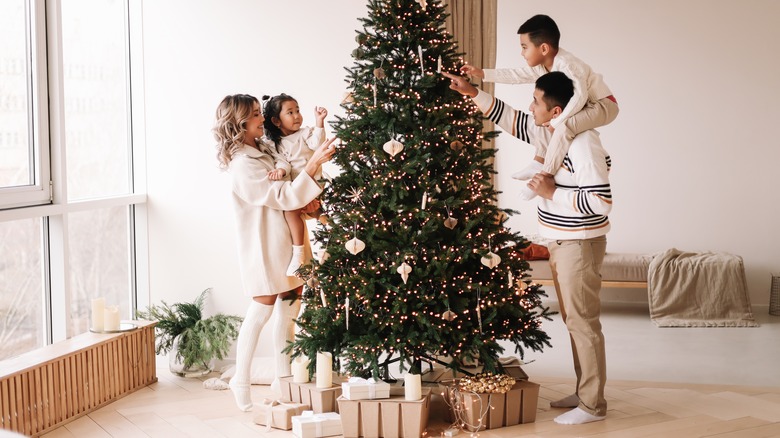 Elizaveta Starkova/Shutterstock
As a design icon, Wearstler certainly has more holiday tricks up her sleeve. In an interview with the Chicago Tribune, she recounts her tendency of the less is more mindset and creates a minimalistic design around the grand centerpiece, the Christmas tree. Fruits and vegetables are not just for fall and Thanksgiving decoration; Wearstler uses all kinds of festive produce to add vibrant yet elegant pieces to the room. From pomegranates, cranberries, pears, and rhubarb, you can put more than just flowers in a vase — or not use a vase at all.
Thinking about color, she greatly suggests discarding the overused red and green. "I try to reinvent the traditional color palette for the holidays by looking at colors like oxblood, sage, and persimmon combined with a thoughtful use of materiality and spirited, soulful silhouettes," she told Coveteur. Create a theme for your Christmas cheer to revolve around, and never be afraid to be innovative in the face of tradition.
Out of all the interior design guidance Wearstler gives for the holidays, she believes an essential aspect you cannot ignore is the importance of your family and friends. You are creating a space to gather with your loved ones for celebration and reflection of the year. It is a time for DIY projects, bake-offs, and movie marathons. It is a time for game nights, gift-wrapping, and feasts. It truly is one of the most wonderful times of the year.