An Interior Design Expert Explains Why Mid-Century Modern Design Will Never Go Out Of Style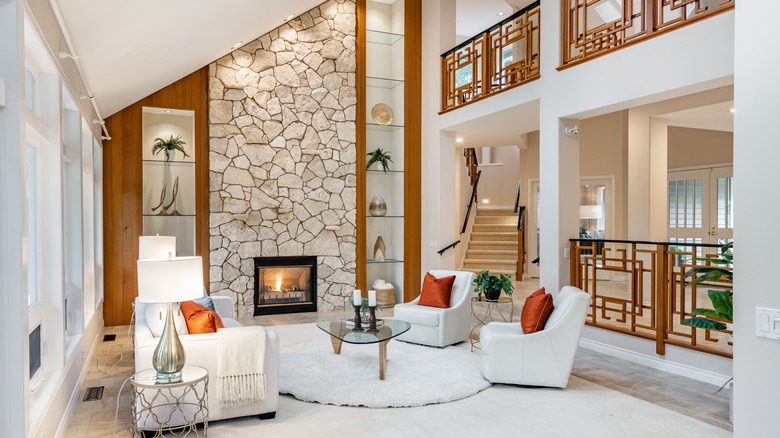 Sheila Say/Shutterstock
Many people are drawn to the clean lines and beautiful tones that make mid-century modern so unique. The design style stems from a movement that occurred in the 1950s, and while it may have its roots in a long-gone time, it's very much here to stay. It's noted for its blend of vibrant colors and geometric furniture, according to MasterClass, and was initially influenced by German Bauhaus, a design and architecture school. Over the later part of the 20th century, several designers utilized and even became well-known for their use of this style, including Herman Miller, Ray Eames, and Isamu Noguchi.
How can something from the 20th century still be charming and on-point today? Once thought to be futuristic, mid-century modern design is surprisingly still a popular choice for homes now. Satsha Lopez Jaimes, an interior designer with Freemodel, provides some specific and expert observations about what makes it so long-lasting and even trendy in this exclusive interview with House Digest.
It is rooted in functionality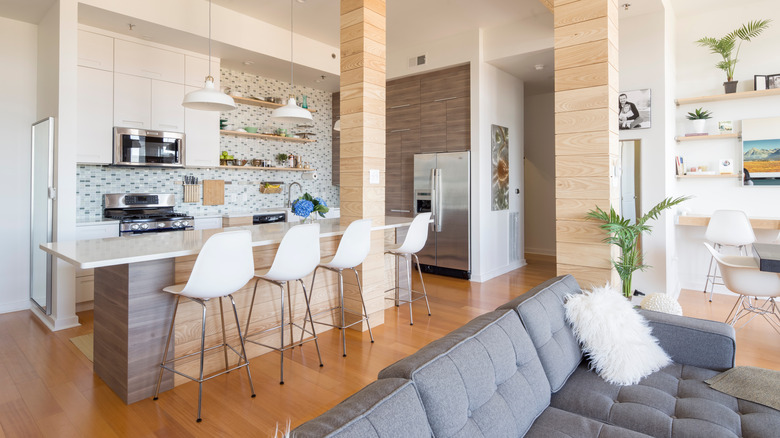 Karen Culp/Shutterstock
One of the most important components of any interior design format is its ability (or lack thereof) to meet the needs of the person living within that environment. Fortunately, mid-century modern is not just about beautiful colors and fun knickknacks, but also functionality. "It lends character to simplicity and is based on clean lines and minimalism, with a mixture of organic materials and geometric designs," Satsha Lopez Jaimes shares, "all of which match perfectly with most of my clients' on-the-go lifestyles." Indeed, many of today's families are busy, and a design that is too hard to maintain just won't survive long-term within that home.
That's part of the appeal of mid-century modern, as it's never too complicated or busy that it gets in the way of running children or pets. "Why a style makes sense with your lifestyle, it is a good design, and good design will never go out of fashion," Lopez Jaimes continues. This is especially important with modern needs like working or going to school from home, too.
Mid-century modern design is enduring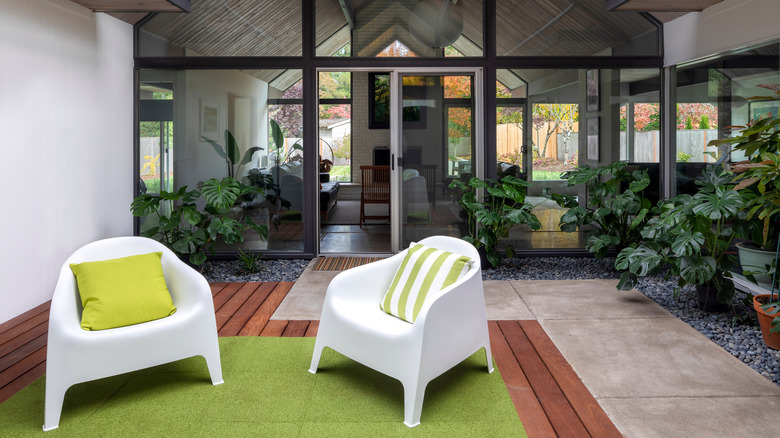 David Papazian/Shutterstock
Unlike funky trends, like the all-wood paneling on the walls of a home that rose to prominence in the 1950s, this is one style that clearly had a solid foundation. "Mid-century modern design is enduring and has persisted through the decades," shares Satsha Lopez Jaimes. "The need for practicality and function while creating a clean and eye-catching space is something that has not changed over time." 
Whether back in the early days of mid-century modern or today, people still need a space that's easy to adapt to and maintain, as Lopez Jaimes points out. "The lack of ornamentation that makes open floor plans and minimalism functional is what makes the style still so relevant and timeless," she adds. "It is also one of the reasons why young couples starting families find the style very complementary to their lifestyle." So while it may be simplistic and clean, the fact that mid-century modern allows for customization is a key to its enduring appeal. 
The best of both worlds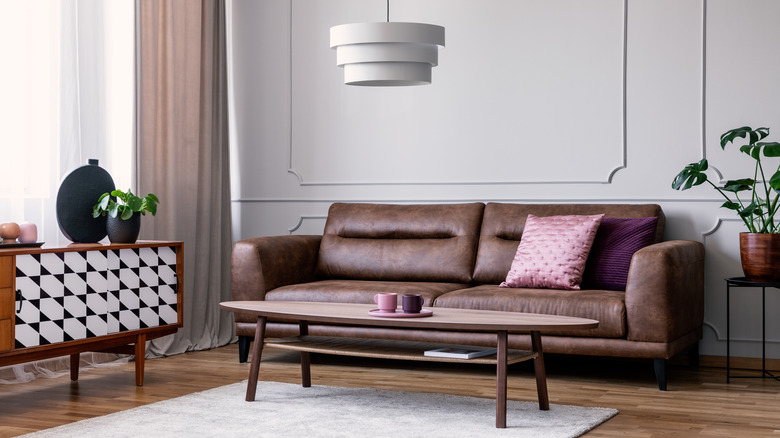 Ground Picture/Shutterstock
For many people, this design style is so appealing because it's less restrictive and limiting than others, per Satsha Lopez Jaimes. "The magic of mid-century modern is that there's no need to pick having a functional home over a stylish one," she reveals. That's not only great for styling your space, but it also offers flexibility in cost since you don't have to buy dozens of décor pieces. "It's clean and simple without being boring, and eye-catching without being electric or overly expensive," Lopez Jaimes continues. "You can have the best of both worlds with mid-century architecture."
The uniqueness of this style and its more laid-back design is a natural byproduct of its origins. "Mid-century modern was born after WWII, and in that time, architects had to work with what they had on hand," Lopez Jaimes continues. "They made it luxurious but also so that it could be mass-produced." 
While materials may have been limited, there was still the need to be stylish within the home — hence the birth of the aesthetic. "It was all about creating something that was simple yet looked opulent," Lopez Jaimes adds. Considering just how beautiful mid-century modern can be, it's easy to see why it caught on during a time when many people didn't have a significant design budget.
Mid-century design has a strong connection with nature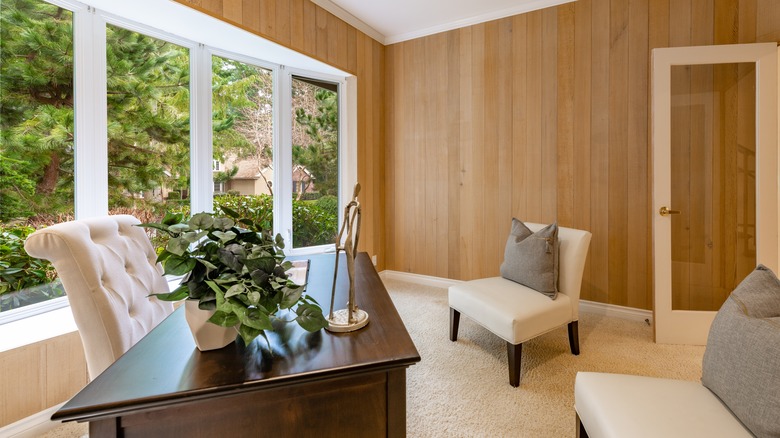 Sheila Say/Shutterstock
One exceptionally popular design trend today is the use of green elements in both home construction and interior design — and that's yet another reason why this particular style is still so relevant, as Satsha Lopez Jaimes points out. "Sustainability and bringing the outdoors in are hallmarks of mid-century modern architecture," she explains. "The use of floor-to-ceiling windows and basic, simple finishes makes the style attractive to a clientele that is looking to embrace an organic lifestyle in their home without compromising aesthetics."
Then and now, mid-century modern design embraces the use of natural materials and elements that encourage less of a closed-in, shut-off feeling lacking natural light and spaciousness. Lopez Jaimes also notes that components are carefully considered in mid-century planning. "The intent of the floor-to-ceiling windows, a focal point of this style, is to make indoor and outdoor spaces complement and reflect each other," she continues. Today, natural light streaming in from a bank of windows is as alluring and beneficial as ever.
The power of nostalgia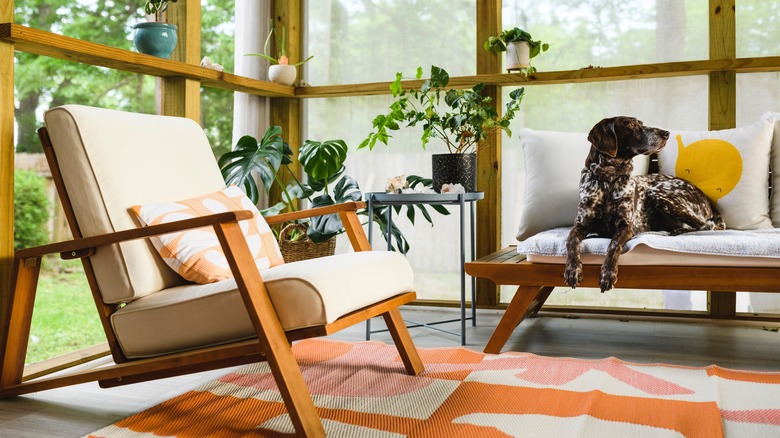 Brian Goodman/Shutterstock
Yet another reason why this aesthetic continues to be so effective is because of the feelings it can stir up, per Satsha Lopez Jaimes. "Mid-century design is nostalgic and evokes strong emotions in people," she shares — even for those born after the heyday of this warm, simple, and welcoming style. "I grew up with this futuristic movement composed of art, architecture, and pops of color, and I have always loved it," she continues.
Looking back, it seems like life in that era was far easier to manage, with less on the to-do list and more time to spend with family — at least for some folks. "The organic style of mid-century modern evokes tranquility and simpler times," Lopez Jaimes concludes. "Its presence in the media and pop culture has only fueled its popularity and emotional resonance. There are a lot of positive sentimental triggers that accompany this style." Perhaps that's why mid-century modern trends remain so well-loved.