Is The Mid-Century Modern Trend Going Out Of Style?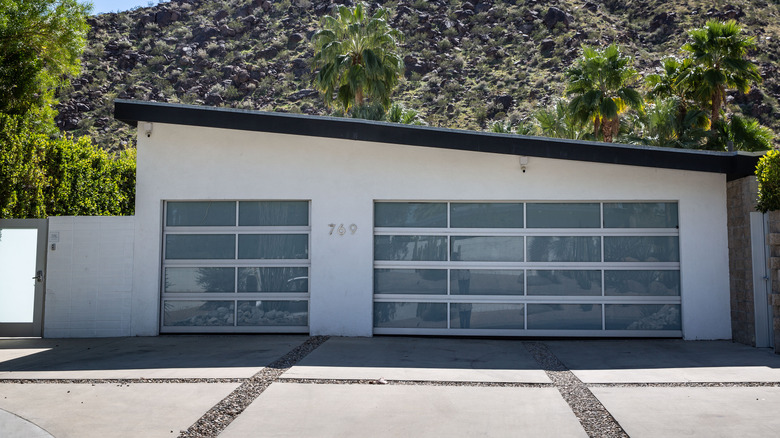 George Rose/Getty Images
Mid-century modern design began following World War II and stayed at the helm of home décor trends for decades. The style's popularity waned during the 1980s, where, let's be real, all décor got a little odd during this era but returned with great gusto during the 2000s. Now in the latter part of 2022, if you ask a designer if mid-century modern is again going out of style, the answer you receive may vary depending upon their personal preferences. However, it does seem that while the trend is markedly fading, mid-century modern furniture and design are still here to stay. 
According to Master Class, there are a few notable characteristics of mid-century modern design. First, furniture is minimalist — sleek designs upheld by wooden or metal legs. Mixed materials are a second giveaway that a piece is mid-century. The original trend wave was the dawn of manmade materials like plastic, so you'll often see it mixed in with solid wood or other natural materials. Third, mid-century modern combines indoor and outdoor living. This was the era of decorative plants, large windows, and chairs that look just as attractive in your yard as in your living room. Finally, the mid-century style demands smart use of color. Natural wood or earth-toned hues combined with an accented pop of bright color. 
Mid-century modern's staying power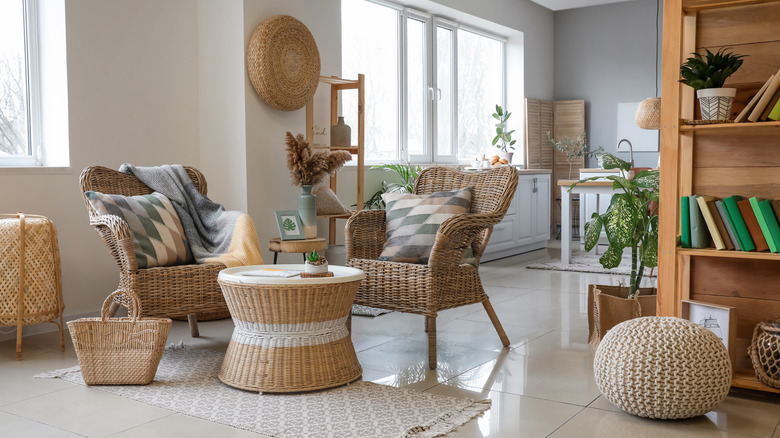 Pixel-Shot/Shutterstock
While certain aspects of mid-century modern design might be going out of style, some of it is here to stay. Designer Jeremiah Brent recently told MyDomaine that he believes the trend has come back strong in 2022 through one particular avenue — cane furniture. Similar to wicker, cane furniture can come in natural, neutral colors that pair well with any room. It fits in a contemporary living room as well as in a beach-themed guest house. It complements the shabby chic motif of a hippie soul's bedroom while also coordinating well with new furniture pieces of a more modern era without clashing. The non-offensive, neutral vibe of cane furniture is one mid-century modern trend that is likely here to stay. 
If you plan to jump on the enduring mid-century modern trend, don't go overboard. Today's MCM homes can use furniture and décor from the era as accent pieces rather than an entire design set. The goal is to make your home timeless with beautiful pieces that are long-lasting — not to look like a catalog page or store display from a decade long past.
Combining with new trends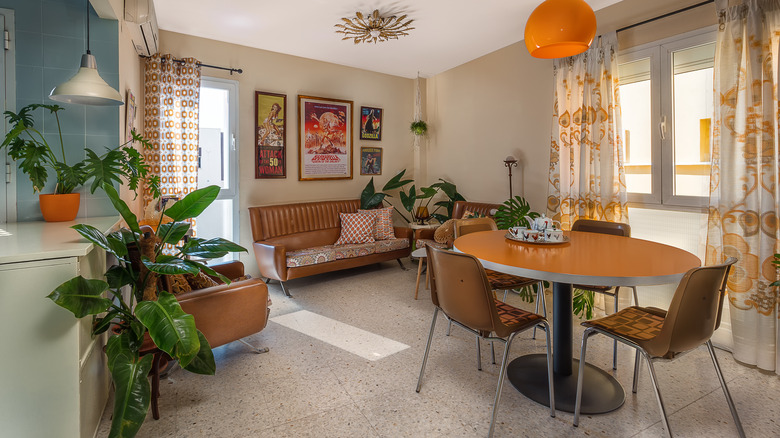 elRoce/Shutterstock
Of course, even with mid-century modern's staying power, today's design goals make way for newer trends — or rather, another sort of comeback. They say that all things will come back into style eventually, which might explain why so many items from the 1980s and 1990s are finding their way back into design displays and onto store shelves. While we haven't completely descended back into the world of teal bedding and wood-paneled walls, the latter portion of the 20th century is definitely back in the hearts of many top designers. 
What pairs well from both '80s and '90s aesthetics and timeless mid-century modern? According to Gear Patrol, chrome and glass are returning in popularity. A sleek coffee table made with these materials can still pair well with a brown mid-century leather couch. Macramé wall décor, which was found in many 1980s homes, can easily complement a vintage movie poster or a large leafy indoor plant. 
Mid-century modern isn't going completely out of style. Instead, it is smartly evolving to make way for newer trends while quietly proving its staying power.