The Top 10 Neighborhoods For Singles In New York City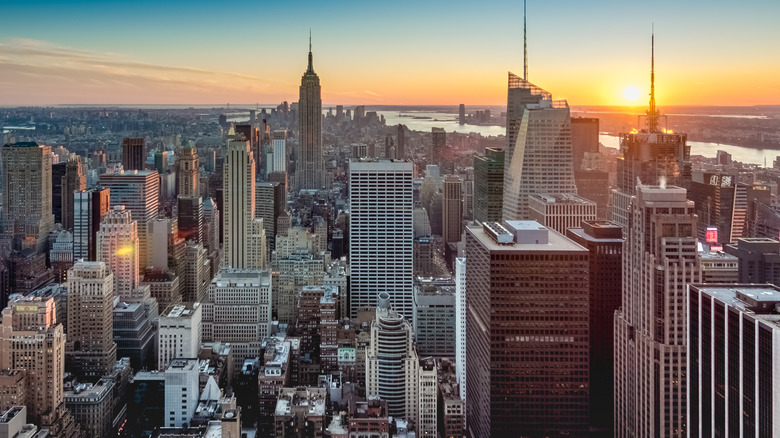 Anibal Trejo/Shutterstock
Are you single between the moon and New York City? If you're ready to take on The Big Apple, there's several diverse areas to consider as a young professional. Recognized as the largest city within the United States, people are continuously attracted to the culturally dynamic and artistically encapsulating vibe of NYC. From restaurants/eateries, bars, and entertainment venues to museums, galleries, and shops, there's an assortment of districts to complement the single life within the city that refuses to sleep. With over 250 neighborhoods, there are five main boroughs that make up New York City, which include Brooklyn, Manhattan, Queens, Staten Island, and the Bronx.
So, where do all the singles live? Depending on your interests, occupation, and budget, Manhattan is likely the place to be, although the most expensive to reside in. According to StreetEasy, the invigorating island offers abundant amounts of one-bedroom and studio apartments, especially within Midtown to Lower Manhattan. Busy young professionals may flock to thriving regions like the Theater or Financial districts, including SoHo and Greenwich Village, whereas others look to the quieter, roomier sections of Brooklyn, Staten Island, Queens, and the Bronx. All densely populated, NYC's neighborhoods offer countless opportunities for the independent crowd, including concerts, parks, and nightlife. Keep reading to discover some of the best neighborhoods for singles with a free Empire State of Mind.
1. Astoria, Queens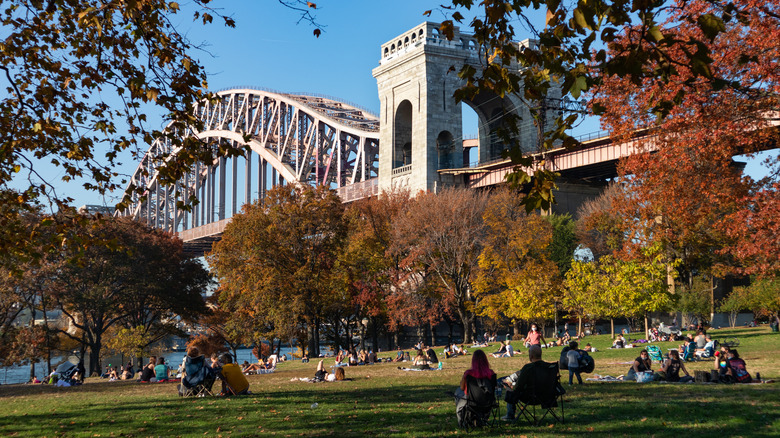 James Andrews1/Shutterstock
Only a 15-minute jaunt from Manhattan, singles love Astoria for its affordable housing, walkability, and multicultural cuisines. Initially established as Greektown in the mid-20th century, Astoria's community consists of many Greek, Italian, and Irish cultures, including LGBTQ+ members. Located along the East River, Astoria Park is a sizeable green space to have a picnic or workout, as it offers a pool, track, tennis, basketball, and bocce courts. As many singles rent rather than own, an average studio may go for about $1,900 with a one-bedroom around $2,100.
2. Bushwick, Brooklyn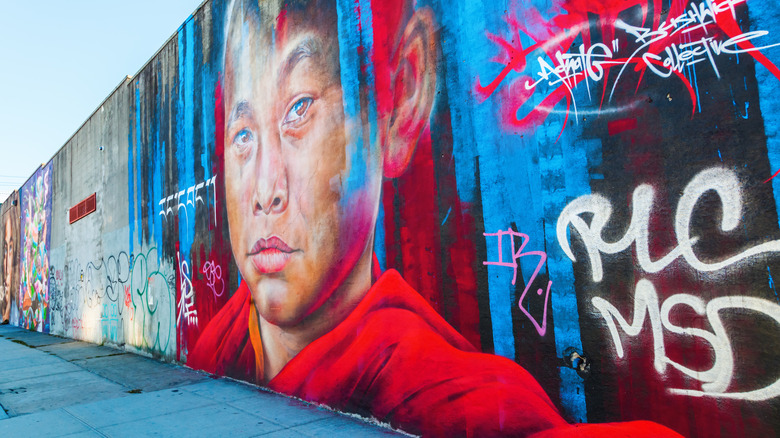 Christian Mueller/Shutterstock
Nestled between Williamsburg and Highland Park, Bushwick offers the young and restless various ventures with a bit of an edge. Originally established by the Dutch as the Town of Bushwick, including Williamsburg and Greenpoint, Bushwick has evolved into a hip, industrial neighborhood on its own with eclectic bars and coffee shops, including avant-garde entertainment venues like House of Yes. With an assortment of other themed clubs, many are LGBTQ+ friendly. Noted as a street mural/art epicenter, average rent for a studio may go for about $2,500 with a one-bedroom around $2,700.
3. East Village, Manhattan
Ryan DeBerardinis/Shutterstock
Day or night, the East Village is a mecca for going out and being seen. With three subsections, the eclectic district consists of the letter-named streets of Alphabet City, First Avenue/Little Ukraine, and Bowery. Singles will love the artsy, vintage vibe on St. Mark's Place, including the numerous shops, cafes, bars, poetry jams, music venues, and rooftop mingling with The Bowery Hotel nearby. Lounge in Tomkins Square Park, located within the center of it all, it often hosts live events and a farmer's market, or indulge in the Russian and Turkish Baths on East 10th Street.
4. Hell's Kitchen, Manhattan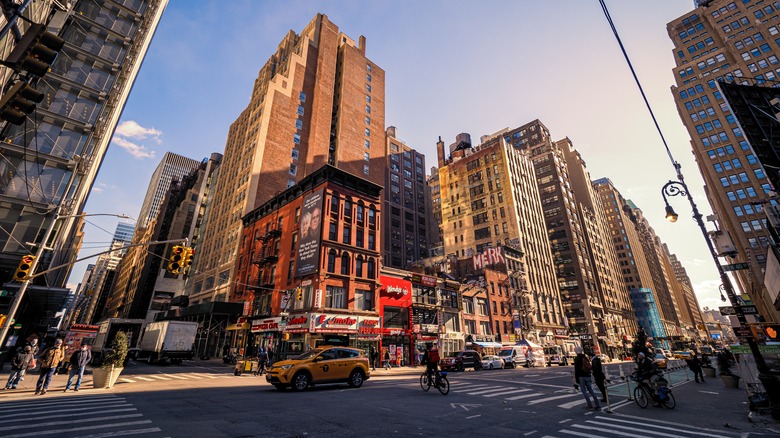 schusterbauer.com/Shutterstock
Located on the west side of Manhattan along the Hudson River, Hell's Kitchen remains a top location for the creative and curious. With the Actor's Studio at your fingertips, including the Theater District adjacent, this is the center for budding performing artists. With a deep history in importing/exporting via the docks, the bustling area has gentrified over time to feature swanky restaurants, including art galleries and jazz clubs. Other attractions and amenities include the Intrepid Sea, Air & Space Museum and luxury living with average rent around $2,400 with home values at approximately $1 million.
5. Lower East Side, Manhattan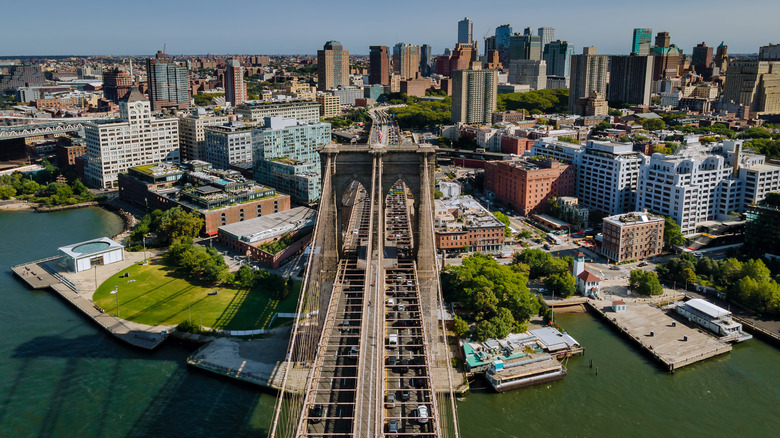 ungvar/Shutterstock
Move on to the Lower East Side where you can pick up a sandwich at Katz's Delicatessen or stroll along Corlears Hook Park with your dog. A historically Jewish district, the LES offers preserved tenement dwellings, including the Tenement Museum, combined with modern apartments and a vibrant nightlife, along with a direct connection to Brooklyn with the Williamsburg Bridge. With plenty of trendy spots to find live music and dancing or become immersed in old-world traditions just beyond your doorstep, the average studio may go for about $2,500 and $3,000 for a one-bedroom.
6. West Village, Manhattan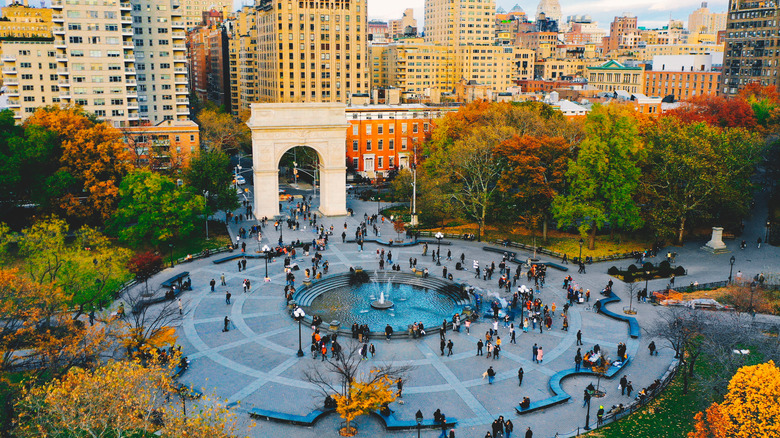 Agnieszka Gaul/Shutterstock
You may find your friends at a coffee shop in the West Village, an alluring district that boasts the bohemian, yet posh Greenwich Village, including NYU and Washington Square. Meander down Bleecker Street and other musical haunts where Bob Dylan and John Lennon once lived and/or played. Explore endless avenues of restaurants and social clubs like piano bars and jazz clubs. While the West Village offers endless insight, it's a highly sought-after area, with many single and fabulous types residing here. Prices have been rising with each year, as an average one-bedroom apartment may cost about $5,000.
7. Murray Hill, Manhattan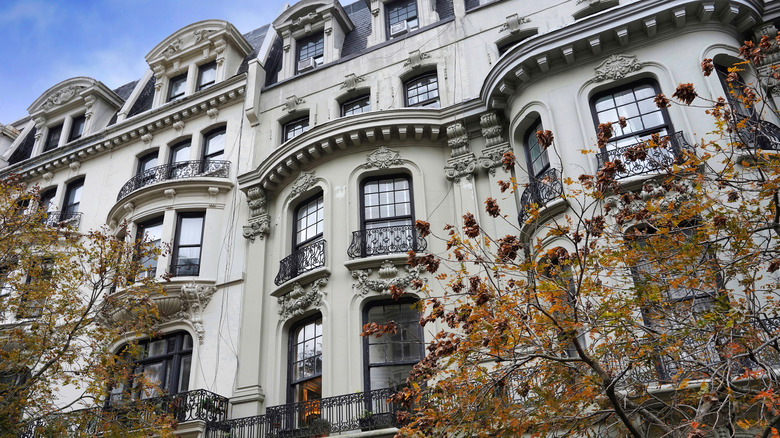 Peterspiro/Getty Images
Situated near Midtown Manhattan and the bank of the East River, Murray Hill is a casual, walkable neighborhood that hosts a community of college graduates while featuring historic townhouses and Beaux-Arts architecture, as well as attractions like the AKC Museum of the Dog and the Scandinavia House. You can find an array of international cuisines here, including several that specialize in authentic Indian within the Curry Hill section. Young professionals may love this area for its diversity, affordability, and proximity to Grand Central and the business districts. Average apartments may range from $2,500 to $3,500.
8. Nolita, Manhattan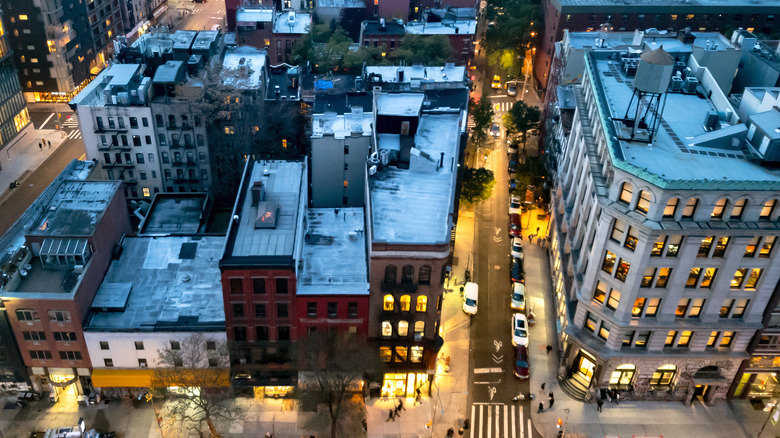 Ryan DeBerardinis/Shutterstock
A quaint and cozy quarter near Soho, Nolita, or North of Little Italy, is popular among singles for its selection of bars, eateries, and upscale shopping. Consisting of only 16 blocks (East Houston to Broome Street), locals peruse the sidewalks with many Italian restaurant choices like Peasant and Rubirosa. Nolita showcases the Basilica of St. Patrick's Old Cathedral and the picturesque sculptures of Elizabeth Street Garden. Prince Street is known for its weekly artisan and jewelry market. Most Nolita residents are renters with an average price of studios and one-bedroom spaces for $4,200.
9. Upper East Side, Manhattan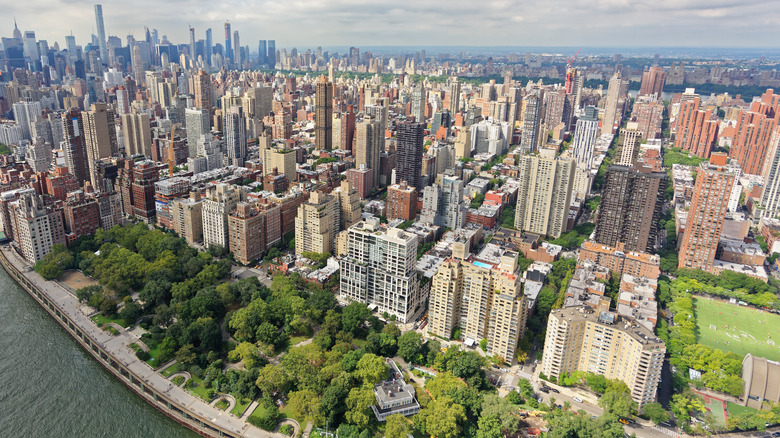 Aerometrex/Shutterstock
If you're single, successful, and a fan of the arts, the Upper East Side offers class and culture amidst its notable 5th Avenue museums like the Metropolitan Museum of Art, the Guggenheim, and the Jewish Museum, among others. Made for the New York elite, the UES showcases exclusive restaurants and designer brands, especially along Madison Avenue. Other subsidiaries include Lennox Hill and Yorkville, which is a budget-friendly hub for singles looking for a compelling nightlife, including shops, markets, and movie theaters. Average studios and one-bedrooms are within reach in Yorkville ranging from $2,000 to $2,100. 
10. Williamsburg, Brooklyn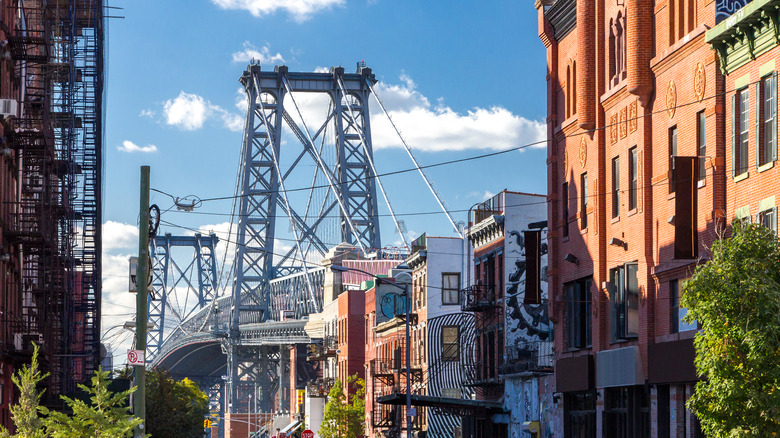 Ryan DeBerardinis/Shutterstock
Stay young and fit in Williamsburg. With endless places to mingle, including some of the best bars and gyms, this Brooklyn borough has everything young professionals may need. Originally a large piece of farmland, the Burg has developed a colorful scene for singles to hang, eat, or shop. With an industrial vibe, many vintage warehouses have been converted into residential units. The bustle of Manhattan is not too far with a quick, 15-minute commute on the L train. Because of this juxtaposition, rents are comparable to the island at about $3,700 with median home prices around $1.3 million.