The Easy Hack To Bring Life Back To An Old Fake Christmas Tree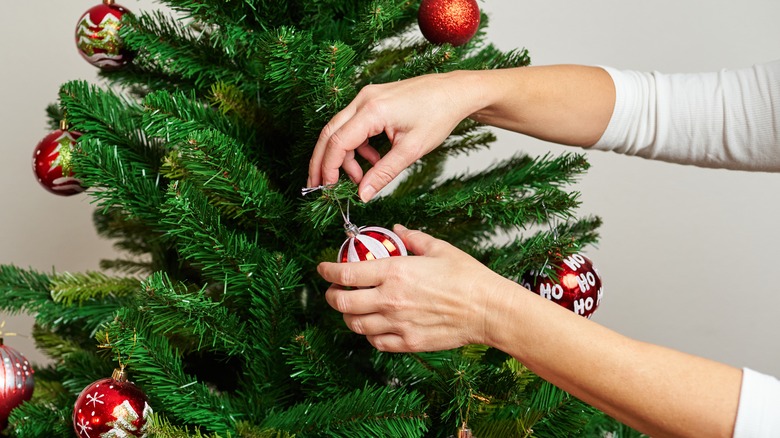 Hassel Stock/Shutterstock
When debating which is better — real or artificial Christmas trees — one of the significant advantages to artificial ones is how long they last. When you buy a real Christmas tree, you have to dispose of it at the end of the season or replant it, which many people don't have the time or space to do. Artificial varieties, though, can be reused year after year.
According to EcoWatch, proper artificial Christmas tree maintenance can keep your holiday staple looking as fluffy and festive as possible for upwards of 20 years. This involves properly folding and packing it away each year, storing it somewhere climate-controlled like your basement or a storage closet (as opposed to a garage or attic), and giving it a yearly cleaning — lights removed or unplugged, of course. Even if your tree looks a little worse for wear, that doesn't mean you have to throw it out and get a new one. One easy trick can make your Christmas tree look as good as new.
Hide the gaps with garland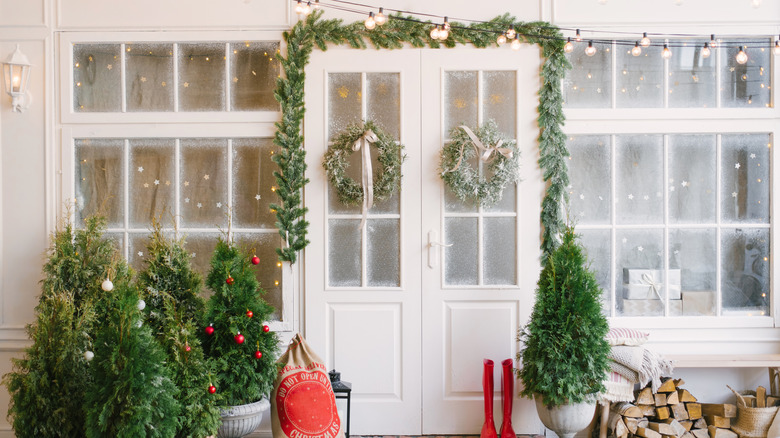 Chamomile_Olya/Shutterstock
Many indicators of an old artificial Christmas tree can be quickly addressed. If it looks dusty or dirty, simply clean it and dust it off. If the lights have dimmed or died, add a few more strings. However, one issue that isn't as easy to fix is the tree getting dull or thin. With age, the artificial needles will likely shed and become less fluffy.
One super simple way to fix this is to wrap it with garland, recommends Toynk. While garland is traditionally used to adorn fireplaces, handrails, doorways, and other architectural accents, it can also help hide the gaps in an old Christmas tree. Simply find a garland that matches the color and material of your tree, and wrap it the way you would ribbon or tinsel. Or, for a much easier way to decorate, get a garland with ornaments, lights, pinecones, or other seasonal decorations already installed.
Other tips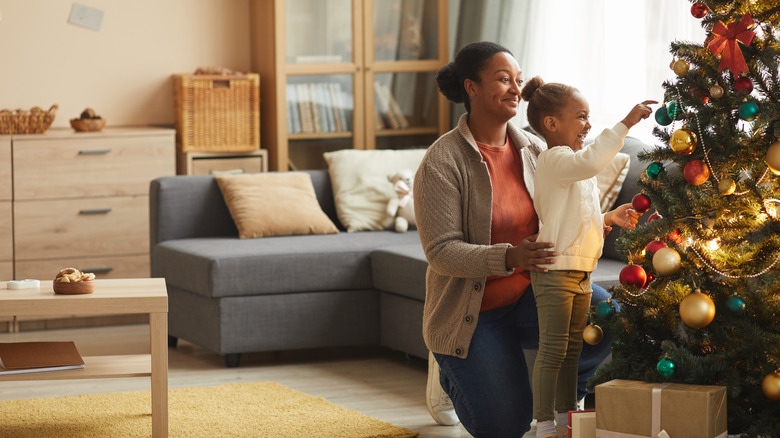 SeventyFour/Shutterstock
While garland can help hide the gaps in an old, thin artificial tree, you shouldn't leave it at that. If yours is particularly old, the color has likely faded enough that the garland won't be a perfect color match. With newer ones, you can aim for simplicity, wrapping a subtle but effective string of lights and a few ornaments while the tree speaks for itself. However, with older ones, you may want to go a bit more dramatic to hide as many worn needles as possible.
One way to do this is to use lots of lights — specifically, two differently sized varieties (via Kids Activities). Use smaller lights for the base and larger ones to help bulk up the tree and hide any visible gaps. Of course, bigger is always better for older, dull Christmas trees – big ribbons, big ornaments, etc. Things like picks are also a great way to add some dimension to your tree and make it look a little more lively, especially if you go with more natural additions like pine cones, berries, flowers, and so on.