The Bed That Designer Emily Henderson Loves So Much She Has It In Her Own Bedroom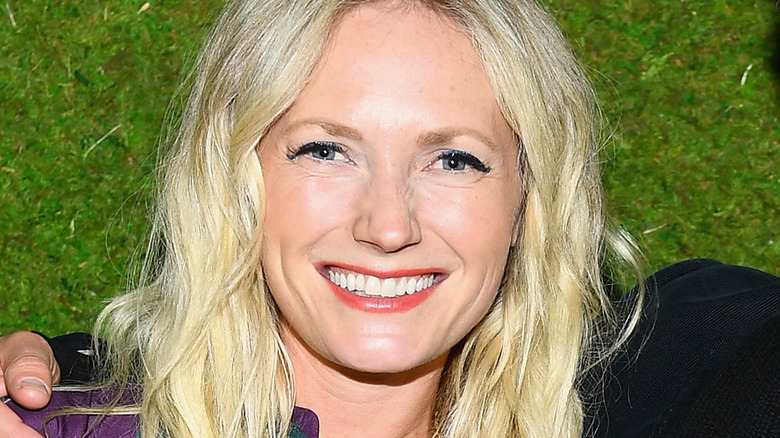 Dave Kotinsky/Getty Images
Curating the interior of your home is a personal and exciting experience, but it can also be quite stressful. Instead of fussing with fabrics, colors, and layouts, 17% of homeowners opt to hire an interior designer (via Business of Home). But you don't have to dish out big bucks to follow the lead of an expert! If you need home design tips and inspiration, you can't go wrong by looking to HGTV star and designer Emily Henderson. Many people know about Henderson's incredible skills for planning and decorating other people's spaces, but how does the designer choose to decorate her own home?
Since moving into her new home, which her family has dubbed "The Farmhouse," Henderson has given eager fans a sneak peek into her new interior goals. Overall, she's revealed that she'll be pursuing a "Japandi Farmhouse" vibe throughout the home, inspired by Japanese, Scandinavian, and Northwestern farmhouse design. In one of her blog posts, Henderson has also dived into the thought process behind her and her husband's new primary bedroom. Some of the details in the works for the new home include a reading nook and a painted fireplace (via Style by Emily Henderson). A new bed is also on the list of necessities, but what kind of bed would a professional interior designer pick out? For Henderson, it's something versatile, neutral, and timeless.
The big bed reveal
When you're sharing a bedroom with a spouse, it's vital to ensure both partners are happy with the bed. Before investing in a new bed, Emily Henderson and her husband first compared their list of preferences, per her website. For example, Henderson knew she wanted a timeless and neutral design that she could style to suit the seasons. Henderson also noted that the bedroom's vaulted ceilings could accommodate a Victorian-style four-poster bed, but her husband, Brian, explained that a canopy would make him feel claustrophobic. The couple agreed that they'd like a low bed and that they both despise a bed that feels too tall.
After weighing their design preferences and looking over dozens of potential options, the Hendersons settled on The Wythe bed by Maiden Home, a woman-owned company that focuses on delivering high-quality, hand-crafted furniture. With a neutral color palette, knife-like headboard edge, and low-set mattress, Henderson knew that The Wythe bed was the one. As the seasons change, she looks forward to switching up the bed with unique quilts and fabrics that will really help their bedroom design pop. The Wythe comes in a multitude of upholstery options, and Henderson hasn't yet revealed which fabric or color option she chose, but stay tuned to her blog if you're anxiously awaiting an update!