Battle Of The Bling's Kim Myles And Todrick Hall On Creating Your Dream Home On A Budget - Exclusive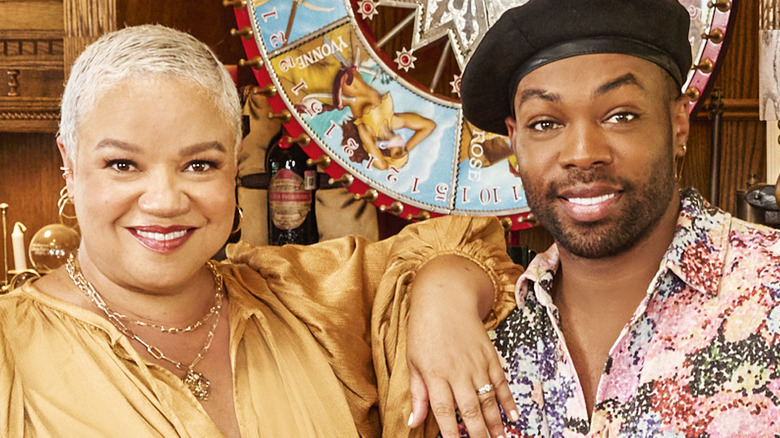 HGTV
Creating your dream home takes more than adopting on-trend design aesthetics and spending a fortune on extravagant decor. Beyond the budgetary restrictions often associated with "bling," sometimes the hardest part of the process is discovering how to celebrate yourself.
In this regard, HGTV signed on the right duo, multi-talented designer Kim Myles and show-stopping performer Todrick Hall, to host their outrageously extra new show "Battle of the Bling." Not only does the pair practice what they preach — as evidenced by the details of Myles' blinged-out bathroom in her exclusive interview with House Digest — but one would be hard-pressed to find more authentic souls in any corner of the design or social media landscape.
"The most exciting and eye-opening part of this experience has been that I always assumed it took a lot of financial stability to be able to build your dream home, especially one that's out of the box and over the top," Hall said, "but these homeowners have proven it is possible to build your own paradise, even if it's on a shoestring budget." 
If one is wondering how any of this might be possible, they're not alone. In fact, even Myles was taken aback by how much some homeowners were able to accomplish using a modest budget and unlimited inspiration.
"Yes, there's bling on the crazy end of the scale that is super exaggerated and also costs a ton of money," Myles said, "but then there are other renderings of bling that are no less amazing and gobsmacking, but that were DIY and done on a budget." 
Creativity can go a long way
HGTV
While some struggle to craft their dream home, others start by forgetting everything they've learned about the "right" way to design and decorate their home, according to Kim Myles.
"It's not about what you spend. It's not about being on trend. It's truly about finding the pieces that speak to you — your story, your heart, your history, your roots, and where you see yourself going, even aspirationally," Myles said. "Create a space that has signifiers and representations of that; that can be small and inexpensive. [Give] the place of honor to the things that really matter. That's how you get a home that feels good."
Of course, finding what inspires someone and implementing it in their home may not sound so easy; however, it can be carried out in a practical manner while on a budget.
"The essence of bling is about celebrating yourself, your true self, whatever that means," Myles said. "If you are a person, for example, who lives for fresh flowers and loves to have flowers and beautiful bouquets, treat yourself to some carnations from the grocery store that are $2.99. Put them in grandma's crystal cup and display them and have that moment." 
However, one aspect of eschewing conventions lies in how far one can take their passions. In that regard, those who tune in to "Battle of the Bling" are in for a real treat.
"Creativity can go a long way," Todrick Hall said, "and I think this show is going to inspire a lot of homeowners out there to make their homes more specifically catered to their likes, their interests, their hobbies." 
"Battle of the Bling" airs Fridays at 11:00 p.m. on HGTV.