How To Decorate Your Home Like An Impressionist Painting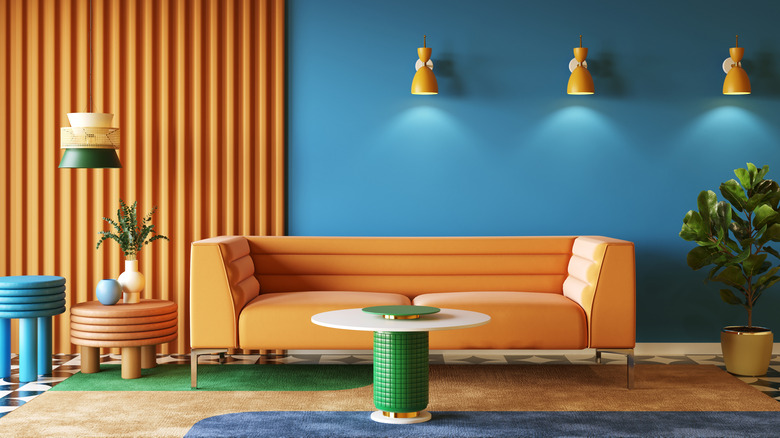 Vasyl Cheipesh/Getty Images
As the name implies, Impressionism is a movement of art that focuses on the artist's perception of the world around them. Impressionists were the rebels of the art world during their time because they eschewed more traditional approaches to their work — like using one's imagination while sitting in a studio — and instead opted to go out into the world and paint what they saw before them.
This movement was birthed in 19th century France, thanks to artists such as Claude Monet, Camille Pissarro, Alfred Sisley, and Edgar Degas, who chose to paint with vivid colors, unblended brushstrokes, and an emphasis on light and shadows (via Sotheby's). Decorating your home like a 19th-century painting is a very specific but not at all difficult thing to pull off. And if you're a fan of the movement, you've probably begun your journey by incorporating Impressionist pieces in your home. So let's take it a step further with these simple ways to turn your home into a work of art. 
Weave blue throughout the room
Being outside the bleak walls of studios in cities like Paris in the 19th century allowed many Impressionist paintings to showcase a vividity that the art world wasn't used to. They would exaggerate what they saw outside, using intense hues and contrasting cool and warm colors side by side to create contrasts. As a result, many of the works associated with this movement use a lot of blue hues in their work. Some scholars have suggested that cerulean was the most used shade of blue by Impressionist painters, as per Winsor & Newton.
This hue is believed to have been popular because of its usefulness in depicting skyscapes. Start weaving blue throughout your living space to decorate your home like an Impressionist painting. It can be in the form of blue accents such as cushions and throws or a more prominent item of furniture like this cerulean couch from Article.
Incorporate floral patterns into the space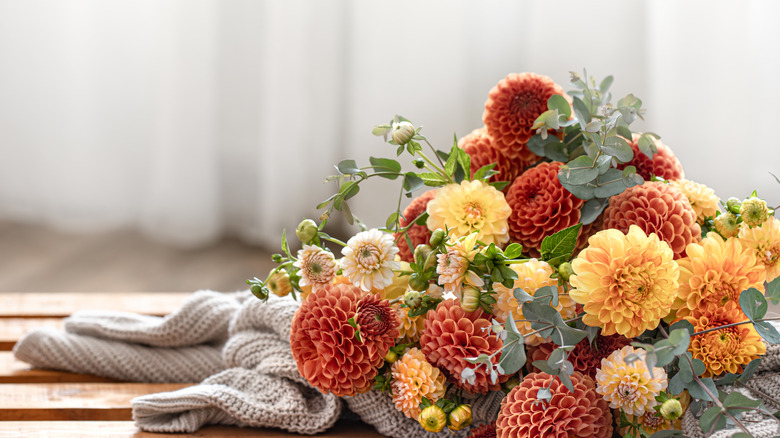 Puhimec/Getty Images
Flowers are a huge part of Impressionism. From Claude Monet's "Water Lilies" to Edgar Degas' "A Woman Seated Beside a Vase of Flowers," many Impressionist artists were drawn to florals. They were connected to the outdoors, and since Impressionism was all about playing with and capturing light on the canvas, flowers allowed them to experiment with color in a way that painting people wouldn't allow.
If you're wondering what sort of flowers genuinely reflect the era, look no further than chrysanthemums, the subject of one of Monet's eponymous paintings. While you can decorate with a beautiful vase of flowers in your dining room or kitchen, you can also include the blooms in prints. If you're feeling bold, create a statement wall in your living room with chrysanthemum wallpaper. If you want something less permanent, try incorporating floral print throw pillows on your couch or curtains at your windows. You can also print-clash with several different floral patterns layered on top of each other. To keep it from looking too busy, Masterclass recommends having variations in size but sticking to the same color scheme. That means you can have a floral print couch with large blooms but find floral throw pillows with tiny buds. Then to make it look cohesive, ensure both items share a similar color palette. 
Incorporate complementary colors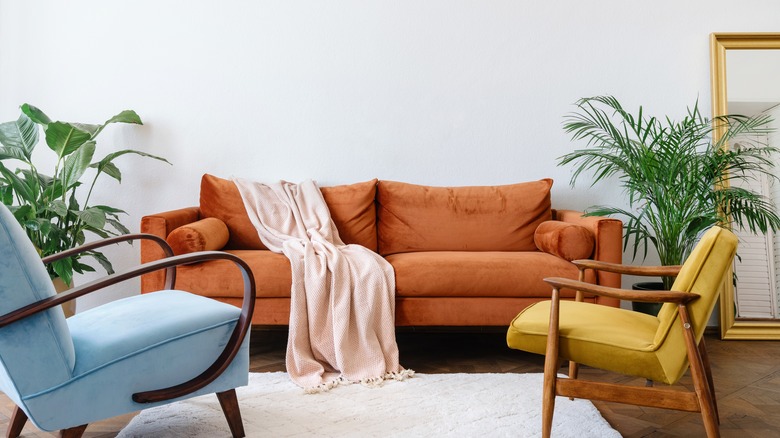 Brizmaker/Shutterstock
Impressionists such as Manet, Monet, and Munch focused much of their work on sharpening tints and shades. Oranges, yellows, and, yes, blues were great opportunities to emphasize the pigments of their subject matter. The result was a gorgeous stacking of colors, allowing specific hues to shine. But more importantly, the Impressionists used complementary colors, which are hues found across from each other on the color wheel. This helped create contrast and depth in their works of art.
Examples of complementary colors are red and green, purple and yellow, and blue and orange. To make your room look like an Impressionist painting, focus on curating these color contrasts. If you have a blue velvet sofa, add orange throw pillows. If you have a red duvet or comforter, try adding a dark green blanket or pillows to the design. Or, if you have yellow candles, add some violet tapers to the mix to create a temporary Impressionist vignette.
Play with natural light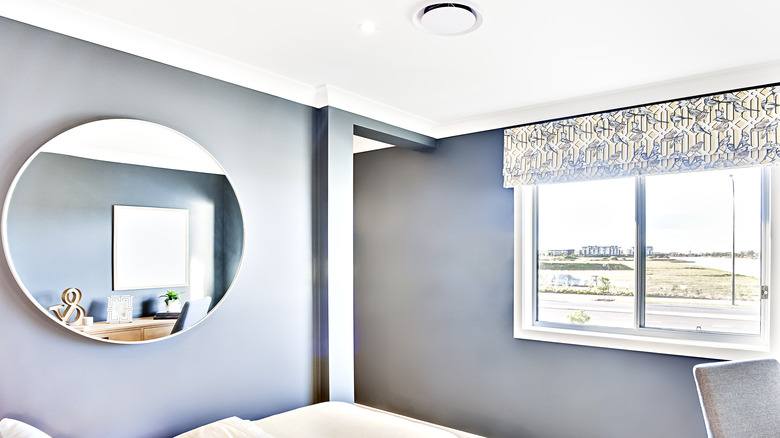 JR-stock/Shutterstock
Artists of the era freely explored tone and depth in a way that academic artists of the past did not. In doing so, these rebels could not only present works with more vivid colors but also interpret the way light worked in the world of their paintings. This can be seen in works like Edgar Degas' "L'etoile," which depicts a Ballerina mid-dance. The dancer is in the spotlight, while the blurred background depicts shadows thanks to the use of brown and darker hues. This helps the spotlight really pop.
There are many ways to incorporate this into your home, one of which is to swap your heavy drapes for sheer ones, allowing more light to come into the space. If you enjoy the look of heavy drapes, consider getting a longer curtain rod so the panels can rest on the walls rather than over the windows. You can also install the rod near the ceiling rather than the window frame, dragging the eye upward and making the room feel airier and lighter. You can also place mirrors opposite and adjacent to your primary light source to infuse more brightness into your room.
Pull focus
Impressionist artists used colors and light to determine what features they wanted their audience to be drawn to. As the name suggests, Monet's "Impression, Sunrise" draws our attention to the sun by striking orange against the blue water and sky. This is precisely how you pull focus in your home. You want to create a focal point in your home that guides your eye to a natural resting place, whether with an accent wall, a painting, or a piece of furniture that reflects your artistic interests. While the architecture in some homes can make it easier to select the natural focus point — for example, with a fireplace or an angled ceiling — others make you work for it. Whatever the case, you get to decide what you want each room in your home to be anchored by. You can create one if your living space has no instantly remarkable features. 
An accent wall, which is simply a wall painted a different color from the rest of the walls in a space, is a great way to create a dramatic feature in your home. Make sure the wall also complements the rest of the room. One great hack is to go with the room's flow and paint the wall you often face in your living space. You can also achieve an accent wall by using wallpaper. This great Impressionist mural inspired by the work of Ethel Walker is a great option. 
Don't be afraid to go minimal
Followtheflow/Shutterstock
Impressionism prides itself on celebrating the simplicity of life. You can use that to your advantage by taking a minimalist approach to your decor. In the words of one of the movement's founders, Pierre-Auguste Renoir, "What seems most significant to me about our movement is that we have freed painting from the importance of the subject. I am at liberty to paint flowers and call them flowers without their needing to tell a story."
If your home is anything but minimalist, don't worry, there are some great hacks to get the look without breaking too much of a sweat. Beyond being a great harbinger of calm — no clutter in your space! — minimalism forces one to focus on precisely what is needed to bring something to life. Start by decluttering your space of all the things you do not need. Look at and listen to your area; how many big furniture items does it need? How many knickknacks add value to the room? From there, you can place smaller items like vases or cushions to ensure the space doesn't feel empty. And remember, minimalism doesn't mean a void of color.
Add texture to the room
Texture is a big part of Impressionism, so look for fun and cheerful ways to incorporate it into your space. The artists would use short, unblended strokes to create texture on their canvases, and Post-Impressionists like van Gogh would use thick globs of paint to add an extra tactile property to his masterpieces. A key thing to note before you proceed on this adventure is this: Texture doesn't mean clutter. There are interesting ways to layer in your living area without taking up too much space.
Revisiting your accents, you can add texture by adding a faux fur or wool cushion to your couch. A small shaggy rug offers another bit of texture to your space without overwhelming it. For those looking to make more impactful changes, try investing in a velvet couch or ottoman, or create an accent wall with textured wallpaper, whether grasscloth, silk, or vinyl. 
Create a gallery wall of small art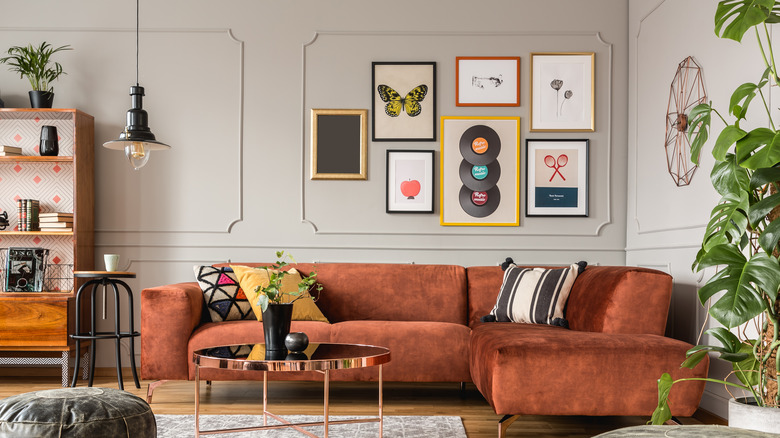 Ground Picture/Shutterstock
Many Impressionist painters chose smaller, more personal frames over the large canvasses of past movements. Incorporate this into your living room as a gallery wall, focusing on smaller pieces to honor the intimacy that Impressionism offers. This is an excellent alternative to an accent wall if you cannot paint your home.
According to Interior Designer Emily Henderson, the first step to creating a gallery wall is to create a cohesive color palette. And while Impressionists' frames were on the smaller side, they still varied in size, so feel free to play with different dimensions. Henderson suggests keeping your two biggest frames separate from each other. This shouldn't be a problem if you have various sizes and image orientations — that is, portrait and landscape. Mix your sizes, configurations, and colors to create a fun gallery wall of small art!
Choose imperfect items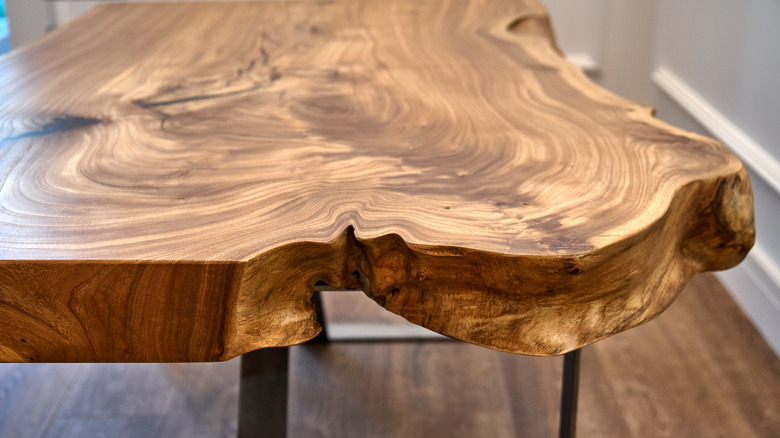 Timltv/Getty Images
Though many artists from centuries past prided themselves in presenting work that felt "final" and "finished" to an audience, Impressionist artists were more interested in capturing "reality." They weren't concerned with making it perfect; they were more concerned with reflecting the scene's reality. Like the Renoirs, Manets, and Munchs, your space should feel lived — aka, imperfect — to reflect your French Impressionist influences. Don't be afraid to invest in imperfect furniture. These can be anything from thrifted antiques to unvarnished wooden coffee and end tables.
When thrifting furniture, there are certain things you should be aware of to make the adventure that much more fruitful. If you're looking for something specific — like a dining table or couch — make sure you measure your space before heading out. That way, if you find an interesting piece of furniture, you can ensure it's the correct size. You also want to double-check for any damage. While scratches and watermarks are part of the charm of antique pieces, you want to ensure there isn't any structural damage. Also, be realistic about your DIY skills. While spraypainting a vase is easy, reupholstering a couch might take more intermediate skills.