The Number Of Building Permits In The U.S. Dropped Drastically In November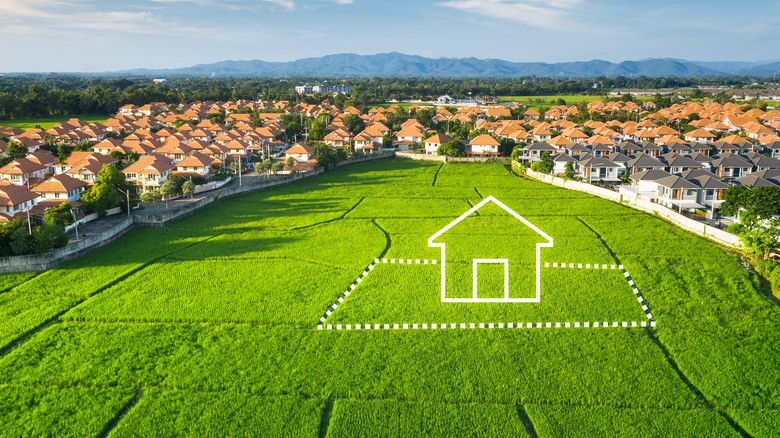 DifferR/Shutterstock
For those thinking about buying a home, the goal of building a dream home on the perfect plot of land may be something you're putting off right now. That is, you may be postponing your plans like many other Americans are right now. Mortgage rates have been high in recent months, meaning it's more expensive to buy (or build) a home now than it was just a few months ago. More so, according to Forbes, home prices haven't fallen significantly, which indicates that the market isn't likely to tumble heavily, which may mean homes are not going to get substantially more affordable to buy in the coming months. Without a pending drop in value, some people aren't ready to dive in to buy right now.
As you consider your goals to build a home, it's critical to consider whether or not now is the time to do so. To get an idea about how others feel about the home-building market, consider building permit trends. This is one way the government tracks the number of homes being built, which often indicates how healthy the market is and how interested in building consumers are.
Building permits are down significantly
Francesco Scatena/Shutterstock
The U.S. Census Bureau released details on December 20, 2022, showing the number of building permits issued dropped by 11.2% in the month of November. It fell to 1.342 million, which is a 22.4% drop from one year prior. It also reported the number of new housing starts dropped to 1.427 million in November, or 0.5% lower than in October and 16.4% lower than at the same time in 2021. In short, people are pulling back from home building right now.
The data may indicate those who would build a home are not being as aggressive now, potentially holding back until 2023 to weigh the market conditions. That doesn't mean that those who wish to build a home cannot do so, but it does mean fewer people are entering the market right now, which could indicate slowing conditions. Experts share that home builders are continuing to offer incentives and reducing their costs to draw buyers in and to use up existing available inventory after several months of slowed interest, as noted by U.S. News & World Report. The holiday season could also be holding back some decisions to move forward, as may the current inflationary pressures many consumers are considering.