The Easiest Way To Install Laminate Flooring, According To An Expert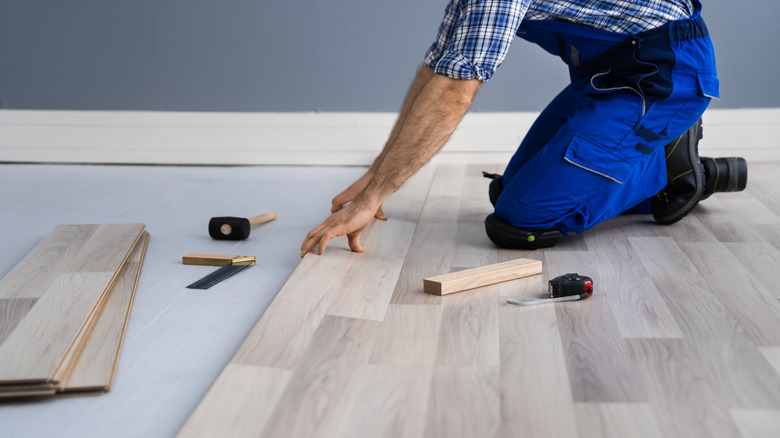 Andrey_Popov/Shutterstock
If you are considering new flooring in your home there are many options to choose from. From natural hardwood, ceramic tiles, vinyl flooring, and wall-to-wall carpeting, to a poured concrete surface, the possibilities are vast and varying. However, one of the most popular materials is laminate flooring. Laminate is composed of artificial wood fibers combined with resin, according to Coswick. The result is a finished product that can be manufactured to resemble the grain and natural color of real wood. In addition, because the product is machine-made, it can also be prepared in a wide variety of colors and shades, as well.
Laminate flooring is relatively inexpensive — costs can range anywhere from $0.70 to $2.00 per square foot, depending on the style and type that you purchase, notes Forbes. The result is realistic-looking flooring that is incredibly durable and easy to maintain. These types of floors are ideal for households that have children or pets and have a lifespan of up to 25 years if kept in good condition.  
While taking on a laminate flooring project yourself can be done, it helps to have advice from an expert. In an exclusive interview with House Digest, we asked Joe Ferguson, an architectural joiner at Skirtings R Us, what is the easiest way to install laminate flooring.
The easiest option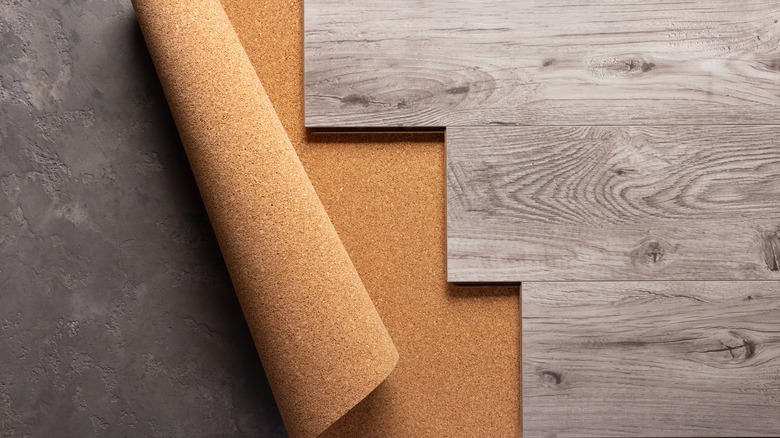 Seregam/Shutterstock
If you're looking to start a DIY laminate flooring project at home, you want to ensure that you have all of the materials ready to go before diving in. Although these types of projects can be relatively simple to perform, you should take your time so as to not miscalculate any measurements. Once you have the perfect laminate picked out and the color and pattern are exactly what you're looking for then you can start to prepare the surface.
One option is to tear out the current floors you have now and then sand the surface to ensure that it's level and smooth before laying down the new laminate. However, if you're looking to save a bit of time, Ferguson has a great tip. "The fastest way to install laminate flooring is to install it on top of an existing one," Ferguson tells us, "By fixing in place an underlayment such as foam or cork, the laminate flooring can easily be put in."
This means that you could save days of work by not having to take the time to remove your existing flooring. Ferguson also says, "As for cement floorings, self-leveling cement is needed to make sure that there is no uneven floor surface." It will make installing your own laminate much easier and quicker if you have a smooth surface to work on.
Getting started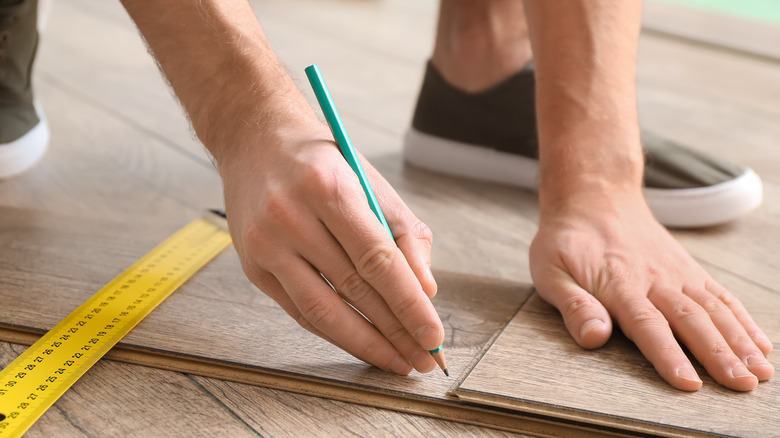 Pixel-Shot/Shutterstock
Once your surface is prepared — whether that means that you have leveled off your cement flooring or have placed an underlayment on your existing old flooring — then it's time to get started. According to Ferguson, "The first step is to lay out or put down the laminates first into the floor and mark the offcuts in the laminate edges." This way you can have all of your longer pieces set aside and begin to measure out the cuts that need to fit flush around the edges of the room. You can use a hand saw, a jigsaw, or even a Dremel to make these intricate cuts, explains Ready to DIY. However, cutting laminate can create a lot of sawdust, so you may want to consider doing the cutting in your garage or outdoors to save time on clean-up.
Ferguson advises that you should "also, check if the laminates will sit nicely on the thresholds or baseboards. Otherwise, a floor insert or a metal threshold is recommended." The last thing you would want is to spend the time laying down all of your flooring, just to find that it sits too high on your baseboards or in the doorways. This could look less than ideal and even prevent your doors from closing properly. On the other hand, too much space under your baseboards or threshold could give a shabby aesthetic and cause a tripping hazard in the doorway.
Put in the flooring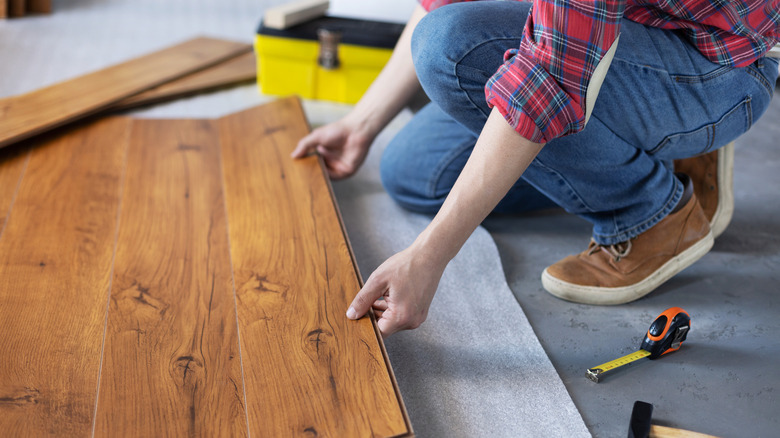 Seregam/Shutterstock
Now that you have measured and marked out all of your laminate flooring boards, you can begin to lay them into place. "Be sure to align the pattern to the desired layout," Ferguson tells us, "Once the layout has been decided and the offcuts have been trimmed off as well as placed on the floor, you can start adding adhesive to the back of the laminates and installing one piece after another." Laminate works with interlocking siding so that they can be easily slid into each other and fastened snugly into place using a tapping block and a hammer. 
If you are wondering where to begin, Ferguson suggests that you "start from the farthest corner of the room until you reach the threshold of the door." This way you can avoid working yourself into a corner and ensure that you are lining the boards up properly with respect to the baseboards and corners before reaching the doorway. "After this, just wait for the adhesive to dry and you're done," Ferguson says.