79% Of Homeowners Say This Is Their Preferred Type Of Closet - Exclusive Survey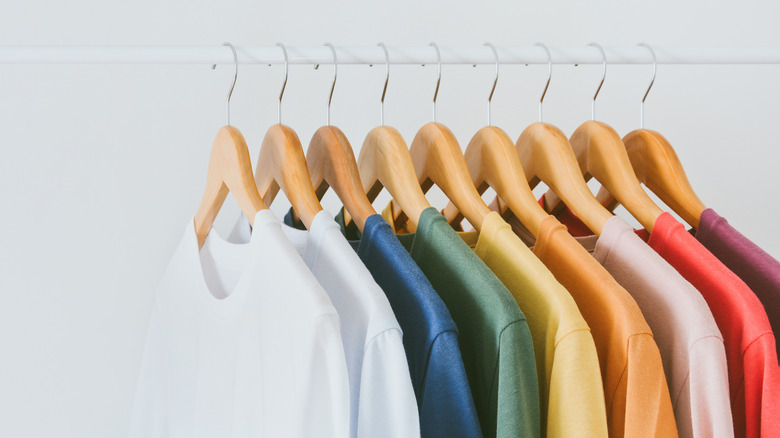 iamtui7/Shutterstock
When it comes to taking good care of your clothes, choosing the proper closet is essential. Woman's Day suggests that well-organized closets make the most of the space they provide and that de-cluttering can free up space you previously were wasting. Moreover, Closet & Beyond points out that there are many different types of closets and each one serves a different purpose. Figuring out whether you need a small freestanding wardrobe or a huge walk-in closet is the first step — especially as closets aren't just used for clothes, they are often home to other accessories, such as scarves, jewelry, hats, and even shoes.
There are plenty of options for clothing storage, so which one best suits your needs? The space you have available, and the number of clothes you have will be determining factors when selecting between the different options. So, which one is more popular? House Digest conducted an exclusive survey of 629 people, asking them: Which type of closet do you prefer for your clothing?
Walk-in closets take the top spot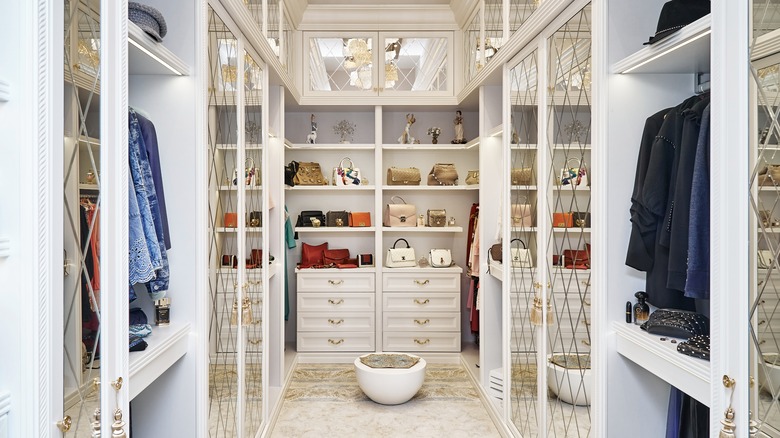 timltv/Shutterstock
Walk-in closets came top of the list with a huge 79% of votes. Out of the 629 people surveyed, 495 chose walk-in closets as their preferred option. Lux life states that as well as the obvious pros to a walk-in closet, such as plenty of space to keep things organized and a place to display your large shoe or handbag collections, the air circulation and great ventilation that walk-in closets offer are fantastic for keeping your clothes and other items mold and mildew free.
In second place was the reach-in closet. Only 62 people, or 10%, voted for this option. All About Closets said that reach-in closets aren't great if you have more than one person's clothes to deal with — trying to cram all your clothes into a small area can be a stressful experience for some people. However, Shelf Genie said that reach-in closets can be great for keeping things organized, and if you don't happen to have large amounts of seasonal items, then the simplicity of a reach-in closet would be a good option. They are ideal for people with limited space and a smaller budget. 
The best of the rest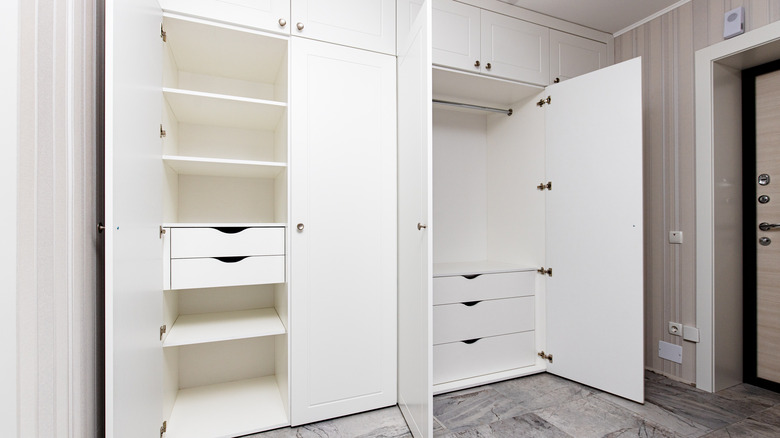 Dzmitry Ryshchuk/Getty Images
In third place were armoires with just 6.2%, or 32 people choosing this option. M.S.Rau explains that armoires were originally used for storing weapons and armor, but later, as the need for a better storage solution for clothes increased, they were eventually repurposed, with the first of its kind created specifically for clothes in 17th-century, France. Interior Design Schools points out that when it comes to choosing an armoire, you should take into account the size and cost, as many of these types of closets can be very large and pretty pricey. 
20 people out of the 629 surveyed chose Italian closets, giving this option around 3.2% of the votes, which puts it just above wardrobes in second to last place. According to Linea Studio, Italian closets are known for their timeless, streamlined look with plenty of compartments for storing items away.
Even though wardrobes feature last in our survey, with only 2% of the votes, they might actually be more practical. The main difference between armoires and wardrobes is that armoires have shelves, drawers, and hanging space, whereas wardrobes are meant for hanging items only, but if that is all you are looking for, a wardrobe would be the perfect solution to your storage needs.