An Interior Design Expert Explains How To Upgrade Your Bedroom For Less Than $200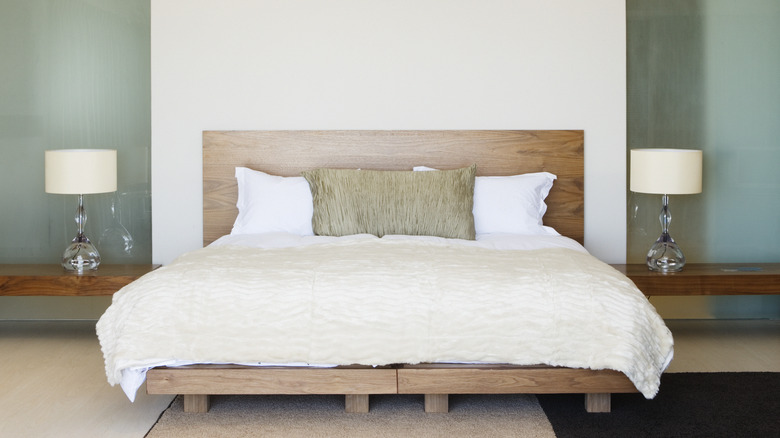 Martin Barraud/Getty Images
Is your bedroom dated, perhaps with a border around the ceiling and a fan that has a good amount of dust on it? Maybe you're tired of the paint color or the space feels less personal than you want it to. If that's the case, now could be the perfect time to do some bedroom updating. 
Depending on the amount of remodeling you do you could spend $14,000 to $40,000, according to Fixr. Frankly, that's a lot of money that may be out of your reach, but there are other steps you can take to get a big wow factor for much less — and save that money for a vacation or home addition. Even if your budget is super small — say around $200 — we're here to help. To that end, Samantha Black – an interior designer at Freemodel – shares some guidance on how to upgrade your bedroom to a space you'll love for less than $200 in an exclusive interview with House Digest.
Paint the walls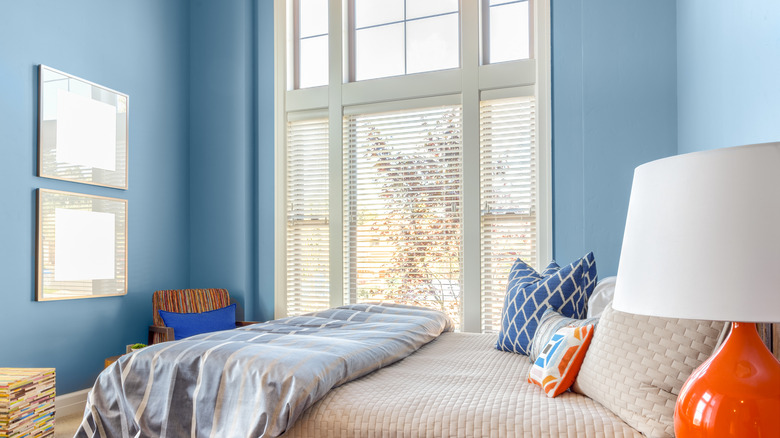 Hikesterson/Getty Images
Take a look at your bedroom and notice the thing that's most likely putting you in a bad mood. It's probably the old, dated wall color that sets the tone for the entire room. Fortunately, you can easily change that. "For the largest impact, the low cost of a can of paint can completely revitalize your bedroom, giving new life to a tired space," Samantha Black shares. Most often, you can do this work yourself, drastically reducing the overall cost of your bedroom updating while still getting all of the impact.
"Whether you are completely changing the color or just putting on a fresh coat of the same one, this small investment will give you a brand-new look," Black continues. "And do not forget the ceiling." Ceilings can become dull and dingy over time, causing the white to darken with dust and dirt. You don't have to go with white either; choose a color that complements the style you're after. That's going to bring a big change to the room for less than $200, with all of the supplies you need included.
Replace your lighting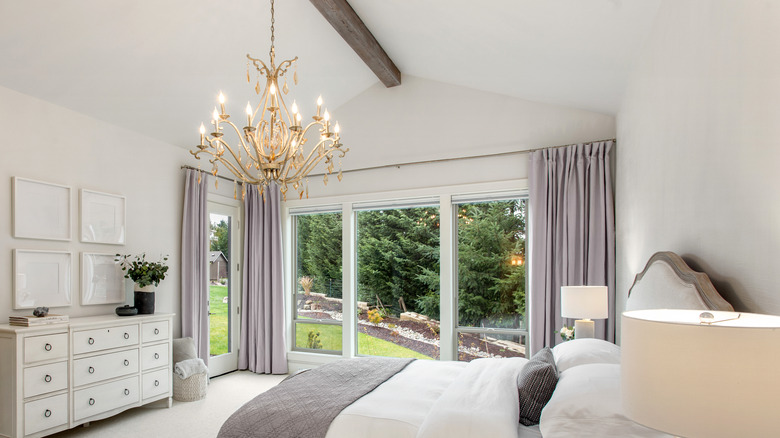 Justin_Krug/Shutterstock
The lighting in a bedroom sets the mood, whether it's a dim glow in the evening to lull you to sleep or bright enough to allow you to get some work done during the day. So if yours isn't in working in your space, Samantha Black has some key insight for fixing it. "Replacing your builder-grade flush mount fixture will do wonders," she explains. "Typically lighting can slip by as an afterthought." 
Consider the last time you revamped the light fixtures in any area of your home, then, and then take a closer look at the new options out there that are sure to bring some drama to your bedroom. "By spending a small amount to select and install a new statement light fixture, you can increase the amount of light in your room and add a new focal point," Black continues. "Try for a semi-flush mount with multiple bulbs or even a large chandelier style if you have the ceiling height." That could add a lot of character to your space while ensuring you don't overspend to create it.
Invest in a new duvet cover and pillow cases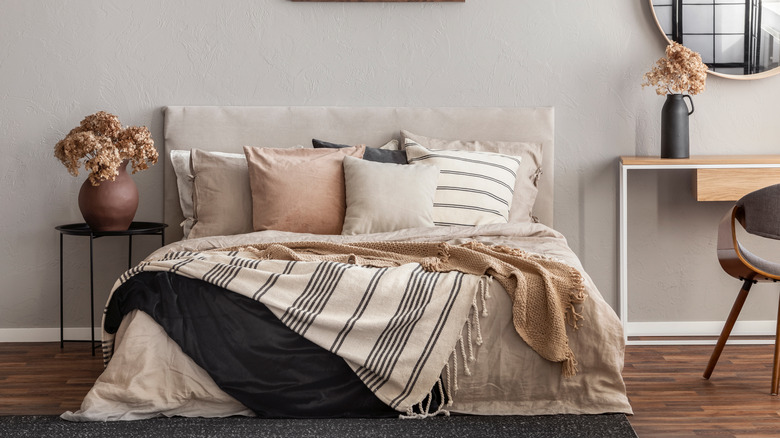 Ground Picture/Shutterstock
If the structural components of your bedroom are in great shape, like the paint color and flooring, look to the accessories to update the space. "You can change the entire feeling of your room by adding a crisp new duvet cover," suggests Samantha Black. "And if you love your duvet cover already, then spend a couple of bucks toward new throw pillows and a comfortable, eye-catching throw blanket for the base of your bed."
If you're not too sure you want to spend money on your bedding, consider what it could mean for your health. "Updating your tired linens can go a long way toward getting a good night's sleep while providing you with a stylish upgrade," Black continues. Hunt for an inexpensive but luxurious looking bed set or choose to put a bit of extra money towards sheets with a high thread count. Honestly, that's going to make more of an impression on you each night than almost anything else in your bedroom.
Add a cozy rug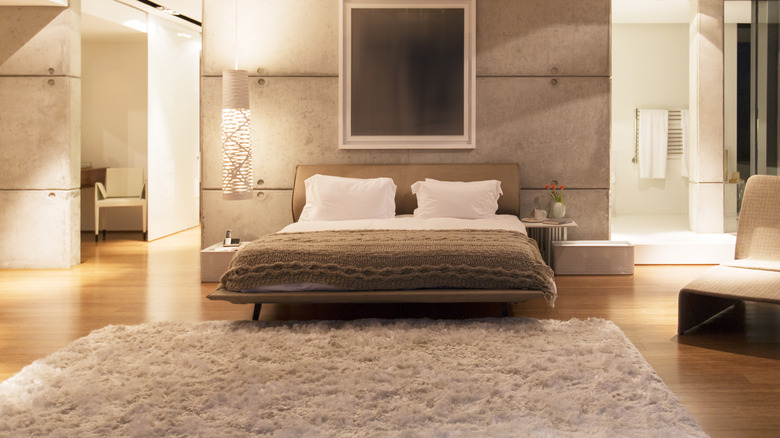 Astronaut Images/Getty Images
Texture and comfort are two things that work hand-in-hand when it comes to creating a bedroom that's modern and enjoyable to spend time in — and it's not difficult to add these elements to a space, either. "Whether you have solid surface flooring or wall-to-wall carpet, you can add extra cozy vibes by layering on an area rug," recommends Samantha Black. "Runners added to each side of the bed can warm up your toes when you step out of bed, or a larger area rug can serve to cover up tired wall-to-wall carpet that you cannot afford to replace."
That might not sound like a big change, but Black has seen firsthand how it can do wonders for a space. "This little upgrade can add much-needed color or pattern to your bedroom scheme and is a cost-effective move that delivers a lot of impact," she adds. And, you don't have to purchase the highest-quality option, but choose a pattern, color, or style you love so much that you smile every time you see it.
Organize your bedside table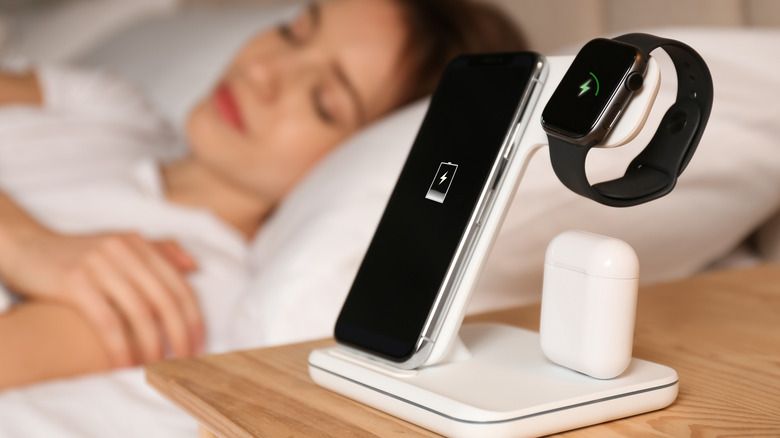 New Africa/Shutterstock
Clutter can get in the way of beautiful bedroom space, as Samantha Black points out. That's why she recommends having a system to organize your essentials. "Keep your charging cords tidy and invest in an aesthetically-pleasing charging station," she shares. "Most of us plug in our phone, tablet, and iPad on our bedside table, leaving a mess of cords cluttering our tabletop." 
If you're guilty of this, you know it's taking away from your room's appeal — but it doesn't have to. "A cleverly-designed charging center with shelves for all of your devices will help keep this clutter in line, clear up your table space, and add some style," Black continues.
Fortunately, there are plenty of options out there to bring in that sophistication. "Gorgeous charging stations can be found in leather and hand-carved wood, and some even have a cordless phone charging pad," Black adds. "This simple yet functional bedroom upgrade will give you peace of mind for little cost." Also, try to apply this same strategy to other areas of your room that are causing you to be disorganized. This simple change alone, along with some decluttering, could give you the feel of a whole new bedroom.