New Home Construction Projects Are Now Being Completed At A Higher Rate
anatoliy_gleb/Shutterstock
The housing market has had a bumpy road this year which has contributed to high rental prices and a lack of available properties for sale. Due to high inflation, fixed-mortgage rates continue to increase, and the only way to get them to drop is by providing more supply. While we have seen a slight rate decrease from November to December — according to Forbes, the fixed-mortgage rate was 7.08% in November, then dropped to 6.31% during the second week of December — it's been forecast that the rates could continue to increase throughout 2023 or until inflation is controlled, which might be sooner than expected.
Bearing that in mind, the United States Census Bureau released a report on housing completion data, stating that builders are starting construction on a vast amount of properties. But because there's a massive backlog of homes waiting to be built, mortgage rates will likely drop since there will be more available to buy.
The reason for the increase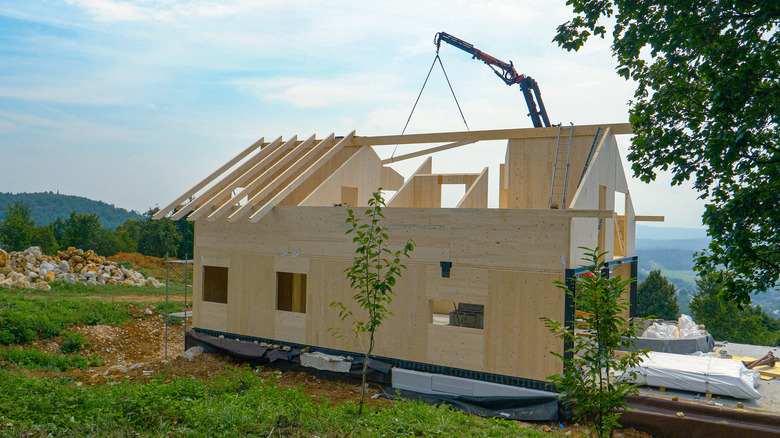 Flystock/Shutterstock
The Census report is divided into building permits, builds started, and completed projects. For context, permits are issued when builders have a plan for where they want to construct new homes. However, since the decrease that occurred between 2005 and 2009 (via Bay Area Council Economic Institute), permits that have been approved are slowly rising. Currently, there are 1,342,000 — which is 11.2% lower than the October number of 1,512,000. This means construction workers had ample houses to work on.
With regard to housing, there are two sectors: privately-owned and single-family. The Census states that 1,427,000 approved permits were part of the seasonally-adjusted annual rate for privately-owned homes, which is 0.5% below the rate revised in October of 1,434,000. As for single-family housing, the rate in November was 828,000, 4.1% below October's rate of 863,000. 
Even though overall rates decreased, housing completion increased, which is why mortgage rates will likely fall in the new year. Completion for November rose 10.8% at 1,490,000, up from October's rate of 1,345,000 for privately-owned homes. For single-family homes, the rate was 1,047,000, rising 9.5% from October's rate of 956,000.