This Type Of Lighting Is The Key To A Cozier Living Room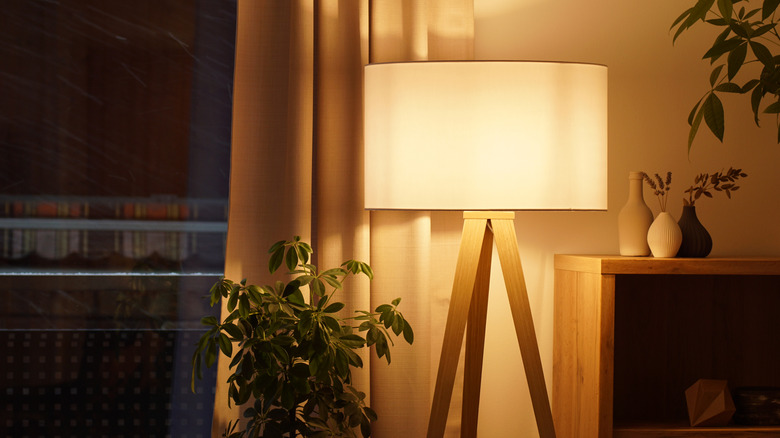 TG23/Shutterstock
We may receive a commission on purchases made from links.
While you're settling in for a cozy movie night, there's nothing that upsets the vibes like someone turning on the dreaded Big Light. Ceiling lights often have white bulbs that, while great at providing light, also illuminate everything evenly and coldly. That sterile white hue is the opposite of cozy. The same can go for tabletop and standing lamps. That cozy warm look you see all over Instagram and Pinterest is known as ambient lighting, which illuminates the room with a glow, rather than shining harsh light down on it.
But you don't have to go full Phantom of the Opera with the candelabras or buy a ton of new lighting fixtures to give your living room that cozy, warm, inviting light. We have two easy, affordable solutions from Sam Baldry, the head of design at Swoon, in a comment given to Homes & Gardens. Plus, we have a few extra tips for even more dynamic, hygge lighting plans.  
The easiest ways to achieve cozy lighting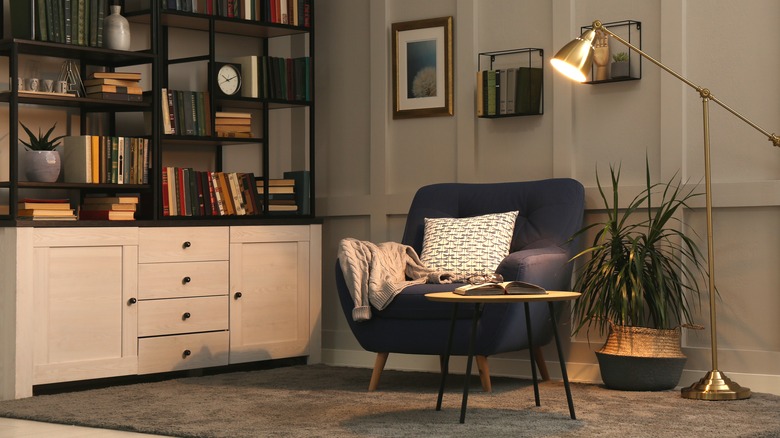 New Africa/Shutterstock
Luckily, Baldry's advice just requires a trip to the hardware store and a little know-how. The two easiest ways to get warm, dynamic, cozy lighting in your living room is with new lightbulbs and installing dimmer switches — no new lamps or handymen required. When it comes to light bulbs, aim for bulbs that have warm or amber lighting. Edison bulbs are a very popular choice, and can even give off copper hues. If you aren't sure you want to stick with just one light color or temperature, go for remote-controlled LED light bulbs, says Electronic House. 
To go with those bulbs, try swapping out your standard light switches for dimmers. This will allow you to have more control over how much light is being given off, even from the ceiling-mounted Big Light. This is easy even for a novice handyperson — just follow our guide to swapping out light switches. With those two swaps, you can have an ultra-cozy living room. 
Other ways to enhance your living room lightingscape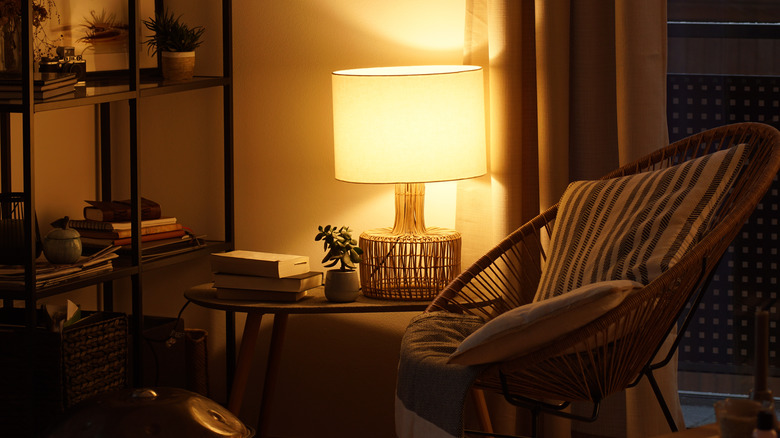 TG23/Shutterstock
Creating layered light can seem overwhelming if you don't know where to start. Beyond lamps and ceiling lights, there are lots of ways to create more atmospheric lighting in the living room. One of the main principles is choosing a variety of lighting sources, says Christie's Real Estate. Candles of all sizes add warmth and are inherently inviting. Plus, string lights aren't just for the holidays and not just for your patio. You can string a line of them around your window or media center for a low-cost electric lighting solution that doesn't require installation or handiness. 
Another renter-friendly hack for creating stacked lighting scapes is using LED light strips, like these ones from Amazon. We especially love the effect when they're mounted behind a media center and giving off a snug glow, or underneath the shelves of your bookcase. When you use them inside cupboards and shelves, it also makes it easier to find the lost remote without having to turn on your phone's un-cozy flashlight.