What Is The Best Way To Store Your Shoes? - House Digest Survey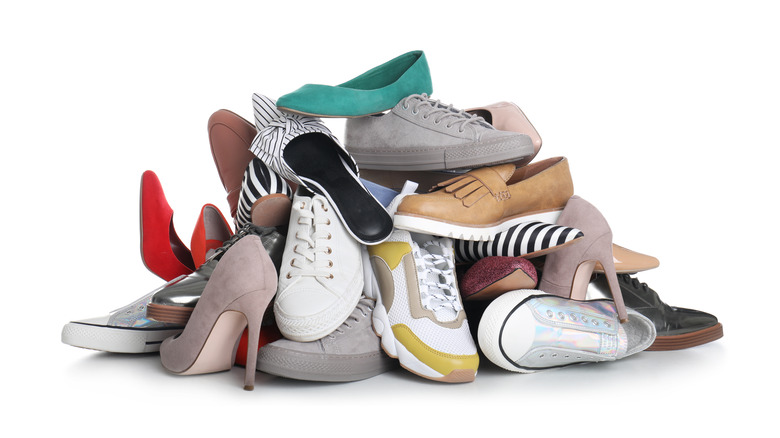 New Africa/Shutterstock
Unless you live a minimalist lifestyle or love staying organized, you probably need an improved solution for storing and organizing your shoes. This is because they can quickly pile up near the front door or in the corner of the closet, which could lead to scuffed, damaged, or quickly worn-out pairs. To protect your expensive pieces, it's essential to determine the best way to store them.
According to Repeller, before purchasing any storage furniture, you must first determine whether you'd like your footwear to be visible or hidden away. It would help if you also thought about how much space you have in your home to store shoes — perhaps your entryway is relatively small, so you'll need to keep them somewhere else. To find out what most people agree is the best way to store footwear, House Digest surveyed 629 participants. They could choose from the following options: a shoe cabinet, a shoe rack, shelves, under the bed, a storage bench, or in the closet. Interestingly, two of these choices were close to tying for first place.
Both solutions are versatile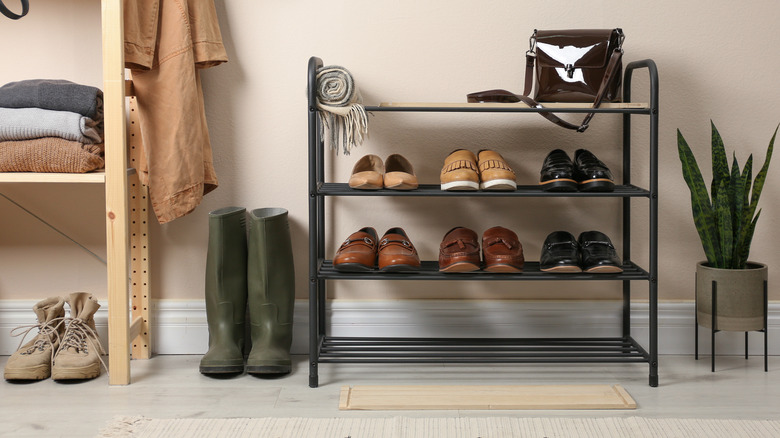 New Africa/Shutterstock
The winner of the survey was a shoe rack, which was chosen by 203 participants, gaining 32.27% of the vote in the process. LifeStorage says this option may be the best because it allows your footwear to breathe and keeps your pairs easily accessible. The close second was in the closet, which 195 people (exactly 31% of respondents) chose. While shoe racks are typically kept near the front door and out in the open, placing your footwear in the closet may work better for those who have a cramped entryway or want their shoes out of sight. When storing footwear in the closet, SimplyStoring advises keeping your most frequently used pairs lower and storing your special event ones up higher.
Both these options may have been the most popular because they are both incredibly versatile. Racks come in a number of sizes, colors, and styles, and because they're usually pretty compact, they are great solutions for those with limited floor space, per Nilkamal Furniture. Keeping your shoes in the closet is also highly versatile, as there are several ways to keep them organized. For instance, you could place a shoe rack on your closet floor to use both of these popular solutions. Other ideas include utilizing an over-the-door organizer or keeping them in boxes.
The other storage solutions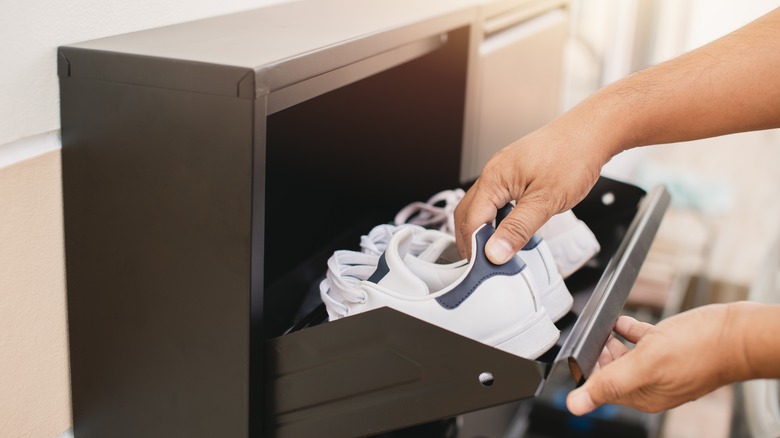 iced.espresso/Shutterstock
A shoe cabinet came in third place at 98 votes, 15.58% of total respondents. The benefit of a cabinet over a rack is that it conceals footwear; Therefore, those who prefer their shoes to be out of sight may prefer this solution. Next was a storage bench, which 7.95% of respondents (50 people) chose. This method provides storage and a place to sit to take off your shoes, making it convenient for a home's entryway or mudroom. Shelves came next at 6.68% of respondents and 42 total votes. Shelves are often custom-made for the closet and work great for extensive footwear collections. Closets by Design adds that shelves allow shoes to easily be organized while also keeping them accessible. Finally, under the bed was the least popular method, with 6.52% of the vote (41 people). Plastic or fabric containers can be purchased to keep all your pairs organized and protected underneath the bed.
While some choices may be more popular than others, keep in mind that the storage solution that's right for you will be determined by your specific situation. Some homes may even need multiple methods to store all their footwear. For instance, shoes only used for special occasions could easily be slid under your bed, while those you wear daily can be kept inside a cabinet or on a rack at the front door.