A Design Expert Explains How To Add Warmth To Your All-White Bathroom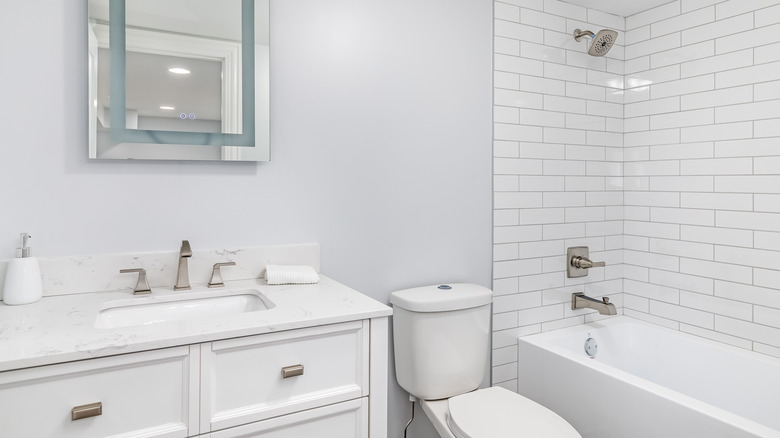 Hendrickson Photography/Shutterstock
The importance of our bathrooms is ever-increasing as we find ourselves using this space for much more than a quick shower and use of the john. It has become an area where we pamper ourselves, take a moment to catch our breath, and start and end each day. Because of the immense amount of time consumers spend in their bathrooms daily, there is a new-found significance to bathroom aesthetics.
Data Bridge Market Research estimates that the global bathroom furniture market will increase from nearly $22 million in 2021 to $29 million by 2029. Renovation and remodels in these areas of the home are at a high, and white bathrooms are some of the most commonly sought-after. While white bathrooms offer a simple, sophisticated look that is versatile in design, it tends to feel stiff and monotonous. In an exclusive interview with House Digest, an interior designer with Freemodel, Samantha Black, has all the tips and tricks you need to infuse your white bathroom with new warmth.
Add softness with textiles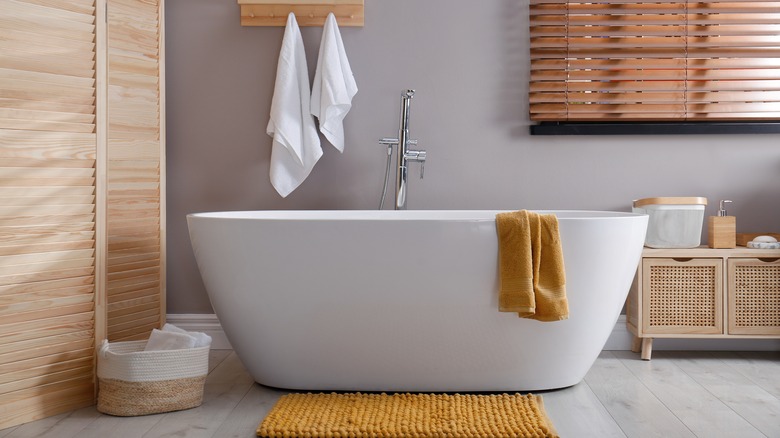 New Africa/Shutterstock
Textiles are such an easy and interchangeable way to transform a room. Endless colors, patterns, and textures can constantly be switched and swapped to meet your design desires. Black says that adding textiles is not contingent on whether you rent or own your home and is a great way to warm up your white bathroom. "Think warmer neutrals like beige, greige, and sand, or even add blush pink for your main bath towels and hand towels," she said. "The spa-like feel of radical neutrals over a clean white palette will lessen the clinical white in the room."
Black continues to point out that warmth is added by more than just color — texture is also very significant. Softer surfaces, such as bouclé and fringe, counter the hard qualities of your bathroom. "Hanging those cozy robes and fluffy towels goes a long way toward making the room more welcoming," she notes. You may also consider incorporating subtle nature-inspired patterns on hand towels, toilet seat covers, and shower curtains. These botanical-driven themes will create a quiet space that still feels alive. However, it's wise to keep your patterns and color balanced; if you have a loud print, keep it in check with subtle hues and vice versa. This will ensure the room maintains serene symmetry and does not become overstimulating.
Integrate a statement rug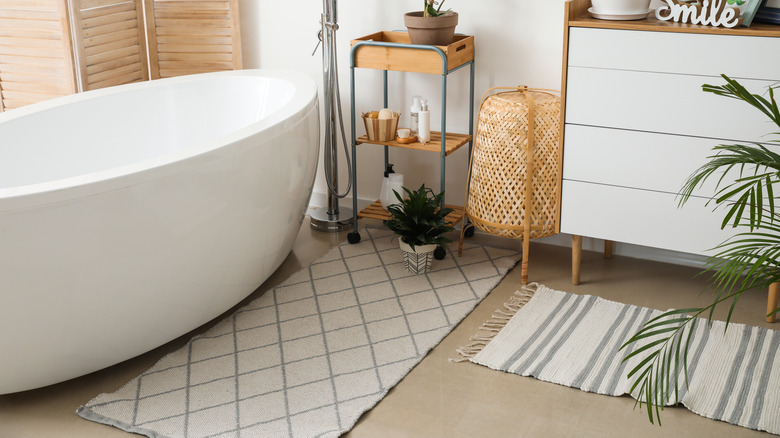 Pixel-Shot/Shutterstock
Every room needs dimension, and given that a bathroom typically doesn't feature blankets and pillows, a rug is a perfect addition. Black encourages straying from the traditional bath mat and finding something much more appealing to the eye. She explains that "there is no requirement that this more functional item needs to be present all of the time." Black suggests a "kilim pattern runner or jute/chenille woven rug," which will "warm your toes and your room even while you are washing your hands or using the vanity."
Rugs are a defining piece in any room, so choose yours with care. Safety is still important, and Black emphasizes that you should use "a non-slip rug pad underneath" as bathroom floors are naturally smooth. "Avoid heavy pile rugs such as shag or thick-sheared wool because these will not dry out if water is spilled on them," she advises. Rugs by Shabahang reports that cotton and Egyptian cotton are the best materials for your bathroom rugs as they dry out fast, are easy to clean, and still feature a soft hand. Rugs will also help keep high-traffic portions of your floor from wearing down as quickly.
Warm it up with accessories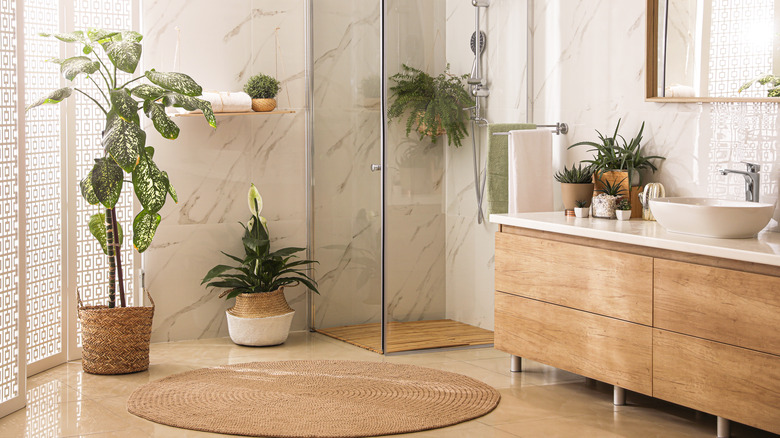 New Africa/Shutterstock
The accessories you choose can breathe a new aura into the room, and much like textiles, they are easy to shuffle whenever you are craving a change. "Think about incorporating natural elements, such as warmer teak or earthenware storage canisters for cotton swabs and toothbrushes, as these small countertop items give personality and softness to your bathroom," Black suggests. Play around with bamboo floating shelves, towel racks that feature heavy grain, and woven baskets. If you want to go big, consider a vessel sink that deviates from standard porcelain and showcases imperfect shapes of stone or wood.
Texture can be present in more than just fabrics; wall art and sculptures add incredible volume and texture to a room. "Hanging wall art is also an important accessory to bring warmth to your space," Black explains. "This could be an art piece, painting, or a print or photography – there are no rules here." Black believes other accessories that shouldn't be overlooked are plants. Whether faux or living, the vibrant foliage gives your bathroom a wonderful, fresh look.
Paint your walls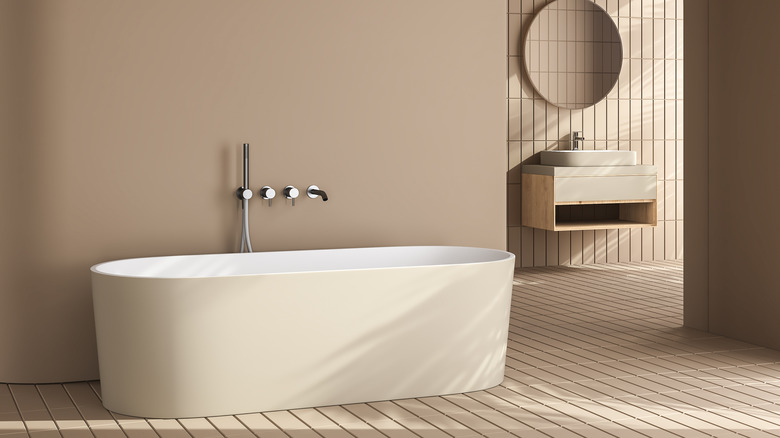 Suleyman Ozkan/Getty Images
Painting the bathroom walls is one of the quickest ways to reconstruct the room and tie all your accents together. The color of the walls will add a backdrop to the room, enhancing all the details in every nook and cranny. "Just because you have all-white tile, shower, and bathtub, doesn't mean you are stuck with white walls," Black explains. "A warmer or neutral color of paint can help pull your whole bathroom scheme together and out of its clinical starkness for very little investment or effort."
She suggests colors like Sea Salt or Warm Sand from Benjamin Moore as these colors "pair beautifully with a white vanity or white tiles, and when accompanied by warm accessories, art, rugs, and textiles, your space will be transformed without altering any fixture in the room." Other colors that will cozy up the room are Benjamin Moore's Warm Springs for a coastal look that is reminiscent of the sea and soft greens like Rosemary Sprig or Celery Salt for colors that are tropical and horticultural.
Choose fixture color wisely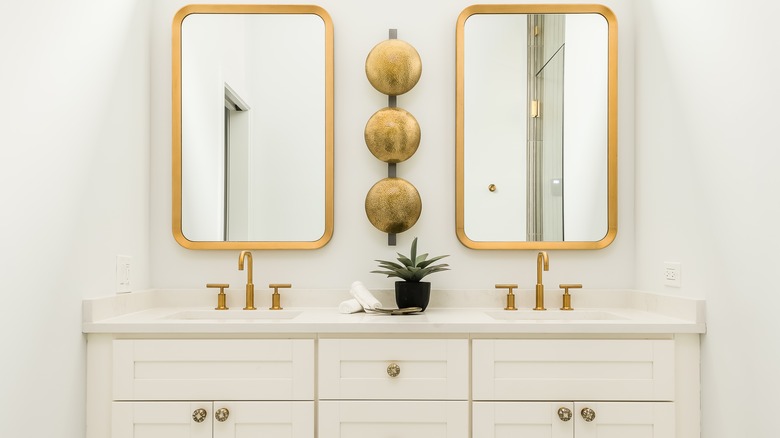 Fio Creative/Shutterstock
Choosing the finish on your fixtures is equally important as the color you splash on your walls. Possibly even more so when you consider the time and expense it takes to replace fixtures as opposed to repainting a room. "If a more substantial renovation is on the horizon or if you are creating your own clean white retreat, the metal finish of your fixtures matters; this small choice can really change the tone and feel of the space," Black said.
She identifies how sliver tones in brushed or chrome will bring a cold breeze into the room and that black matte fixtures are more profound to the eye, contradicting the white surfaces. You will likely find a warmer presence in brushed gold or champagne bronze coating. Oil-rubbed finishes give off a rustic vibe compared to that of Scandinavian, which emphasizes a smooth, chrome finish. From brass to copper to nickel, there are endless finishes to consider featuring on your hardware. Another component is which fixtures to focus on; the answer is all of them, even down to the doorknobs. "You can infuse these elements in shower fixtures as well as your lighting choices, sink faucet, and cabinet hardware," said Black. "If the clean, fresh quality of an all-white bathroom is what you desire, your surfaces can be pure, and your metal accents can speak to warmth."