Pinterest Predicts Romcom Core Will Be A Hot 2023 Home Decor Trend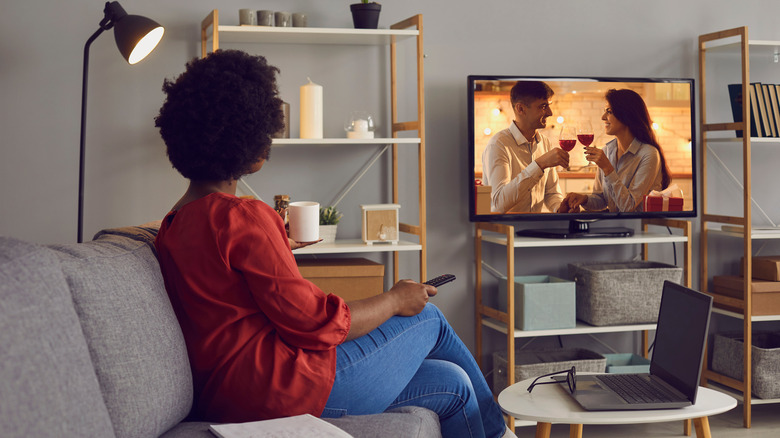 Studio Romantic/Shutterstock
Each year, Pinterest releases a summary of all the big trends they're expecting to see in the coming months. It makes sense — Pinterest is the place people go for inspiration, planning, and ideas — sometimes months before their actual event or commitment to a certain look. Whether your boards are full of recipes, fashion and beauty, or home decor pins, Pinterest knows your style and, sometimes, even the future. According to Pinterest Predicts, 80% of their predictions for the coming year came true in 2020, 2021, and 2022.
Amidst this year's predictions of rust-toned weddings, paper crafts, and dual-toned hair, one unique idea stands out — Romcom Core. Don't worry — you don't need to go hunting for some cinematic love story to pull off this idea. Instead, it's more about the romanticization of yourself, whether you're happily single or settled down with a beau. If you want to learn exactly what this trend has in store and how it might translate into our homes, keep reading. You're sure to feel like the main character in no time.
What is Romcom Core?
Romcom Core is what Pinterest is using to refer to a collection of trends that represents an overall shift in attitude. The isolation of lockdowns, decreased social, and increased focus on mental health has led many to romanticize and practice gratefulness for even the little moments, shifting their perspective, so they feel like the main character in their own life. Even if you're just running to the post office or grabbing a coffee, this trend is all about making every day a special event.
Couple this phenomenon with the rise of late '90s and early '00s aesthetics, and you're left with people finally being able to live out their nostalgic fantasies of looking and feeling like their favorite romcom stars. Whether you're a fan of "Bridget Jones' Diary" or, like the rest of TikTok, "How to Lose a Guy in 10 Days," you're sure to see people drawing inspiration from these popular films in their fashion, makeup, and interior design.
How to incorporate this into your home
According to a study by YouGov in 2019, 17% of people surveyed said they considered themselves minimalists, and 23% said they'd like to be. Now, the tide is shifting in favor of something more unique to you. As the maximalism and cluttercore trends begin picking up speed, it's clear that people are looking to personalize their interiors and have a bit more fun with their design choices. This idea is no different — look to the quirky accents of Romcom stars' apartments and the colorful aesthetics of the early aughts for inspiration.
If you're looking to incorporate this look into your own home, think cozy but still fun. Warm-toned, vibrant walls, bookcases full of your favorite novels, and well-placed knickknacks that reflect your personality are staples, but even the occasional Chinese takeout box or bottle of wine is fair game in this aesthetic. Life is much more interesting when you make it cinematic, so why not use your interior decorating skills to make yourself feel like the main character?