The Best Colors To Paint Your Fence To Make Your Garden Feel Bigger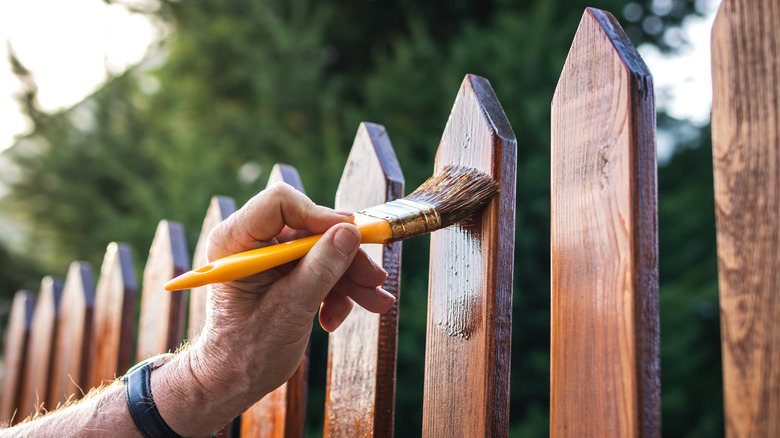 encierro/Shutterstock
Fences are a great addition to any yard. They add to the home's value, especially if it's made of high-quality material. Northland Fence Residential Specialist explains that homes with fences sell quicker and are listed higher. Installing a fence adds to not only your home's aesthetics but also security. If you have young children or pets, it creates a barrier, keeping them safely inside the yard. Further, the material you choose and how high your fence is also give you a level of privacy. You won't have to worry about anyone watching your family while you're hanging out in the backyard.
Fences will also keep strangers out of your yard. They deter uninvited guests from your home because they can't walk right onto your property. They'll also protect your family from out-of-control cars that may veer off the road and towards your yard. A steel fence is the best type for protection, while tall vinyl ones are better for privacy. Once you know what kind of fence you want, you can decide what color is best for your yard.
Dark colors
Ben-bryant/Getty Images
The color of your fence plays a big part in the aesthetics of your yard. The fence is the backdrop to your landscaping, and it also marks the boundaries of your property. If you have a smaller yard, you should choose darker colors. Garden Tool Box recommends using black for the color of the fence to make your garden feel larger. However, if solid black is too much for your taste, you can also use dark grey or dark brown.
Darker colors are better at opening your space because they won't be highlighting the perimeter of your yard. Instead of your eyes focusing on a brightly colored fence, they are drawn to your landscaping. Vivid flowers and luscious greenery will look beautiful in front of a dark fence. When your family and guests focus more on what's inside your garden than the barrier around them, it will make your backyard feel bigger.
Consider the design of your home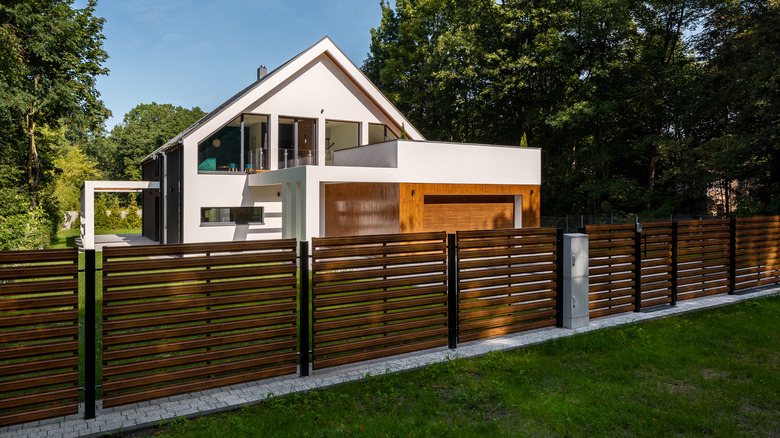 Dariusz Jarzabek/Shutterstock
Once you know you want a dark-colored fence, you need to decide what will look best with the design of your home. If you're going to paint it, you should use latex paint. Although, if you plan on staining it, you can use either transparent or solid stain. Transparent will fade as it ages, while solid will chip. To find the best color for your home, you must look at what shades are already used. Your fence is the backdrop of your house, so it should look cohesive with your home and landscaping.
Maria Killman recommends staying away from trendy colors and focusing on what already exists in the exterior of your home. An excellent place to start looking is at the trim; if the color is darker than the siding, it could work. The color of your roof is another safe place to find inspiration from. If you don't like either of those shades, you can incorporate the color of your window shutters or your doorway. As long as it's dark, you can repeat that color on your fence.