Here's How The Bin System Can Help You Keep Your Home Organized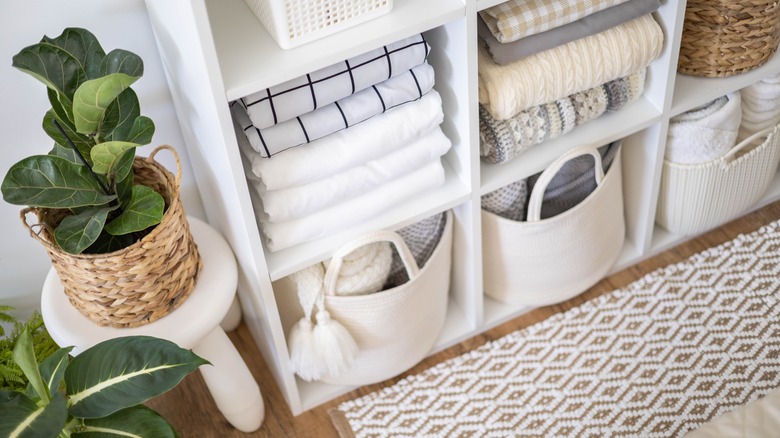 Kostikova Natalia/Shutterstock
Organization is one of the most important factors of interior design. It won't matter how beautiful your furniture is or how chic your area rugs are if there are various cluttered messes throughout your home. A disorganized residence doesn't only negatively impact the appearance of your property, but also your mental health. According to TMC Cleaning Services, an unkempt space can make your mind feel frantic, increase the risks of experiencing depression and anxiety, boost your feelings of stress, and prevent you from accomplishing daily tasks.
If you're currently wondering how to create an organized home, we've got one question for you: have you heard of the bin system? It's a stylish yet easy way to organize all of your decor and personal items. We'll show you how to use this tactic and the best ways to implement it in your home. So, if you're ready to clear up your hallways and open up your space, check out how the bin system can help you.
A quick and stress-free technique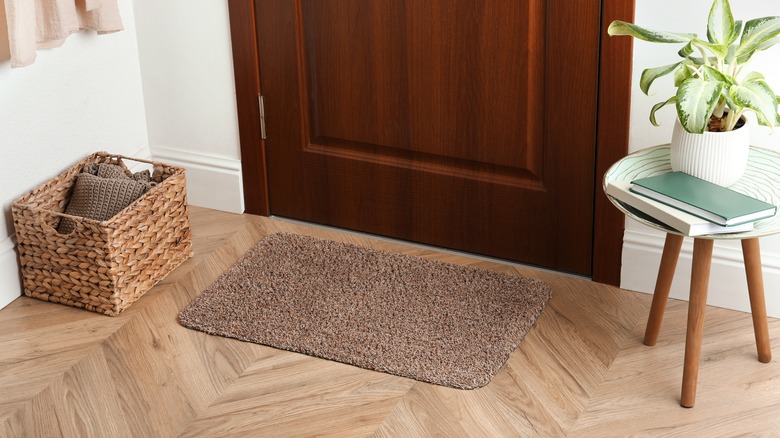 New Africa/Shutterstock
The bin system is as easy as it sounds. Homeowners can use this method by placing bins in various locations where clutter often appears. This way, you'll always have a designated space for various items, and avoid tripping over them as well. For example, if umbrellas, hats, and gloves tend to be found in a pile by the front door, then placing a bin there can clear up your entryway and allow your decor to shine. It's a convenient system that can be used all over the home. Abby Organizes uses this technique in the kitchen to hold utensils and in the master closet to store various accessories. 
Other places you can try out this system are your office, bathroom, pantry, garage, playroom, and much more. According to A Cultivated Nest, using bins of different sizes can also help you better tidy up specific areas, such as a bathroom closet.
Different styles to choose from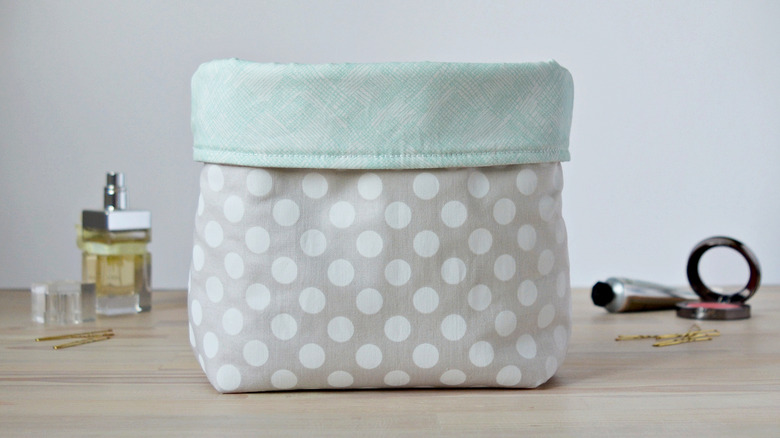 Maryana Volkova/Shutterstock
You may be thinking that placing bins everywhere will hamper your ability to beautifully design your home. However, there are many different styles to choose from. One type that has become increasingly popular is wicker baskets. According to Storables, wicker baskets are usually available in different shapes and sizes, and can conveniently be purchased with lids or handles. We suggest taking a look at this type of material, rather than opting for the basic, plastic bins you may see in a kindergarten classroom.
We also suggest taking a look at fabric storage bins. They come in a plethora of different colors and patterns, so you're sure to find something that will complement your current decor. You can also usually find them at an affordable price, such as the Drona fabric bin from Ikea, which comes in both black and white for about $5 each. This product — like many others — can also be folded down when not in use to free up space.