HGTV Star Christina Hall Makes The Case For Luxury Vinyl Flooring Over Traditional Wood
The type of flooring featured in your home can make or break your design aesthetic and will directly impact the resale value. Flooring is also one of the more expensive endeavors of a house, especially if you are considering hardwood floors. Time reports that since 2000, carpet has seen a dramatic decrease, going from 60% of sales down to only one-third. While carpet is still commonly found on staircases and in bedrooms, there is a lack of desirability to feature it in larger living spaces such as living rooms and dining rooms. It might be cheaper than hardwood floors, but it is certainly harder to maintain. If you add pets and kids into the mix, carpets are destined for stains and excess vacuuming.
As carpet becomes less preferred for homeowners, many are contemplating what type of flooring to go with instead. HGTV personality and American real estate investor, Christina Hall, makes a compelling argument for why luxury vinyl flooring will be a better addition to your home than traditional hardwood.
Affordable and adaptable design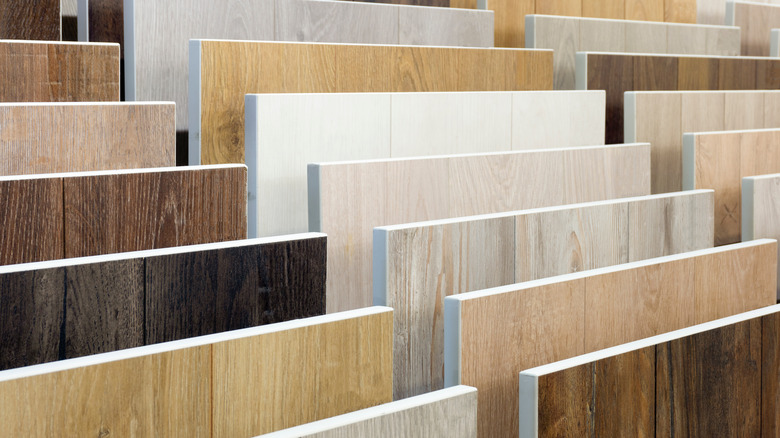 vovidzha/Shutterstock
Furniture Market Insights predicts that the vinyl flooring market will increase from nearly 28 million in 2022 to 41 million by 2028. Consumers find this cheaper and more versatile option to hardwood floors to be a Hail Mary for their homes, and Christina Hall wholeheartedly agrees. According to Realtor.com, Hall gives her opinion on luxury vinyl in a recent episode of "Christina on the Coast," saying that the product can be featured in more colors and textures now than ever before.
"Ten years ago, 20 years ago, luxury vinyl didn't look like this. It looked basic," she stated. Hall acknowledges how affordable luxury vinyl is compared to engineered wood and that it affords easier upkeep in high-traffic areas of the home. Traditional wood is not just more costly and complex to install but is also much more sensitive to moisture, messes, and cleaning products. Luxury vinyl offers homeowners easy-to-clean flooring options from stone to tile to wood grains, in addition to endless color possibilities. Designing your home becomes much more innovative with new opportunities for affordable and versatile flooring options on the horizon.