How To Set A Cleaning Schedule You'll Follow For The New Year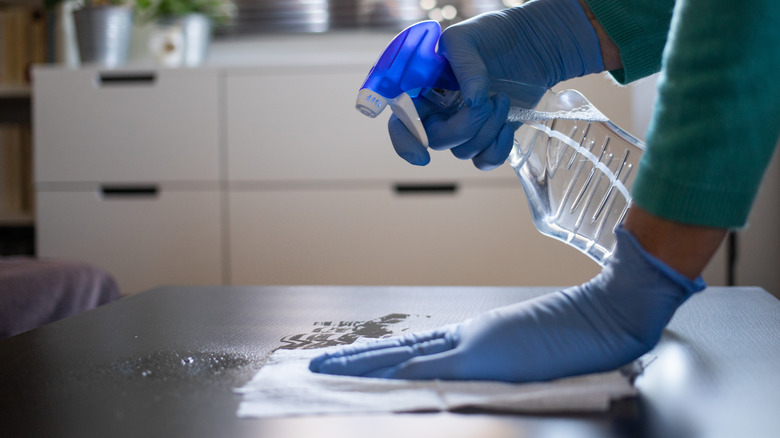 Melinda Nagy/Shutterstock
We may receive a commission on purchases made from links.
It's that time of the year when we start making a list of all the resolutions we hope to stick to throughout the new year. Whether you write down your ideas or make mental notes, having too many resolutions can actually cause stress. Thinking about the future and what big changes you want to achieve can be overwhelming because you don't actually know what the year will look like. "Instead, focus on the process goal," advises Dr. Susan Anders. "These are things you can write down and do every day that you do have control over," she told Foundations Wellness Center. Smaller weekly goals are more achievable than big yearly goals since you can tweak them as you go.
In addition to whatever resolutions you already have in mind, we at House Digest know that keeping our homes clean is often a top priority for our readers. Of course, it's the hardest to achieve when you have a busy schedule and kids or pets to take care of, but we've recently come across a cleaning hack from the infamous FlyLady, Marla Cilley that we just have to share. Cilley created an easy cleaning method that helps homeowners keep up with tasks that only take 15 minutes a day. Here's how you can set your own FlyLady-inspired cleaning schedule that you'll be sure to follow for the next year.
What is the FlyLady cleaning method?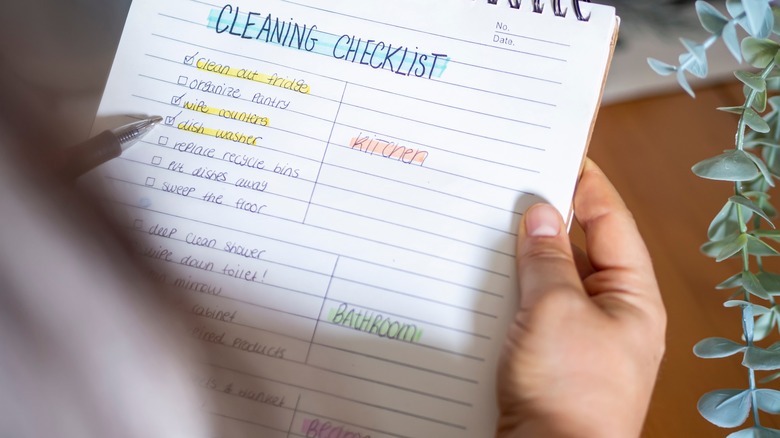 OlgaPS/Shutterstock
Marla Cilley's method has been around for years — she wrote an entire book on it back in 2018 — but it has recently come to light again via TikTok, where users are loving the technique. It's simply a way to clean your house over the course of a month by following a weekly schedule that won't feel overwhelming. First, divide your home into five zones. Zone one tailors to cleaning the porch, entryway, and dining room, which you would complete over the first few days even when they don't make up a full week. The second zone is reserved for cleaning the kitchen and should be completed within the first full week of the month.
The third zone is focused on deep cleaning the bathroom and a few extra rooms, such as the kid's room, guest bathroom, or your office; these would be cleaned the second full week of the month. Zone four is made up of the primary bedroom, bathroom, and closet, to be tackled during the third week. Lastly, zone five is the living room. The last week of the month isn't always full either, so the living room area will occasionally overlap with the first zone when the new month starts. During each whole week, write down one additional goal for each day, and by the end of the week, you'll have completed seven goals. Each task should last about 15 minutes and ideally be done simultaneously to create a routine.
TikTokers have mastered the cleaning hack
TikTok has become the place where new trends are born and old trends are brought back to life. We've seen them all, from fashion to home décor to cleaning hacks. TikToker @TheFoxyPineapple showed off her FlyLady schedule by explaining how she tracks all her zones in a journal and breaks down each category. In her video, her kitchen section has goals of cleaning out the fridge and microwave, and wiping down the doors and inside shelves. She also scrubs the counters, drawers, and cabinets before dusting the walls, ceiling fans, and trash cans. Finally, she hits up the baseboards and washes the pet dishes. Each day this highly effective DIYer also sets aside a mere 15 minutes to accomplish her additional daily task.
Aside from the weekly zone, @TheFoxyPineapple also has a weekly checklist where she cleans different areas around the house throughout the week. In addition to those extra spaces, she maintains a set morning routine with a separate list of her weekly schedule divided up for each day of the week. If you don't have the time, don't worry about the additional tasks. As long as the zones are completed by the end of the corresponding week, you'll have a routine that's easy to follow throughout the entire year.