Tips For Keeping Your Belongings Safe In Long-Term Storage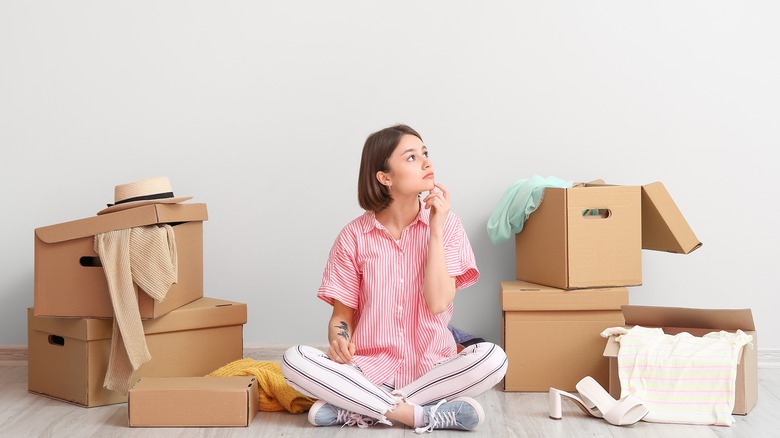 Pixel-Shot/Shutterstock
When you're facing a long-term storage situation, it might be easy just to throw everything in some makeshift boxes and move on with your life. But consider this: Every item you preserve for later use makes sense from a sustainability perspective since you're keeping it out of the landfill. You'll also save money in the long run by taking care of your things. Plus, if you keep your belongings in good condition, you can sell or donate them later if you decide you don't need them anymore.
Whether you're building a new home and moving to temporary quarters or taking a job in a foreign country for a year or two, there are many times in life when you'll want to consider packing things away for long-term storage. As your children grow up, you will likely want to save some of their favorite things to share with them later. And, what about those hobby supplies you spent a small fortune on or the items you inherited from your grandparents but aren't using just now?
Correctly prepping and packing can bridge the difference between accomplishment and catastrophe. Depending on where you decide to store things — be it a dedicated storage unit, or in an attic, garage, or basement — there are hazards to consider, such as moisture, heat, dust, and insects. Here, we take a look at a few tips to help keep your stuff safe until you need it again.
Prepping and packing for long-term storage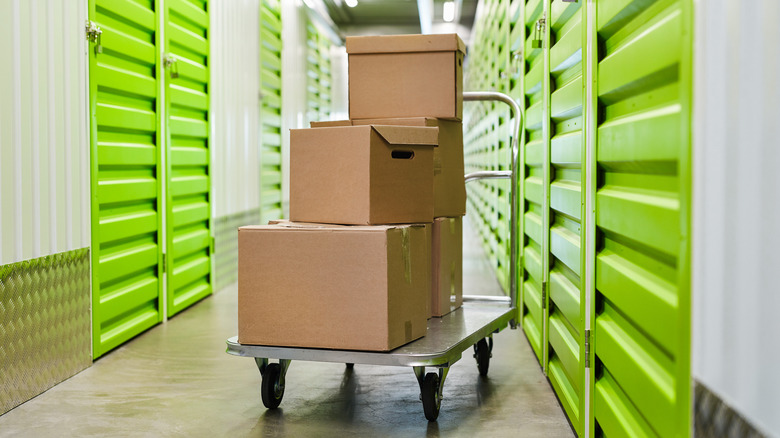 SeventyFour/Shutterstock
Packing up your belongings for storage is never going to be a fun task but taking the time to do it right can pay off. The first order of business is to make sure everything is clean. This includes checking linens, clothing, and kitchen items for any soil that might attract bugs. Storage professionals, as noted on Storage Space, also recommend dusting and polishing furniture before storing it to thwart mold. Plan on covering furniture with white cotton sheets while in storage to keep it tidy, too.
Next, choose the right type of containers for small items. This can depend on where you're storing things but in general you want sturdy containers like heavy cardboard boxes or plastic bins with covers. Plastic bags are less desirable not only because they are less sturdy, but they also can trap moisture. When going with plastic bins, remember that they can hold in moisture as well so everything you stow in them needs to be completely dry. Better yet, pick bins that allow for air circulation. Whether cardboard or plastic, try to stick with the same size so they're easily stackable to maximize space.
Lastly, consider doing yourself a huge favor by inventorying as you go. You can accomplish this by numbering boxes or bins and then recording items placed in each one in a notebook. If you prefer to keep electronic notes, you can use a spreadsheet or phone app specifically designed for this purpose.
More item-specific tips for long-term storage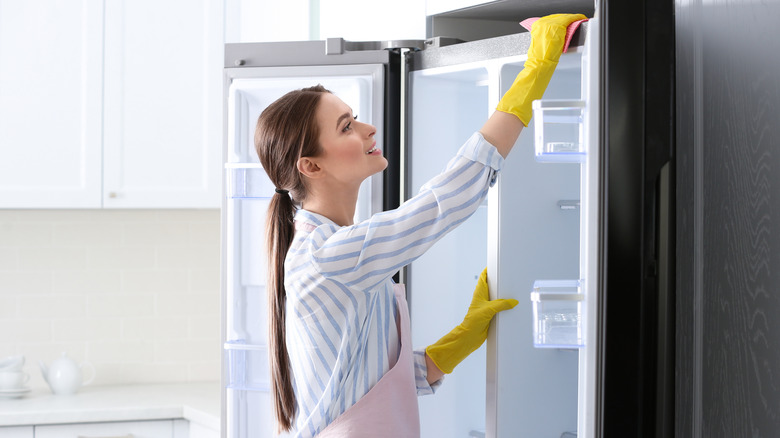 New Africa/Shutterstock
Remember the old saying an ounce of prevention is worth a pound of cure? This applies to several household items regularly placed in long-term storage. including appliances. This is another area where thorough cleaning really pays off. All appliances meant for long-term storage should be scrubbed down and completely dry before moving them, especially refrigerators. They're much more difficult to clean later after mold and mildew have taken up residence. 
When it comes to wrapping fragile items like dishes and collectibles, the tendency is to hunt down some old newspaper for this task but that's not usually the best choice. Permanent staining from the ink used in newspapers can be heartbreaking, especially when it comes to cherished heirlooms. This said, if you have a newspaper in your town, you can reach out to them and ask if they have leftover newsprint rolls for sale as an economical choice for wrapping. If that's not possible, moving supply stores are an alternative source for packages of blank newsprint sheets that work just as well. 
There is also nothing more disappointing than to come back and find that an expensive mattress has broken down and is no longer usable because it wasn't stored correctly. That's why it's so important to store them flat, as if they were in use, rather than on their sides. This applies to all types of mattresses. Make sure mattresses are vacuumed clean and wrapped in plastic, as noted on LifeStorage, before storing them for the long term as well.